Mystical, mysterious, magical, and ethereal are just some of the adjectives that are used to describe the marvel that is Crater Lake.  However, none of them quite seem to capture fully what it is like to experience this natural wonder.  I first became aware of Crater Lake when I saw a photograph of it in my fifth grade geography book.  I was fascinated by the fact that a lake was in a volcano's mouth.  In those days a lake located in Oregon might just as well have been on the moon; in the mid-1950s people didn't commonly fly between the East and West Coasts the way we do today.  Although in later years I visited Oregon twice, I never did make it to Crater Lake National Park.  I first laid eyes on Crater Lake in August 2016, a very difficult period in my life.  Two months before, I had been diagnosed with multiple myeloma; I was undergoing chemotherapy; and I was scheduled to have a stem cell transplant early in 2017.  Faced with all this, I became determined that I was going to visit Crater Lake.  I not only did so, but was able to walk the mile downhill to the lake for the boat ride around it and, more importantly, I had no problem walking back uphill.  In 2023, I decided that it was once again time to go back to Crater Lake.  Perhaps it was my own weird way of giving thanks for still being around and being able to do so.

Crater Lake Overview.  Photo courtesy of Jeffrey VanDyke.
There is something hypnotic about Crater Lake so much so that it is hard to look away from it.  The vastness of the lake, its eerie, unearthly silence, and its azure color, known as "Crater Lake Blue," draw one in.  However, Crater Lake's utter serenity belies its fiery birth in a cataclysmic eruption 7,700 years ago. The Klamath tribes – the Klamaths, the Modocs, the Yahooskin – and the Cow Creek Umpqua visited the Crater Lake area since ancient times.   Among the Klamath tribes, the lake and the surrounding area are known as gii-was, a sacred place.  Native Americans were present in the area for hundreds of generations and came to what is today known as Crater Lake for spiritual reasons.
The devastation wrought by the region's volcanic eruptions is quite accurately recorded in the oral traditions of the Klamath tribes: Llao, a spirit who lived in the World Below, and Skell, a spirit who lived in the World Above, fought a terrible battle over a beautiful young woman, who was the daughter of a local chieftain.  The fearsome wars they waged, which resulted in the formation of Crater Lake, symbolically reflect what is revealed in the geologic record: The violent eruption and collapse of the 12,000-foot-tall volcano, which came to be called Mount Mazama, resulted in what we now call Crater Lake.
The name Crater Lake is a misnomer.  The lake is actually in a caldera,  which is four and a half by six miles wide and 1,943 feet deep.  An example of a crater, the surface opening of a vent that feeds a volcano, is Wizard Island which was formed after the main eruption.

Crater Lake Overview
Little evidence exists that the area that is now Crater Lake National Park was a place of permanent settlement for Native people.  However, since this locale is rich in resources, it is known that it was used as a temporary camping site.  Native people traveled to Crater Lake for hunting, gathering, and for religious reasons.  The lake was seen as being very powerful, but also extremely dangerous.  Preeminent for spiritual pilgrimages and vision quests, the lake was revered but looked upon with dread as the abode of unpredictable, dangerous supernatural beings and the souls of the evil dead.
Crater Lake had been viewed by the Native American tribes of south-central Oregon since time immemorial as a sacred place. However, with the arrival of trappers, hunters, prospectors, and eventually settlers, misunderstandings frequently arose since the newcomers did not understand the lake's important spiritual significance.  Native people tried to keep the existence of the lake secret, but eventually, prospectors found it.  Originally called gii'was by local tribes, in 1853, three gold prospectors upon seeing the lake took a vote and gave it the name Deep Blue Lake.  In 1862, a second group of prospectors happened upon the lake and the leader of that group wrote an article in the Jacksonville Oregon Sentinel in which he declared the waters of the lake a "deeply blue color" and named the lake simply Blue Lake.  In 1865, the lake's name changed once again when a group of hunters supplying game to a road crew "rediscovered" the lake.  Hearing of the marvelous lake, soldiers and men on the work crew went to see it.  After climbing down the caldera, Captain F. B. Sprague, one of the soldiers, suggested the lake should be named Lake Majesty.  Finally, after visiting the lake in 1869, newspaper editor Jim Sutton wrote an article in which he dubbed the amazing body of water Crater Lake and the name stuck.  In 1885, William Gladstone Steel named the volcanic cinder cone at the west end of the lake Wizard Island and it has been known by that name ever since.

Crater Lake Overview    
Because of his efforts to have Crater Lake designated a national park, William Gladstone Steel came to be referred to as the "Father of Crater Lake".  However, his vision for the future of the lake was not without controversy.  Not only did Steel promote the idea of a lodge and a rim drive, he also proposed an elevator that would take visitors down to the lake and back as well as a road that would make Wizard Island accessible to cars.  Steel spent a great deal of time showing the lake and the surrounding area to people of influence and wealth.  In 1896, Steel brought The Mazamas, a mountaineering club based in Portland, Oregon, to the lake for their convention.  At the finale, amid fireworks, The Mazamas named the collapsed mountain that created Crater Lake Mount Mazama.  However, it was not until 1902 that Crater Lake National Park was established.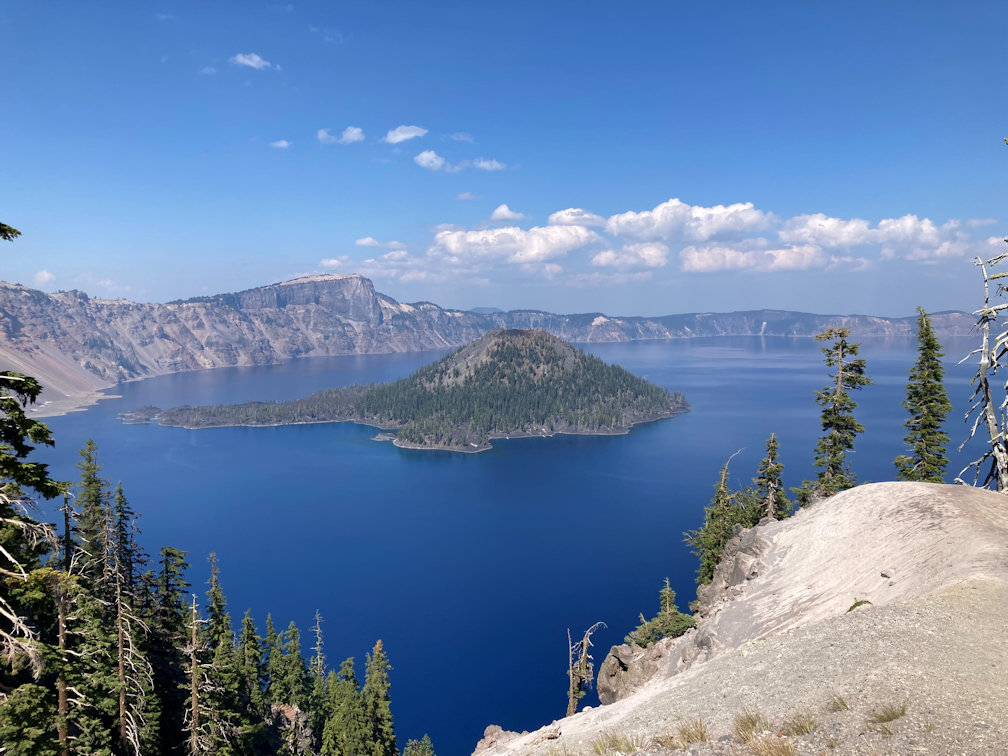 View of Crater Lake and Wizard Island from Sinnott Overlook
From its pristine, turquoise waters to the spectacular landscapes surrounding it, there is no place on earth quite like Crater Lake.  In addition to its intense blue color, the water of the lake is ranked as the cleanest large body of water in the world.  Fed only by rain and snow, not by any rivers or streams, the lake is the deepest in the United States.  But, beyond its sacred nature and the richness of its history, the area contains a wealth of treasures for visitors to enjoy – natural beauty, a diverse range of flora, and fascinating fauna.  Fortunately, William Gladstone Steel did not completely get his way and, today, despite cars and some other creature comforts, the majority of Crater Lake remains in an almost pristine state, which is fitting for a sacred place.  Everyone who visits Crater Lake instinctively seems to understand that it is uniquely special.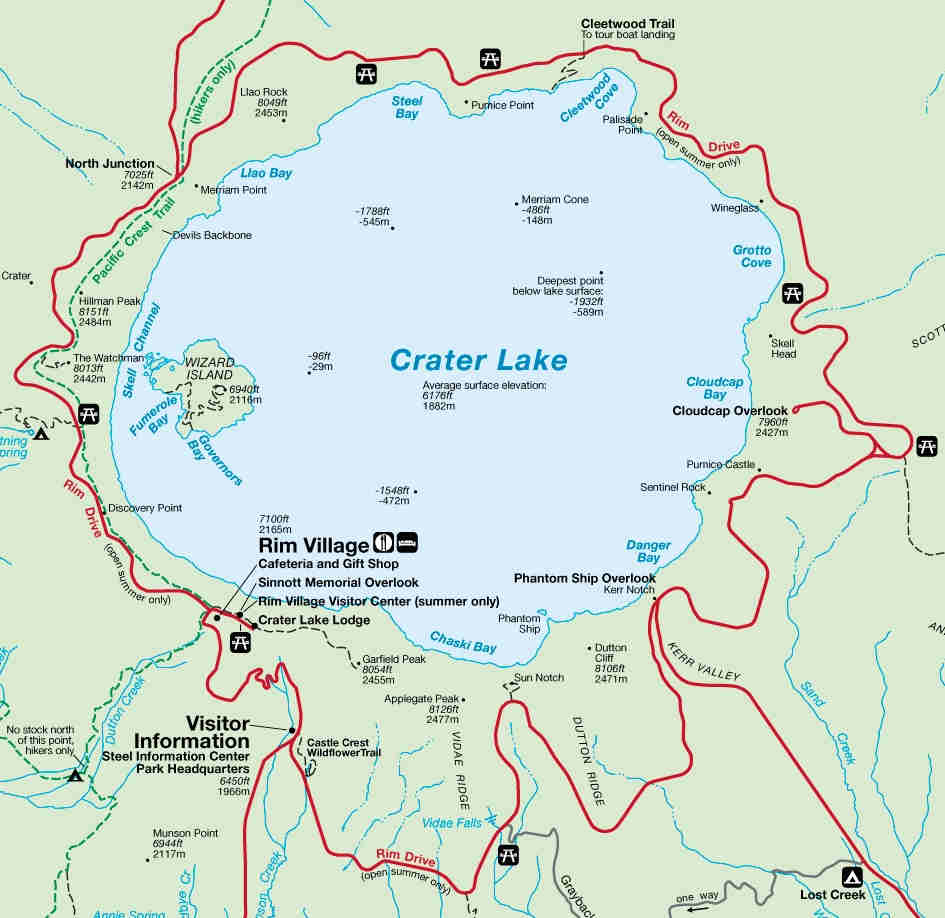 Crater Lake Map
THINGS TO DO IN CRATER LAKE NATIONAL PARK:
          Drives:
Rim Drive Loop: This drive is thirty-three miles and affords thirty vista points, including Devil's Backbone, Pumice Castle Overlook, Phantom Ship Overlook, and Pinnacles Overlook as well as access to trailheads along the way.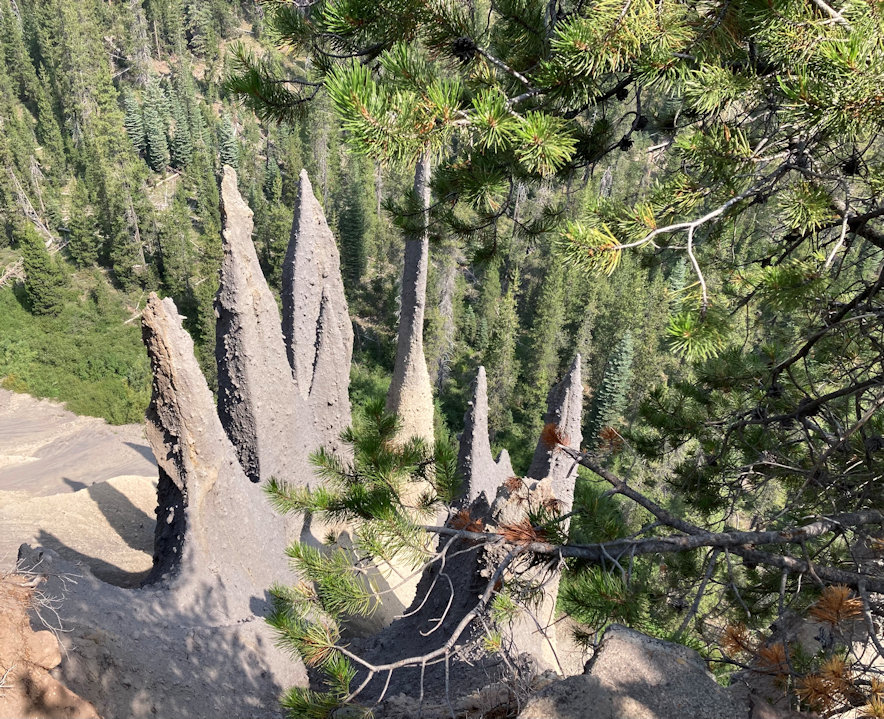 The View from Pinnacles Overlook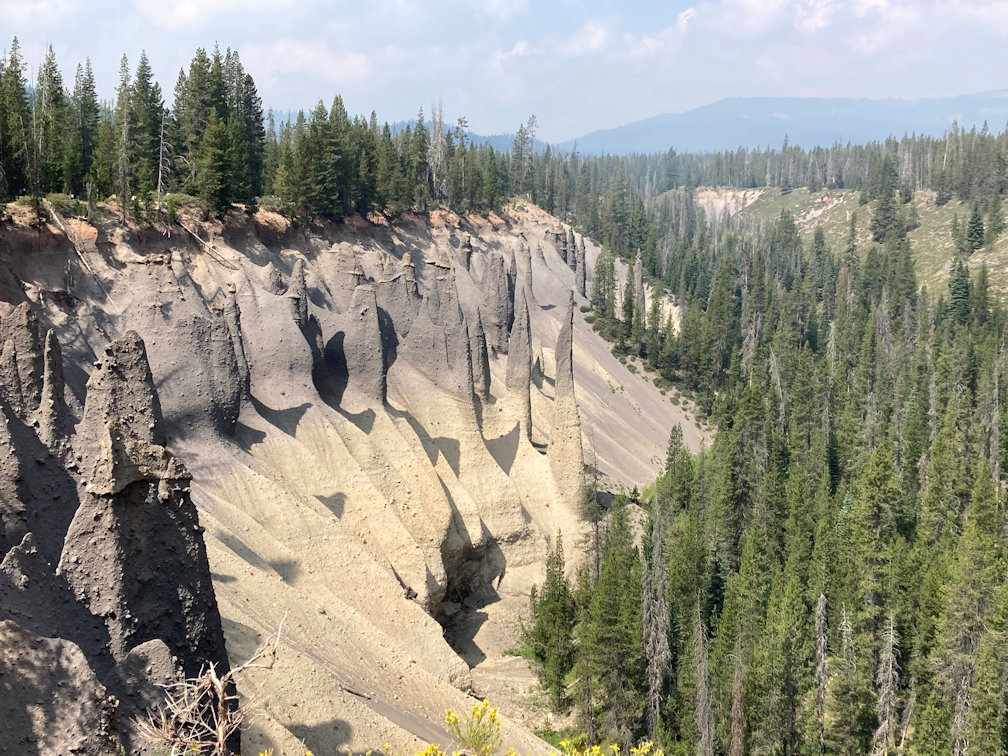 The View from Pinnacles Overlook
          Hiking:
Pinnacles Overlook – At .08 of a mile round trip, this hike affords incredible views of the volcanic spires.  30 min.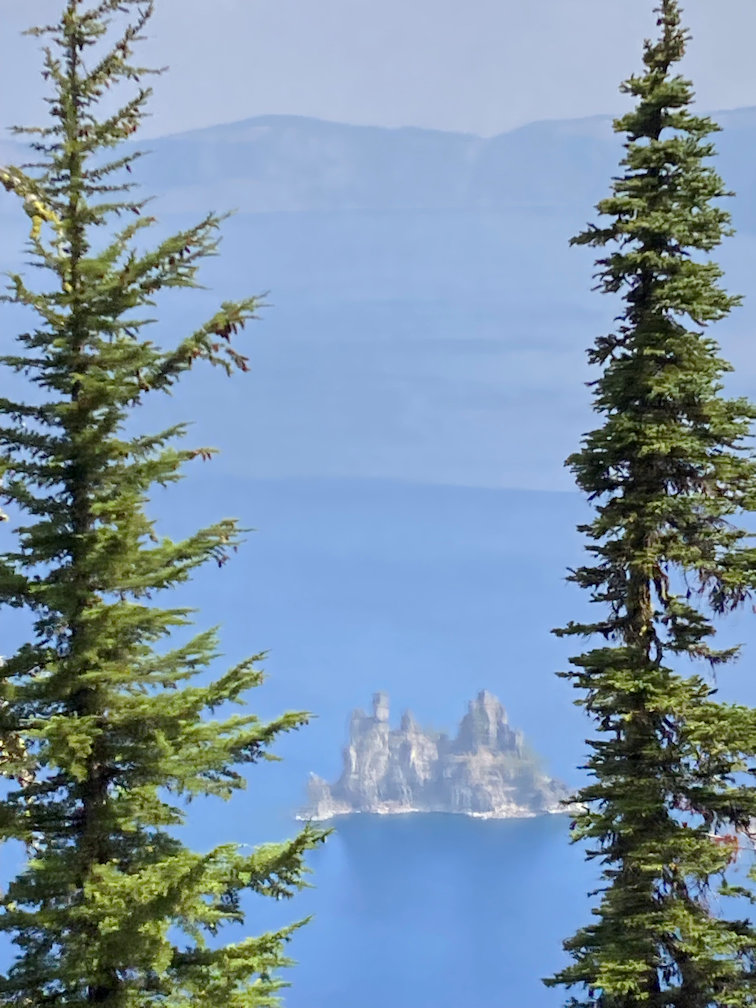 The View of The Phantom Ship from Sun Notch Overlook
Sun Notch –  Another .08 mile round trip, this short hike affords views of the Phantom Ship.  30 minutes.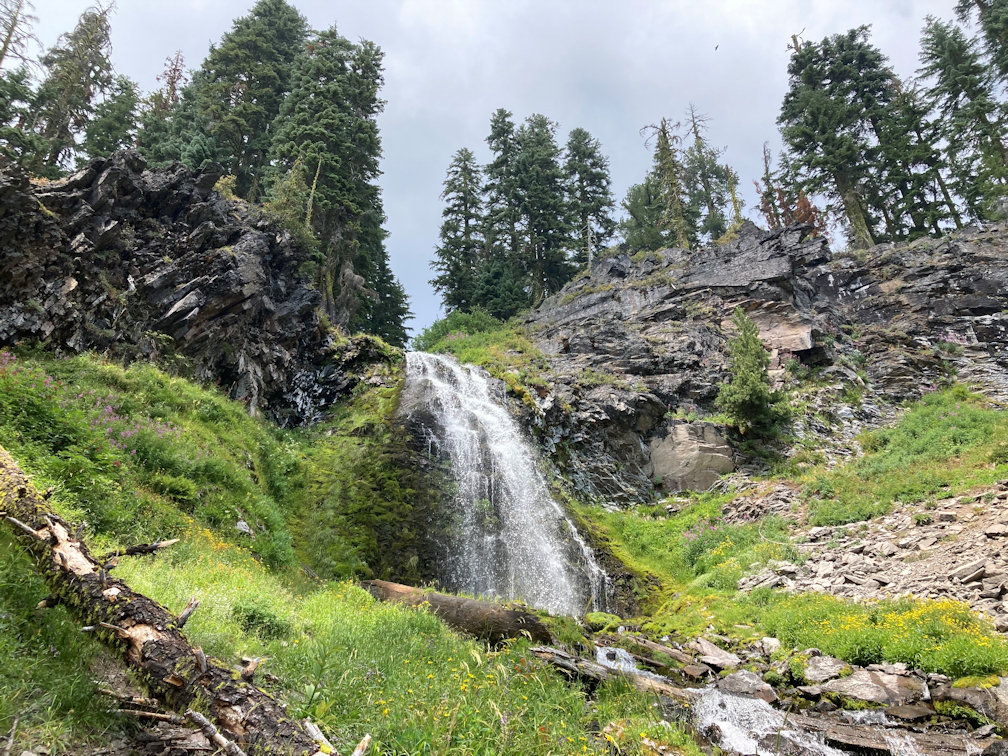 Plaikni Falls
Plaikni Falls – This two-mile round trip offers views of Plaikni Waterfalls.  1 hour.
Boat tours:
Note: In order to take any of the boat tours, it is necessary to access the shores of Crater Lake via the steep, arduous Cleetwood Cove Trail, which consists of over 700 feet of steep switchbacks downhill and, of course, uphill on the way back.  Anyone with medical issues or who has problems walking should seriously consider the difficulties involved in hiking the 2.2-mile round trip Cleetwood Cove Trail before attempting it.  Prior to one's boat tour, allow at least ninety minutes for travel from Crater Lake Lodge to Cleetwood Cove.  This allows enough time for travel to the parking area, finding a space, and the walk down to Cleetwood Cove.  The hike down to the boat dock takes approximately thirty minutes, while the return trip, because of the elevation (approximately 7,000 feet above sea level), usually takes at least an hour or more.  The climb is the equivalent of walking up sixty-five flights of stairs.  Anyone making the trip should carry water and snacks; wear sturdy, closed-toe shoes; apply sunscreen; and bring a jacket for the boat ride.
Standard Boat Cruise – This is a leisurely 2-hour tour around Crater Lake, which includes narration about park history and geology.  It also provides up-close views of Wizard Island, The Phantom Ship, and The Old Man of the Lake.
Wizard Island – This 5-hour tour circumnavigates Crater Lake and Wizard Island.  A plus of this tour is that passengers are given time off the boat to explore Wizard Island.
Wizard Island Shuttle – This is simply a quick boat ride across Crater Lake to Wizard Island where passengers, who want to explore the island, are dropped off to spend time.  There is no narration.
SIGHTS WITHIN CRATER LAKE (What will be seen on boat tours):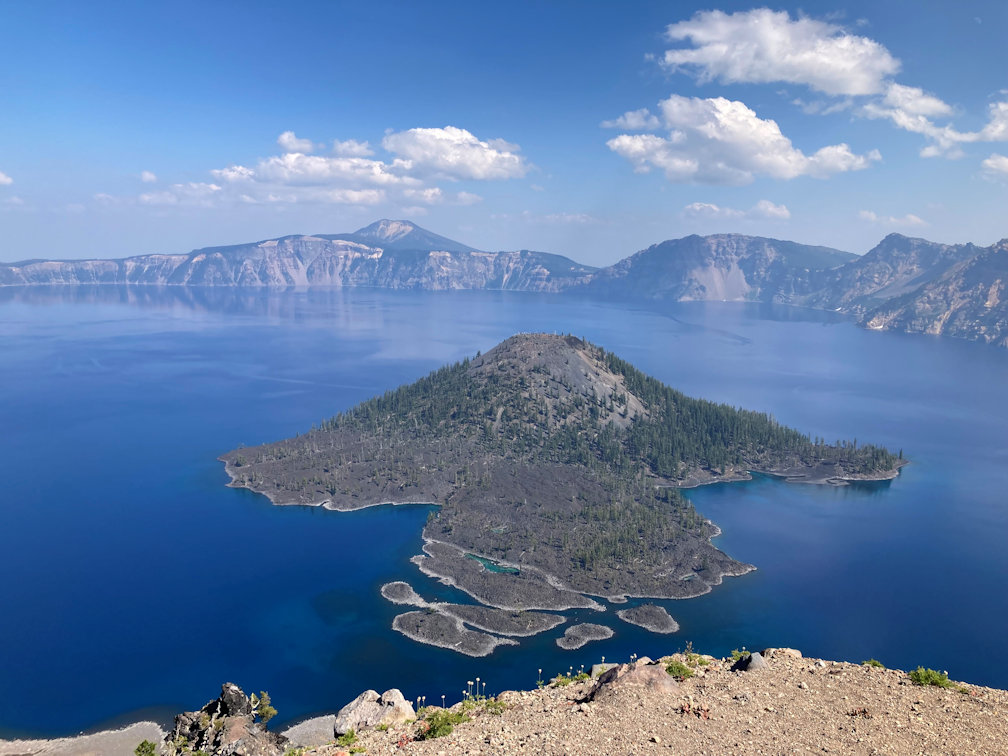 Wizard Island
          Wizard Island: One of only two small islands in the lake, Wizard Island received its name because its almost perfectly cylindrical cone was thought to resemble the pointy hats believed to be worn by witches and wizards.  A miniature volcano, Wizard Island's crater is known as the Witch's Cauldron. This cinder cone island is about 7,500 years old and was formed several centuries after the eruption and collapse of Mount Mazama.  It rises over 760 feet above the surface of the lake.  Wizard Island is evidence that Mount Mazama continued to be active even after its most violent eruption and may be active in the future. Wizard Island is one of about twenty cinder cones in Crater Lake National Park.  Over the years, the island has come to be known as a place of strange sightings since a number of the park's rangers have said that at night they have seen human-looking figures on the island as well as fires burning. However, when they investigated, nothing out of the ordinary was found.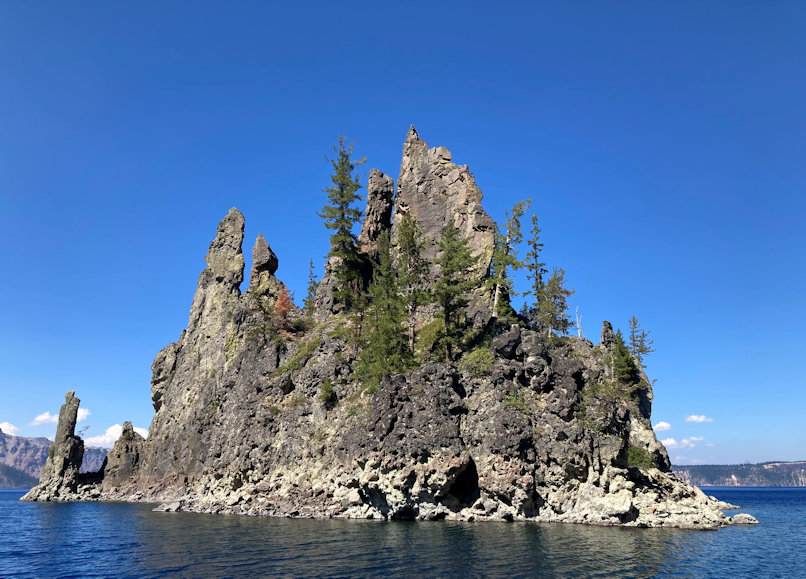 The Phantom Ship
 The Phantom Ship: Located on the southeastern side of Crater Lake, the Phantom Ship is known as the lake's "other island" though it simply consists of a series of irregular spires rising up approximately sixty feet from the water's surface.  The island is about 500 feet long by 200 feet at its widest point and its stone towers rise 170 feet above the lake at their highest point.  Formed about 400,000 years ago, this volcanic feature is evidence of a volcano that existed at this spot and formed part of what is termed the Mount Mazama complex.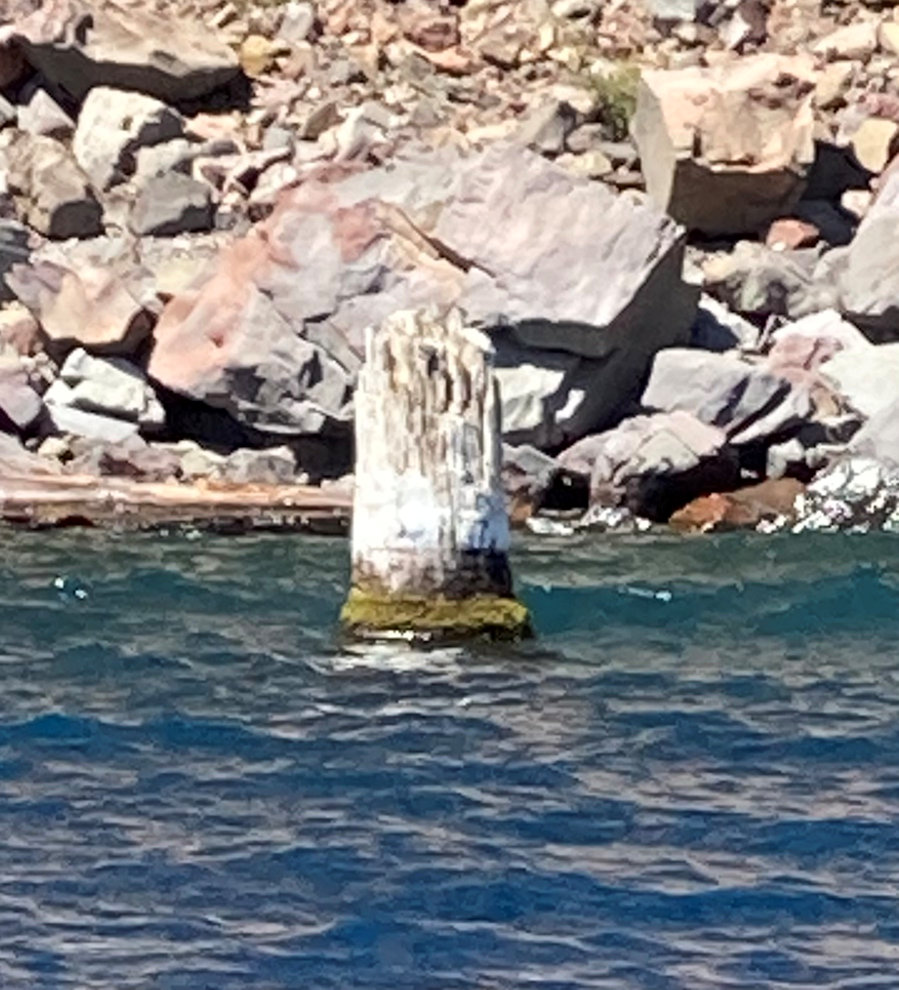 Old Man of the Lake
The Old Man of the Lake: A 30-foot-tall tree stump has mysteriously floated extensively around Crater Lake, often at unusual speeds, in an upright position for over 100 years. Named the "Old Man of the Lake," it has been determined that this natural oddity is approximately 450 years old.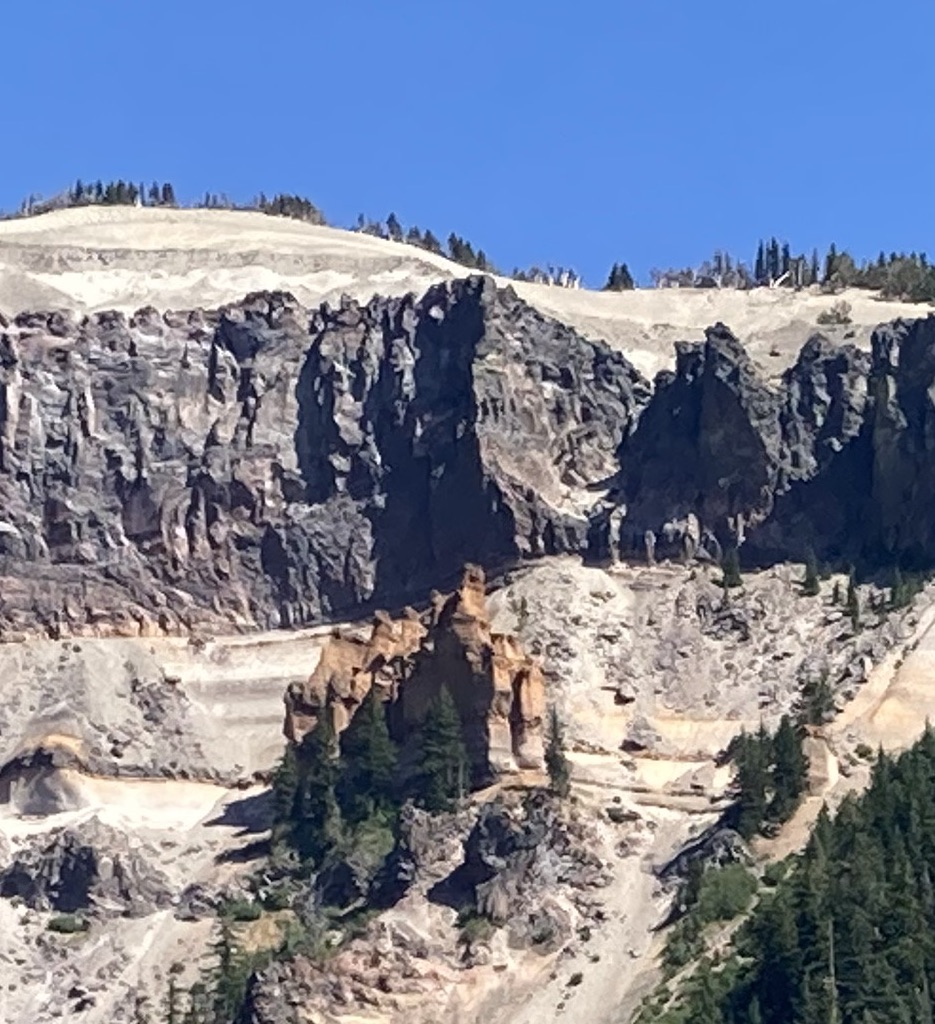 Pumice Castle
Pumice Castle: Looking somewhat like a castle to the imaginative mind, the outcropping seen today was formed approximately 70,000 years ago when pumice and lava combined at high temperatures.  Buried by later eruptions, the 200-foot-high formation was exposed when Mount Mazama collapsed.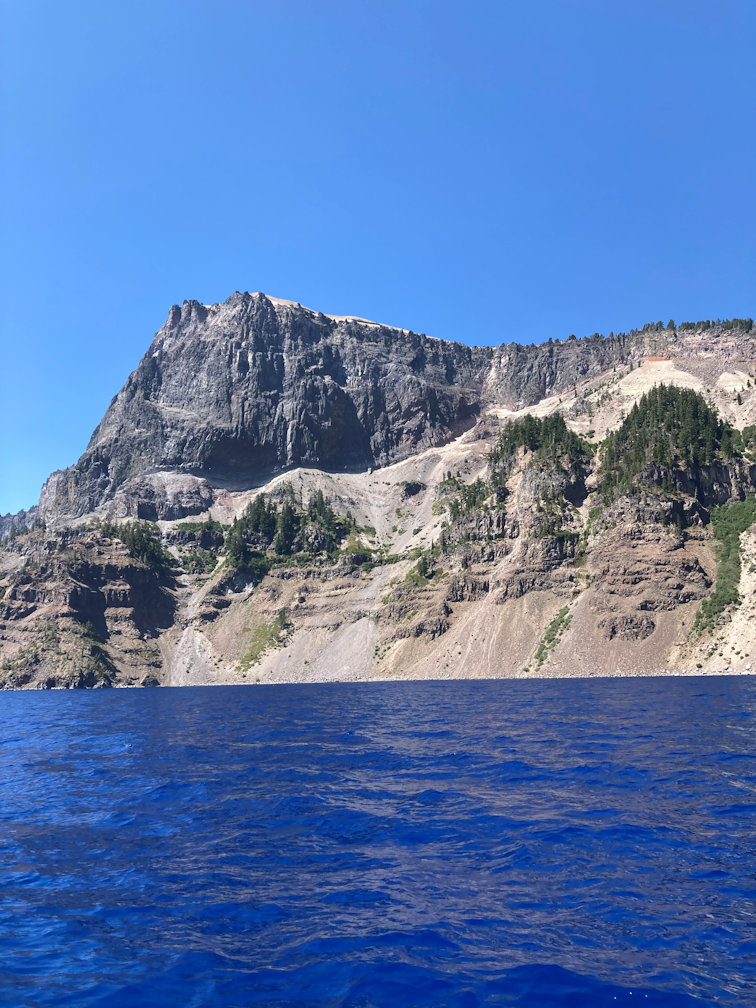 Llao Rock
Llao Rock: This gigantic cliff was formed by one of the final and biggest eruptions prior to the massive explosion of Mount Mazama.  In fact, evidence indicates that the volcanic event that formed Llao Rock may have triggered the major eruption of Mount Mazama some 170 years later.  This massive rock formation is named for Llao, the spirit being who fought a terrible battle over a beautiful young woman, which resulted in the formation of Crater Lake.
Native names within Crater Lake National Park are all but nonexistent and most people are unaware that the lake and its surroundings are considered sacred. However, awed by the area's sheer natural beauty, most visitors instinctively seem to sense that the lake and its environs exude a unique spiritual quality.  Although its visual splendor is unsurpassed, there is much more to appreciate about Crater Lake National Park.
EASY SIDE TRIPS FROM CRATER LAKE NATIONAL PARK:
          Diamond Lake: Located 5 miles north of the Crater Lake National Park entrance on Highway 138 and about 14 miles from Crater Lake Lodge, the lake hosts Diamond Lake Resort (https://www.diamondlake.net/), which is a good option if you are unable to secure rooms within Crater Lake National Park.  However, do not let the word resort deceive you.  Diamond Lake Resort, though in a spectacular setting, is rather rustic.
          Clearwater Falls: Located at milepost 69.5 on Highway 138, seeing this segmented waterfall only requires a walk of a few hundred feet.
          Whitehorse Falls: This waterfall is a fifteen-foot punchbowl located at milepost 65.9 on Highway 138.  It, too, only requires a short walk to view it.
          Watson Falls: At milepost 60.5 on Highway 138, this 272-foot high falls is the fourth highest in Oregon and is a 0.6-mile climb on trail #1496.  It is the most spectacular of the four waterfalls near Crater Lake National Park.
          Toketee Falls: Located at milepost 58.6 on Highway 138, this 120-foot-high falls is only visible from the viewing platform at the end of a 0.4-mile trail.  Although it is an easy hike, the trail involves a series of about 100 wooden steps up and down.  The trail is not difficult unless one has difficulties with stairs.
Except where noted, all photographs are by E. J. Guarino.
For more information on Crater Lake go to the following website:
https://www.nps.gov/crla/index.htm
 Note: See also "Crater Lake: A Sacred National Treasure," March 1, 2017:
 https://kinggalleries.com/crater-lake-sacred-national-treasure/