Qavavau Manumie's prints and drawings reveal an artist of extraordinary technical expertise and unique imagination.  His work is imbued with humor and a deep knowledge of Inuit culture as well as an awareness of the world beyond Kinngait (Cape Dorset). Qavavau Manumie (also written as Kavavaow Mannomee) creates complex compositions executed with great skill.  His body of work reflects a wide range of themes: Inuit myths and legends (often presented in a humorous way), scenes of contemporary Inuit life, images of Arctic wildlife, world events, and environmental issues.  He creates drawings in ink and colored pencil as well as colorfully detailed prints.  Manumie has created hundreds of drawings and his prints have been included in numerous Cape Dorset Annual Print Collections.  He is also regarded as a master printmaker and has been a part of the Kinngait Studios Graphic Arts Program for many years.
For the most part, my knowledge of Qavavau Manumie's work had been somewhat limited.   Generally, what I had seen are pieces that are whimsical and somewhat surreal, often populated by tiny people resembling elves.  Until recently, my collection contained only two works by Qavavau Manumie – Hunting Seals Going by Boat, a drawing in the form of a diptych, and Wild World, a lithograph.  Both works reflect the artist's varied artistic practice – or so I thought. However, the artist's portraits of other Kinngait artists, done in pencil, have been overshadowed by his colorful prints and ink and pencil crayon drawings.
Hunting Seals Going by Boat (diptych), by Qavavau Manumie Inuit,Cape Dorset, ink, each panel, 8"h x 26"wide (2007).  Collection of E. J. Guarino.  Photo courtesy of Feheley Fine Arts, Toronto, and Dorset Fine Arts, Toronto.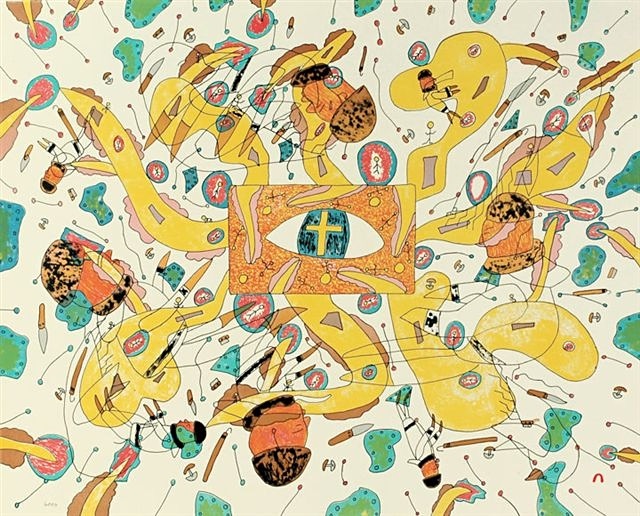 Wild World by Qavavau Manumie, lithograph, 22/50;  26.25." x 20.15," Cape Dorset Spring Collection #9 (2008).  Collection of E. J. Guarino.  Photo courtesy of Arctic Artistry Gallery, Chappaqua, NY and Dorset Fine Arts, Toronto.
It is no surprise that Qavavau Manumie would choose to memorialize many of the most famous Inuit artists from Cape Dorset who were part of what is called the First Generation: Kenojuak Ashevak, Kananginak Pootoogook, Pitseolak Ashoona, and Pudlo Pudlat.  Clearly, Manumie revered and was inspired by these artists.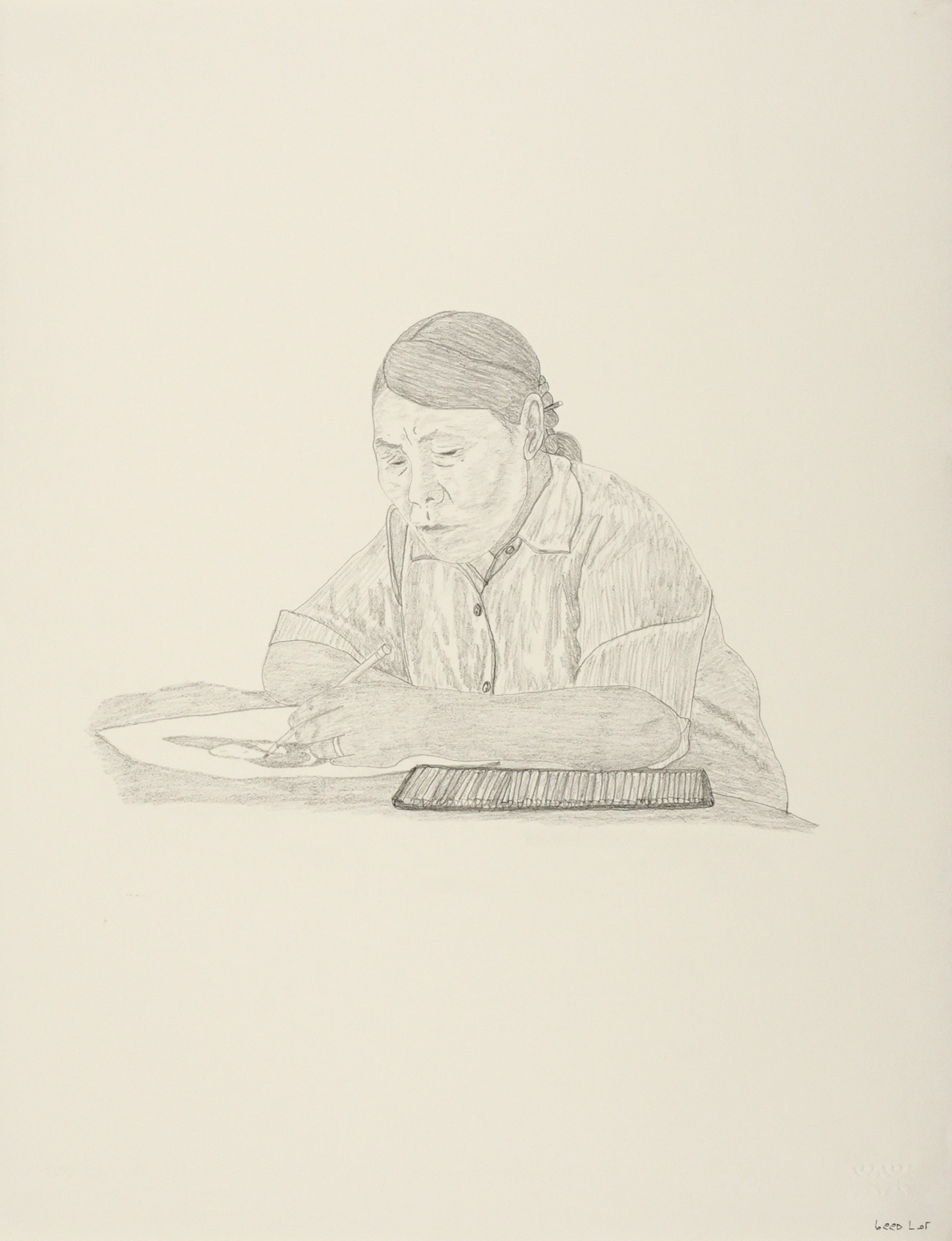 Kenojuak Ashevak by Qavavau Manumie, Inuit, Cape Dorset, graphite, 26" x 20" (1995).  Collection of E. J. Guarino.  Photo courtesy of Feheley Fine Arts, Toronto, and Dorset Fine Arts, Toronto.
            Qavavau Manumie lovingly memorialized Kenojuak by drawing her as she created a work of art.  Known to collectors worldwide simply as Kenojuak, Kenojuak Ashevak is one of Canada's most famous contemporary artists and is the country's most well-known Indigenous artist.  Kenojuak's body of work is extremely diverse, but she is most known for her images of birds with fantastical plumage.  She was among the first Inuit artist whose work was celebrated beyond the Arctic and sought after by collectors around the world.  She is held in such high esteem in Canada that her art has been commemorated by the Canadian Government on three postage stamps.  Kenojuak continued to produce work when she was well into her eighties and her body of work ranges from highly stylized representational pieces to the delightfully surreal.  In Kenojuak's wondrously imaginative world, an owl can be blue, a swan pink, a polar bear yellow, a fox bright red, a goose golden, and a fish can even have leaf-like fins.  Because of her emphasis on composition rather than on a strict conformity to reality, Kenojuak's art can be appreciated by anyone for its sheer beauty and requires no knowledge of Inuit culture.  Kenojuak Ashevak's art is about happiness – the sheer joy of living.  She did not explore the darker aspects of Inuit life.  It should be noted that it was extremely rare for artists of Kenojuak's generation to do so.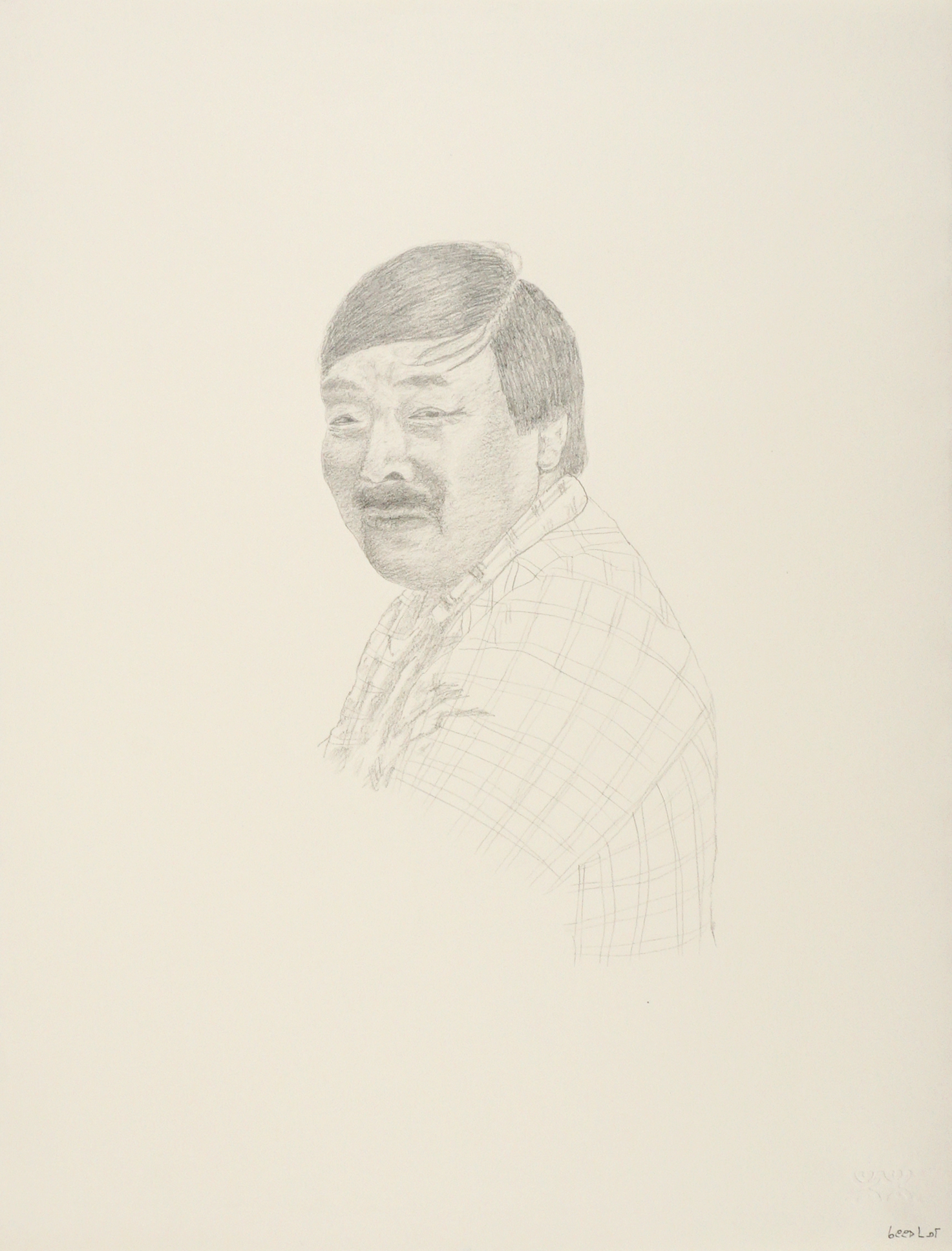 Kananginak Pootoogook by Qavavau Manumie, Inuit, Cape Dorset, graphite, 26" x 20" (1995).  Collection of E. J. Guarino.  Photo courtesy of Feheley Fine Arts, Toronto, and Dorset Fine Arts, Toronto.
           Qavavau Manumie's portrait of Kananginak Pootoogook presents the artist in a casual rather than a formal manner with the subject looking out at the viewer. Known as the "Audubon of the North," Kananginak Pootoogook, usually simply referred to as Kananginak, is most famous for his highly detailed and accurate depictions of Arctic birds and other wildlife.  During his career, Kananginak also created works that deal with subject matter that many in his community felt should not be revealed to the outside world.  Many Inuit feared that such works would simply reinforce misconceptions about them. Visually, Kanganinak presents such scenes in a rather straightforward manner as if to say "Well, this is simply the way it was."  A number of Inuit art experts feel, however, that, ultimately, Kananginak will be remembered for documenting aspects of his culture more so than for his images of Arctic wildlife.
During his long career, Kananginak Pootoogook produced a large body of work consisting of prints, drawings, and sculpture.  In the year before he died, Kananginak created two monumental drawings of a size never before attempted by an Inuit artist.  In 2017, both works were exhibited as part of Viva Arte Viva, the 57th International Venice Biennale.
Kananginak is a bridge between the First Generation of Inuit artists, who were chroniclers of an era that is no more, and younger artists who, because of him, are empowered to explore whatever subjects they choose, including those that are controversial.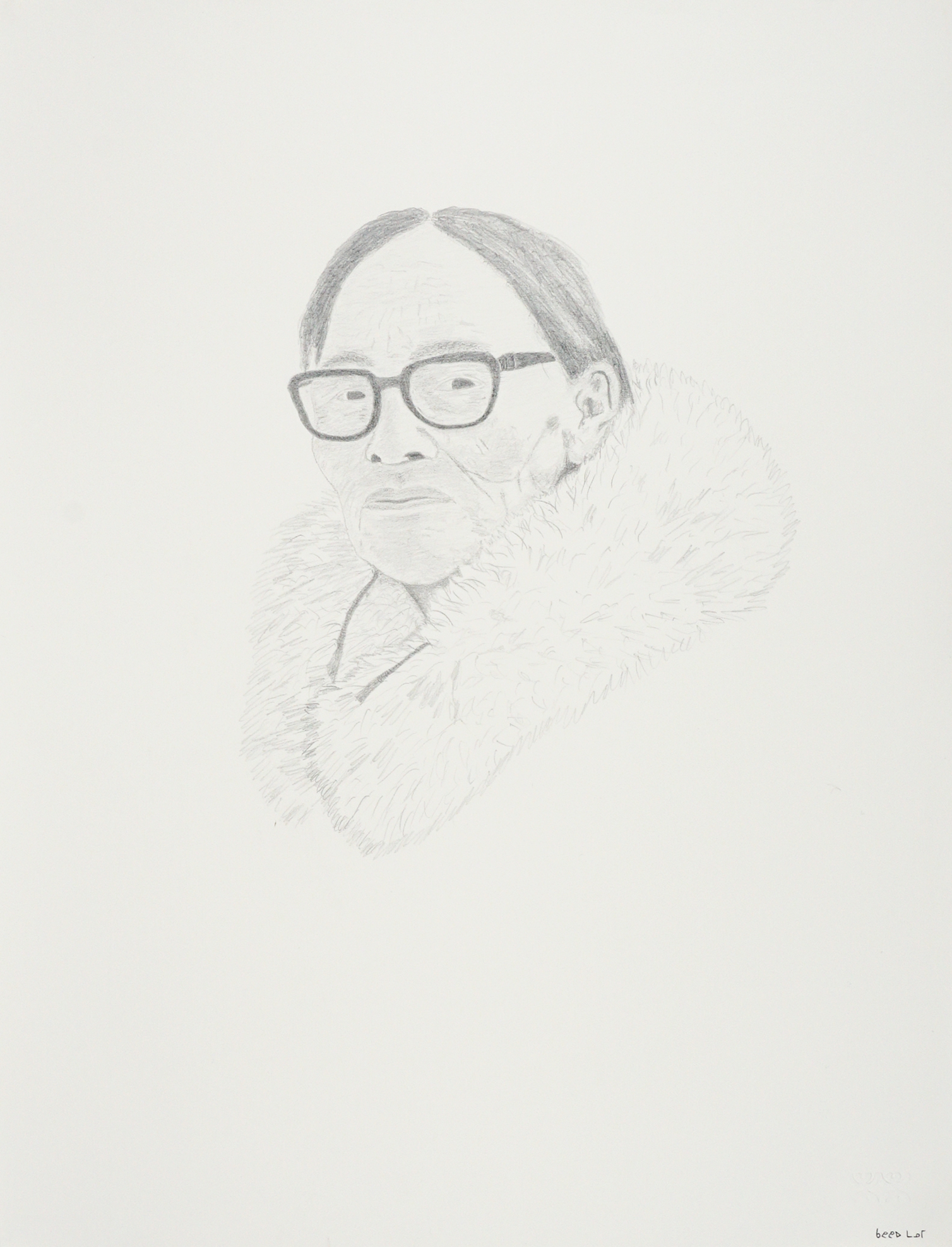 Pitseolak Ashoona by Qavavau Manumie, Inuit, Cape Dorset, graphite, 26" x 20" (1995).  Photo courtesy of Feheley Fine Arts, Toronto, and Dorset Fine Arts, Toronto.
            Pitseolak Ashoona, another of the icons of Inuit art, was among the first generation of modern Inuit artists to depict life as it was once lived in the Arctic.  Many of her prints, while based on the world she saw around her, have a decidedly surrealistic quality.  Pitseolak (like Kenojuak and Kananginak) is usually referred to only by her first name.  During her lifetime, Pitseolak produced close to 9,000 drawings and some 250 were made into prints.   Like Kenojuak Ashevak, her work is characterized by a sense of joyfulness.  Scenes of suffering and privation generally do not appear in her work, but some images evoke a sense of sadness and melancholy.
Qavavau Manumie's drawing portrays Pisteolak wearing her signature black-rimmed eyeglasses.  The work is at once a remembrance of a beloved community member as well as the likeness of a celebrated artist.  Manumie may have based his drawing on a photograph by Norman Hallendy (see below).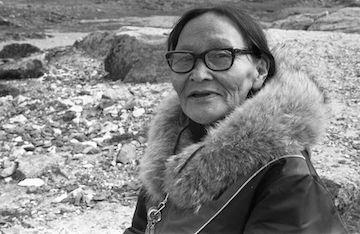 Pitseolak Ashoona in Cape Dorset, 1968. Photograph by Norman Hallendy.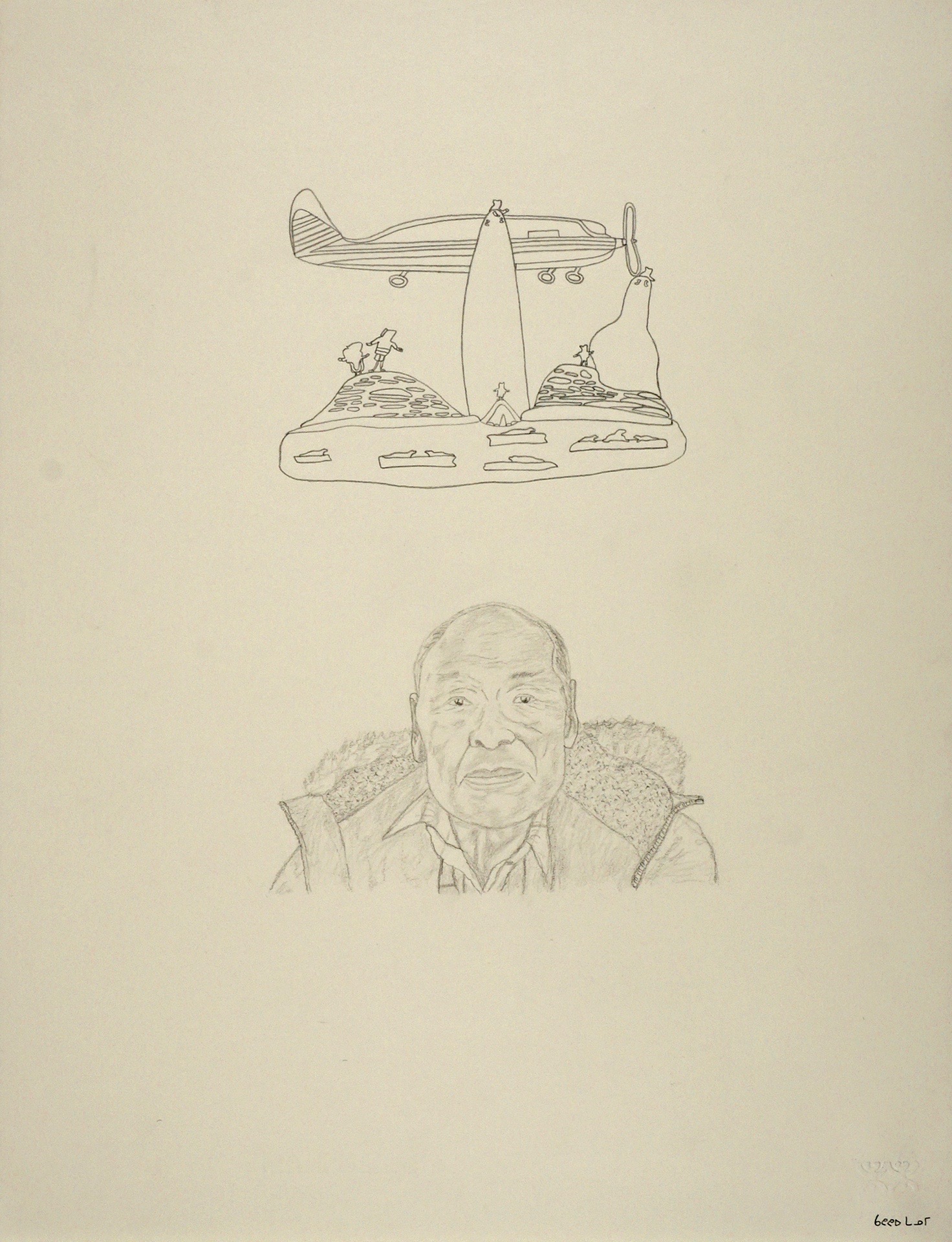 Pudlo Pudlat by Qavavau Manumie, Inuit, Cape Dorset, graphite, 26" x 20" (1995).  Photo courtesy of Feheley Fine Arts, Toronto, and Dorset Fine Arts, Toronto.
          Although he began his artistic career as a sculptor, Pudlo Pudlat was forced to change course because of an injury to one of his arms.  When it became too difficult to carve stone, Pudlo turned to drawing, printmaking, and painting where his idiosyncratic visual sense flourished.  As with other First Generation Inuit artists, Pudlo Pudlat is usually referred to simply as Pudlo.  His early work consisted of outlines made in pencil.  He then progressed to colored pencils and Pentel with which he produced elaborate works in color.  Pudlo Pudlat's art blends respect for traditional Inuit culture with an acceptance and a strong interest in the modern technologies that were being brought to the Arctic.  Unlike other First Generation artists in his community, Pudlo depicted the new things he saw in his art, particularly airplanes.   Pudlo's artistic output consisted of well over 4,500 drawings, 180 prints, as well as a number of sculptures.  His art is characterized by unexpected contrasts between traditional Inuit ways and the many accouterments contemporary life brings with it, presented with a subtle, yet playful, sense of humor.
Qavavau Manumie drew Pudlo looking directly out at the viewer.  Above him, he recreated Aeroplane, one of Pudlo's most iconic images, which was reproduced on a Canadian postage stamp in 1978 (see below).
Aeroplane by Pudlo Pudlat, Inuit, Cape Dorset, stone cut and stencil, ed. 50; Printer: Qavaroak Qatsiya, #13 in the Cape Dorset Annual Print Collection, 24.5" x 34 " (1976).  Photo courtesy of Feheley Fine Arts, Toronto, and Dorset Fine Arts, Toronto.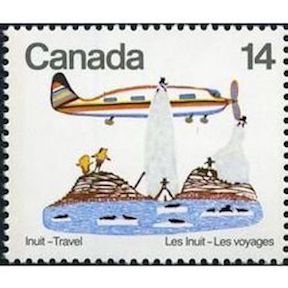 Canadian stamp (1978), which reproduces Pudlo Pudlat's 1976 print Aeroplane.
           Born in 1958, Qavavau Manumie grew up at a time when artists Kenojuak Ashevak, Kananginak Pootoogook, Pitseolak Ashoona, and Pudlo Pudlat were inventing what has become known as modern Inuit art.  These pioneers were the first generation to be exposed to artistic materials – paper, graphite, pencil crayons, and felt-tip pens – that had previously not been available to them.  Clearly, Qavavau Manumie holds these artists in high esteem.  His portraits of them are both tender and reverential.  Although much of Manumie's work is fanciful and humorous, the artist also has a serious side, which is reflected in works detailing world events and environmental concerns.  His portraits are yet another aspect of his art.  Created earlier in Manumie's career, these pencil drawings have, until recently, been overshadowed by his colorful prints and ink and pencil crayon drawings.  Fortunately, they can now be appreciated along with the rest of the artist's body of work