In more than thirty years of collecting, I have learned that there are many types of collectors.  Some people collect because they are passionate about the art they acquire; others do so for profit; and there are those who build a collection as a status symbol.  Among collectors of Native American art there are those who only acquire prehistoric and historic works.  They have no interest in art by living artists.  Other collectors buy art by contemporary artists, but only acquire pieces by those who have already achieved fame.  Often at the Santa Fe Indian Market I have seen wealthy collectors bearing fists full of first prize ribbons since they will only buy the work of artists who have won the top awards.  Such accolades hold little interest for me.  Awards are not necessarily an indication of artistic merit.  For those who think they are, I always remind them that Citizen Kane did not win the Academy Award for Best Picture in 1941, yet it is considered by most film critics to be the best American film ever made while many films that have won the Best Picture Oscar have not held up very well and are all but forgotten.  And, of course, Vincent Van Gogh sold only one painting in his lifetime.
Every collection is idiosyncratic, reflecting the interests, goals, and biases of the collector.  Early on I realized that I was the "oddball collector," though Dr. Bruce Bernstein, Executive Director of the Ralph T. Coe Center for the Arts in Santa Fe, has kindly dubbed me the "improbable collector."  By all standards, I was not someone who would have been expected to become a collector, particularly of Native American art: I was an Italian-American kid from the Bronx who grew up in a lower-middle class family and became a teacher in the lowest paid school district in Westchester County, NY.  These factors have shaped how I collect.  I have had almost no contact with other collectors and so have always collected with little outside influence.  I have had mentors, but each one has guided me rather than forced his or her opinions on me.
Because most collectors of Native American art, including those who acquire the work of living artists, focus on traditional media, such as pottery and baskets, works on paper are mostly overlooked and undervalued.  Sometime around 2008, I realized that works on paper by Native artists was an under appreciated collecting area and started to add such pieces to my collection.  I collected the work of emerging artists, many of whom went on to become highly respected and, through the use of layaway, I have been able to acquire pieces by well-known artists as well.
While I was in Santa Fe in 2017 for Indian Market I was able to acquire a number of works on paper by a diverse range of artists.  The works I added to my collection are in a variety of styles and explore an array of themes and subject matter.  Each was acquired for different reasons.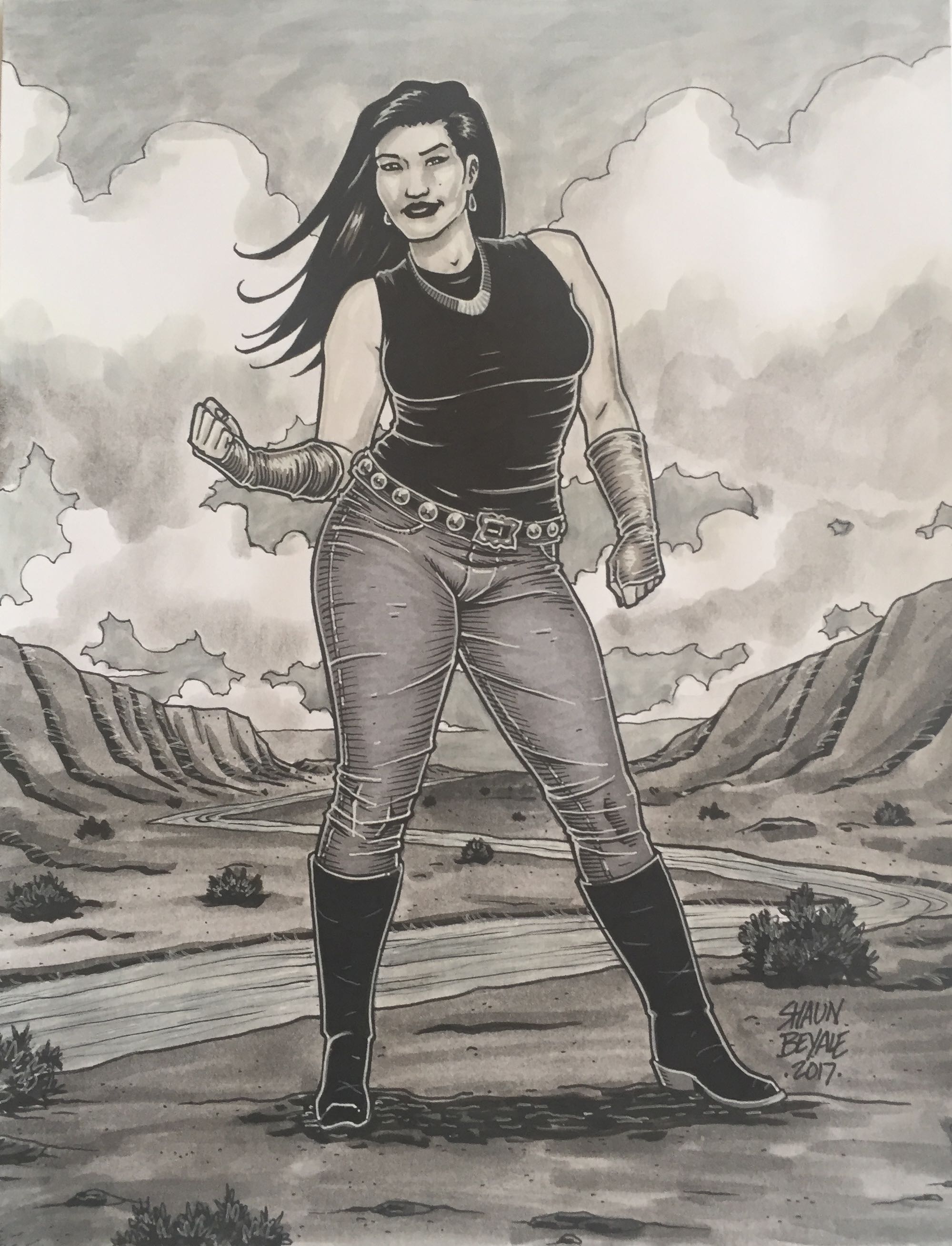 Ayla, Protector of the Homeland by Shaun Beyale, Dine, drawing on paper, 8.5" x    11" (2017).  Collection of E. J. Guarino
            I have been following Shaun Beyale's artistic development since I bought two ceramic tiles by him in 2007 when he was a student at the Institute of American Indian Arts.  Since then, he has focused on creating works on paper.  Like a number of other artists, such as Jason Garcia, Diego Romero, and Virgil Ortiz, Beyale's graphic sensibilities have been influenced by comic book art.  I was particularly attracted to Ayla, Protector of the Homeland because the drawing is beautifully executed with an exquisite use of line and shading.  Beyond that I found the subject matter intriguing.  Here is a portrayal of a strong Native woman, clearly influenced by female superheroes such as Wonder Woman.  Ayla is not a Barbie doll figure; she has curves just as any real woman has.  This image contradicts the stereotype of the passive Indian female.
I never know when I will come across a piece of art that will interest me.  Sometimes it is in the most unexpected circumstances.  While at the Ralph T. Coe Center for the Arts to attend the opening for Catch 22: Paradox on Paper, from the Edward J. Guarino Collection I acquired two drawings from Axle Contemporary, a mobile gallery which uses space in the back of a retrofitted 1970 aluminum stepvan to display art.  This gallery on wheels, often referred to as the "Art Truck," exhibits a variety of art in unexpected places such as parking lots at museums, schools, grocery stores, and restaurants as well as on city streets.  Rather than people coming to an art gallery, the gallery comes to them.  Because Axle Contemporary had been invited to the Coe Foundation I was able to add new drawings by Jason Garcia and Eliza Naranjo Morse to my collection.  Both had created work for Local Coloring: 5 Writers/67 Artists, a coloring book, published by Axle Contemporary Press, which contains reproductions of sixty-seven black-and-white drawings that can be colored in.  Five New Mexico-based writers each composed a story for the book and sixty-seven artists were invited to contribute drawings based on the stories.   I bought two of the drawings and two copies of the book.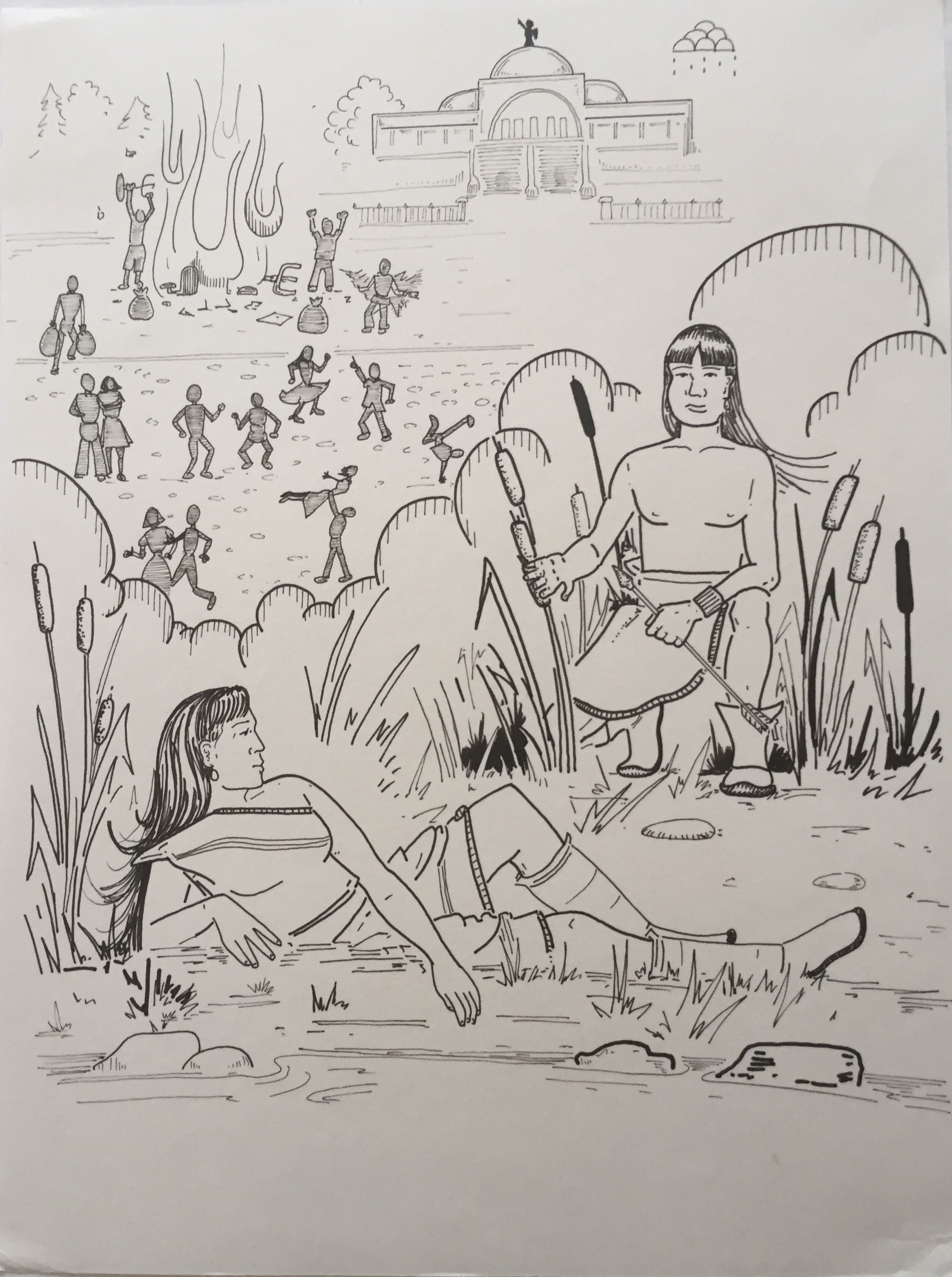 Cupid's First Sight of Psyche by Jason Garcia, Santa Clara, drawing for the story "(Breathe)" by Melody Sumner Carnahan in Local Coloring: 5 Writers/67 Artists, 9" x 12" (2017).  Collection of E. J. Guarino
Jason Garcia is well represented in my collection, which contains ceramic tiles and pots by the artist as well as drawings and prints.  I have been a great admirer of Garcia's work for quite some time and found Cupid's First Sight of Psyche, an illustration for "(Breathe)," a story by Melody Sunner Carnahanin to be very interesting.  Garcia references the ancient Greco-Roman myth of Cupid (sometimes referred to as Eros) and Psyche, but transfers the story to a Pueblo setting.  Cupid, representing physical love, has just laid eyes on the beautiful Psyche, who symbolizes the soul or the breath of life.  The artist has included many charming details.  In the background couples are dancing around a large fire, but the figures seem to be doing mainstream dancing (one dancer is lifting his female partner over his head as in swing dancing) rather than taking part in a Pueblo ceremony.  Behind the group of dancers is a large, European-style edifice and above it is a symbolic rain cloud, an image Garcia often employs.  When I saw Cupid's First Sight of Psyche I felt that, in spite of it being an illustration for a book, it was quite complex.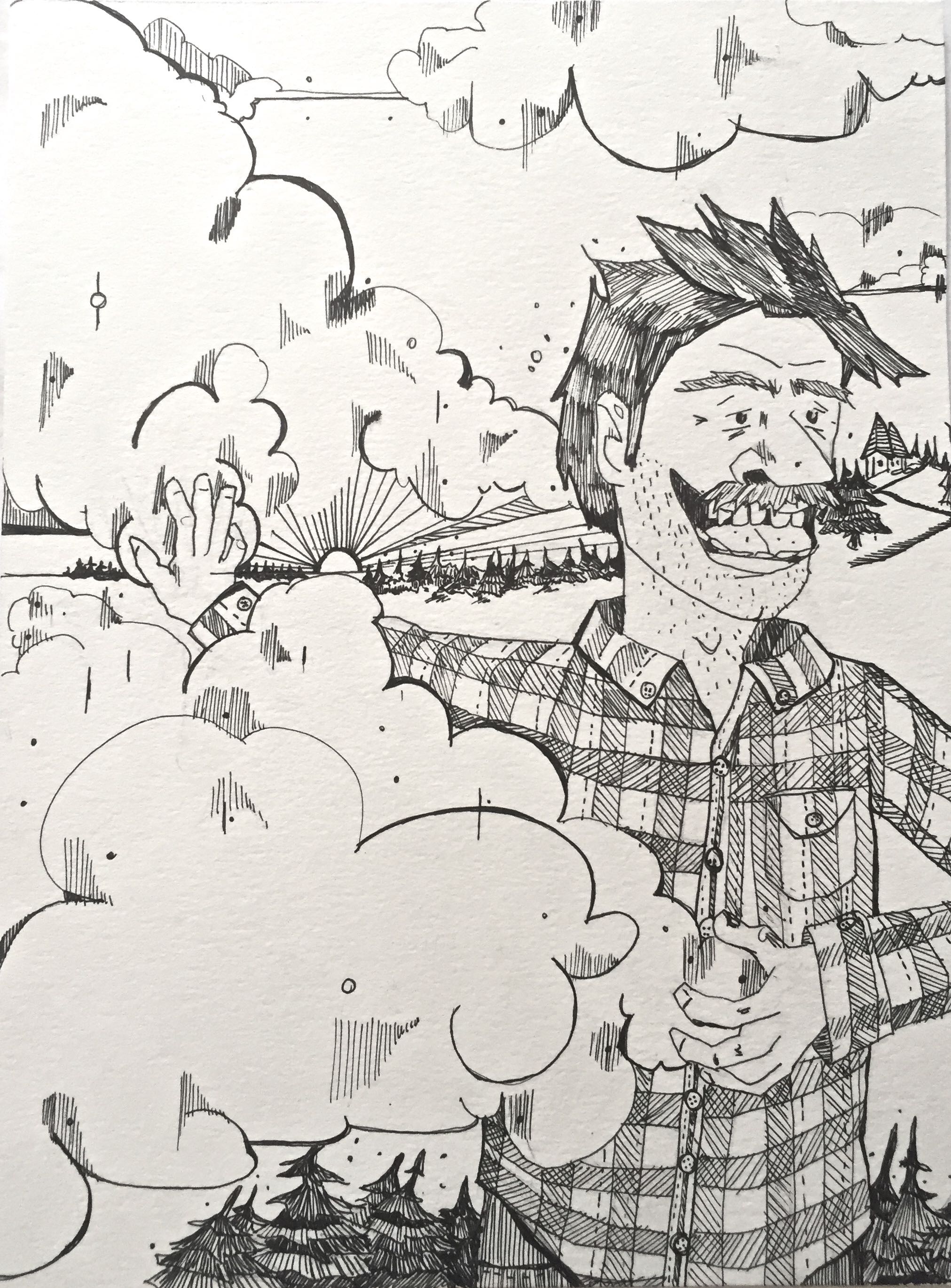 Untitled drawing by Eliza Naranjo Morse, Santa Clara, for the story "The Family of Talls" by Jamie Figueroa in Local Coloring: 5 Writers/67 Artists, 8.25" x 11" (2017).  Collection of E. J. Guarino
To be honest, I never miss an opportunity to acquire work by Eliza Naranjo Morse.  With the inclusion of the most recent drawing I added, my collection contains twenty-nine works by this artist.  An illustration for "The Family of Talls" by Jamie Figueroa, Morse's drawing is delightful.  It is rich in details and I particularly like they way she individualizes her portraits, whether of real or imagined people.  These are not merely stock characters.  The figure in the artist's illustration for the story is meticulously rendered.  He has rather wild hair, a large mustache, and a broad grin.  Surrounding him are clouds, indicating how tall he is, and he towers over the pine trees in the landscape, another sign of his great height.  He is after all a "tall."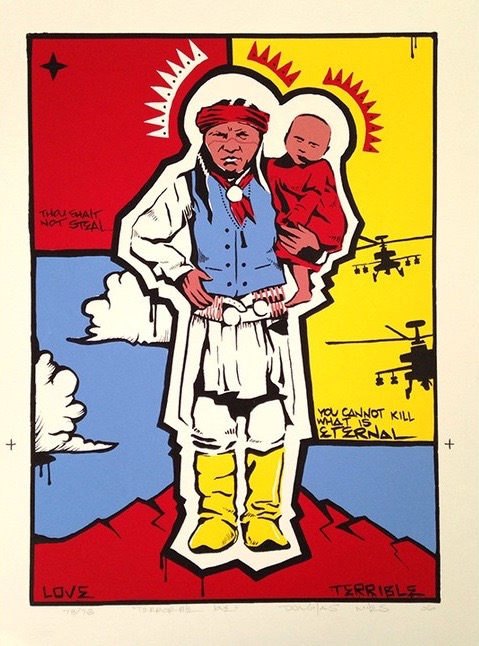 Terrible Love by Douglas Miles, Akimel O'odham /San Carlos Apache, four color serigraph/silkscreen print, 77/700, 26" x 20" (2006).   Collection of E. J. Guarino
I had wanted to add work by Douglas Miles to my collection for some time so when I had the opportunity to meet with the artist so that he could show me examples of his work I jumped at the opportunity.  I found Terrible Love, which the artist also called Terrorble Love to be particularly interesting.  The print, and much of Miles' work, is clearly influenced by graffiti art, a type of visual expression that employs bright colors and expresses social and political concerns.  In Terrible Love, an Indian holding a child seems to float on the page.  The figure is posed much like Madonna and Child paintings of the Renaissance.  On the lower left hand corner of the print is the word love and in the right corner terrible.  The print also contains images of two military helicopters with the statement "You can't kill what is eternal."   This might be a reference to the Iraq War.  The print also contains the declaration "Thou shalt not steal," an allusion to the land that was stolen from Native Americans by settlers and the American Government.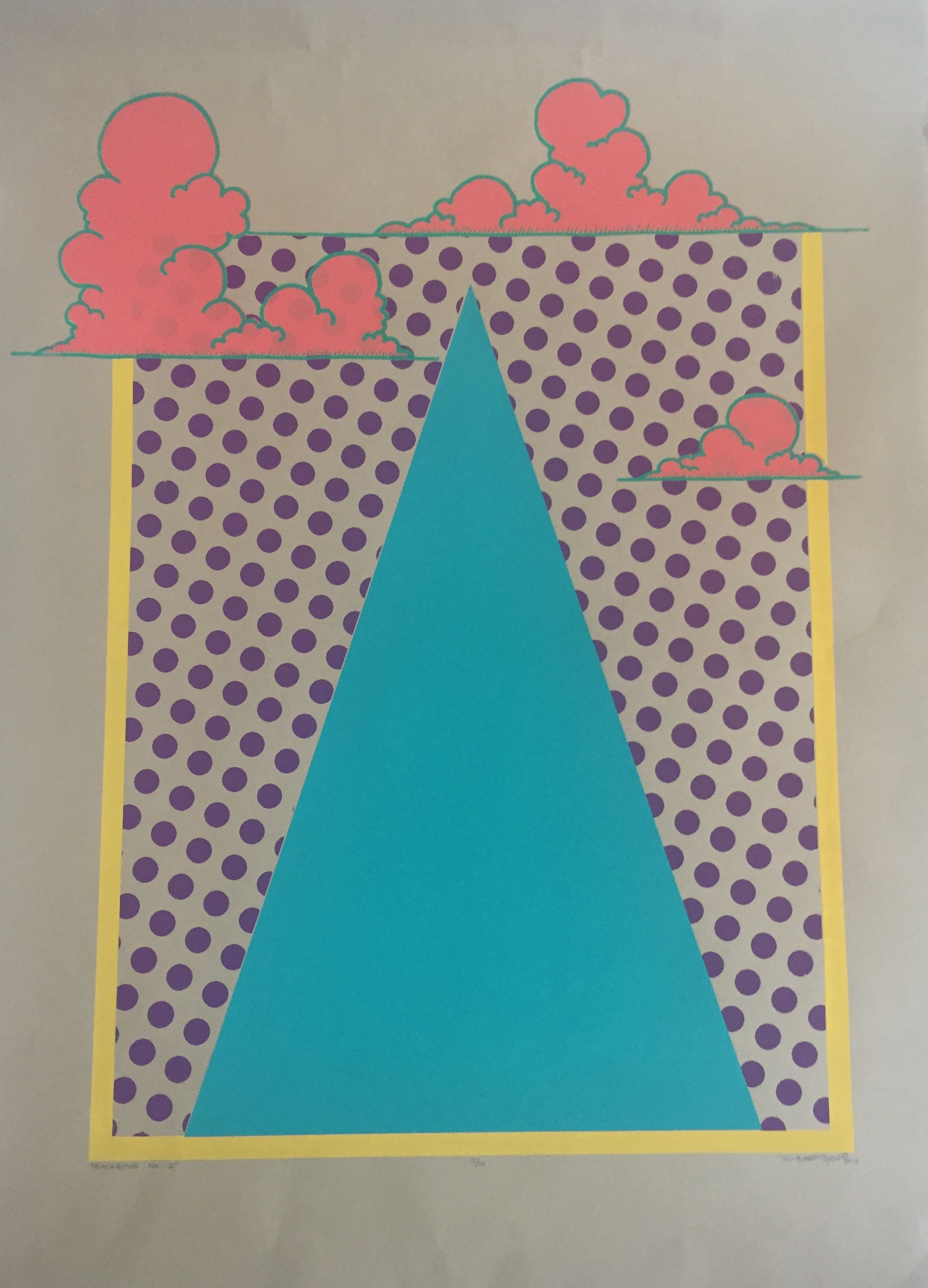 Backbone No. 2 by Terran Kipp LastGun, Serigraph (screen print) on paper,  Piikani, 11.75" x 30" (2016).  Gift of Andrea Hanley.  Collection of E. J. Guarino.
Terran Kipp LastGun is an artist whose career I have been following since he was a student at the Institute of American Indian Arts.  LastGun draws inspiration from his  Piikani heritage, creating works of bright color that are a combination of abstraction and representation.  Backbone No. 2 may not allude to the human anatomy, but rather to a mountain or mountain range since the work"s central image is a triangle that suggests such an interpretation and above it are what appear to be clouds.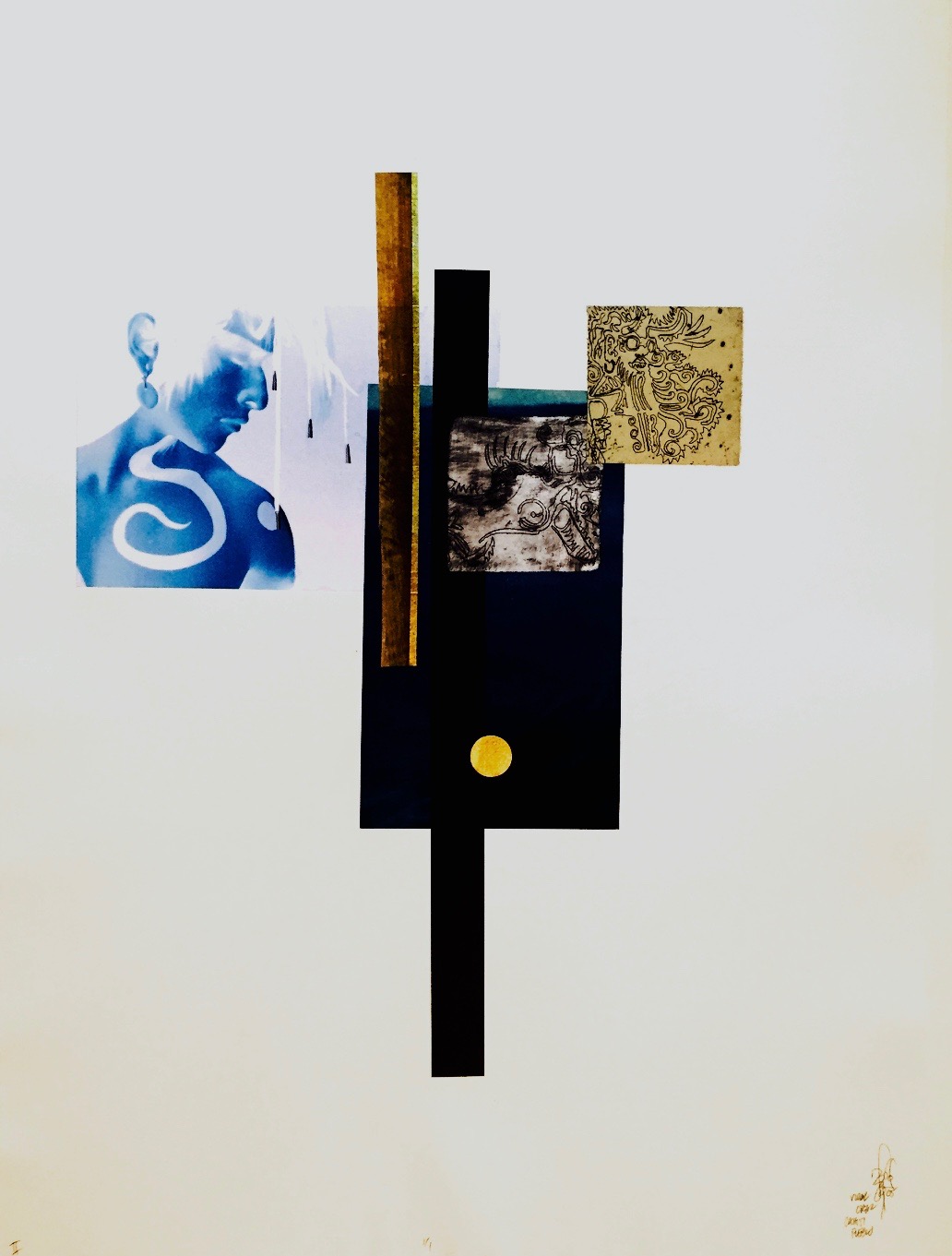 Untitled monoprint by Virgil Ortiz, Cochiti Pueblo, 36" x 10.25" (2005).  Collection of E. J. Guarino
Ceramic works by Virgil Ortiz are among the treasures of my collection.  However, a number of years ago I became aware that the artist was also producing works on paper – monoprints and digitally made, then printed, signed and numbered prints in a limited series of twenty.  A group of monoprints were released in 2005, but I did not acquire any of them.  In 2017 Ortiz announced on Facebook that he was again going to offer for sale some of the prints he had produced a number of years earlier through King Galleries.  I decided not to let another opportunity slip by and, after looking at a number of works, acquired an untitled mono print that combines aspects of the abstract and representational.  Although the print references the artist's ceramic work (the figure of the male on the left), most of the imagery reveals other creative areas that the artist is interested in exploring.
Virgil Ortiz, like a number of other Pueblo artists such as Diego Romero and Jason Garcia, is well-known for his ceramic work, but is also investigating the creative possibilities of works on paper.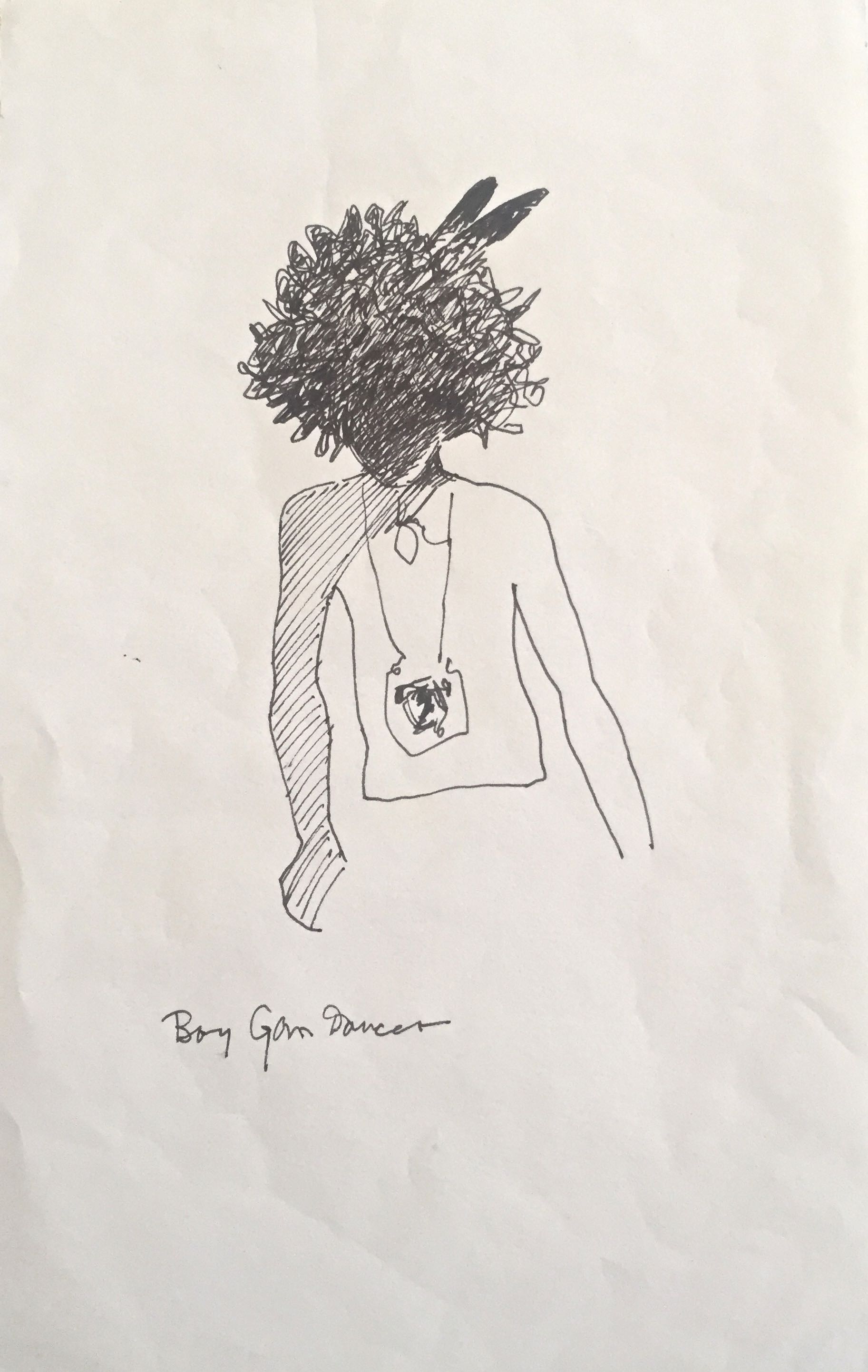 Boy Corn Dancer, unsigned original drawing by T. C. Cannon, Kiowa, black ink on paper, from the artist's sketchbook, 5.25" x 8.25" (circa early to mid 1970s).  Collection of E. J. Guarino
When I acquired Boy Corn Dancer, a drawing from T. C. Cannon's sketchbook, I already had three other works in my collection by the artist.  I found this particular piece to be charming.  I liked the way the dancer's face is not shown.  It is as if it is in shadow because of the headdress that is worn.  Since this is a work from the artist's sketchbook, it has a feeling of spontaneity.  It is a quality that attracts me as a collector.

Boy Corn Dancer signature detail.
 Not long after adding Boy Corn Dancer to my collection, I posted an image of it on Facebook only to discover that doing so engendered an interesting conversation about what the work's actual title might be.  This mini-mystery came about because of the way the artist wrote the title of the piece.  The word corn looks very much like gan because the c looks more like a g and the rest of the letters in corn are smushed together.  Jill Ahlberg Yohe, Assistant Curator of Native American Art at the Minneapolis Institute of Art, thought that this might be the case writing "not wearing a head piece of a more mature Gan dancer of course, but he specifies boy…and that looks like TC's letter "G" for sure."   I even contacted the artist's sister Joyce Cannon who responded, "Could be."
However, despite the problematic handwriting, Ms. Yohe concluded that the title of the work was, indeed, Boy Corn Dancer because the figure is wearing the feathered headdress of a young corn dancer rather the hood that would have been part of a young gan dancer's regalia.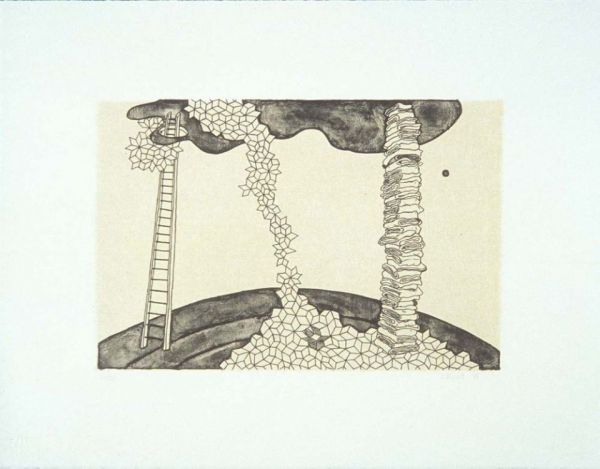 Three Ladders by Marie Watt, Seneca, one color lithograph with chine-collé, ed. 6/20, Paper size: 14" x 18;" Image size: 19 1/2″ x 23 1/8″ (2004).  Collection of E. J. Guarino
Marie Watt's work has intrigued me since I first saw it in 2004 as part of Continuum 12, an exhibition at the George Gustav Heye Center of the National Museum of the American Indian in New York City.  The exhibit included Watt's Blanket Stories, a sculpture made of two towers of wool blankets.  Many of the artist's pieces are large installations some of which are sculptures make of textiles.  Watt also creates smaller textile works that are in my price range, but do not fit into any of the areas in which I am currently collecting.  Over the past few years I have narrowed my acquisitions to three areas: Native American works on paper, Inuit works on paper, and Native American ceramics, mostly contemporary.  Marie Watt also produces woodblock prints and lithographs, which allowed me to add work by her to my collection.    After considering a number of pieces at the PDX Contemporary Art Gallery in Portland, Oregon, I chose Three Ladders because I felt it referenced the artist's textile works, particularly Blanket Stories.
As a collector, within my collecting areas, my tastes are rather eclectic.  Although I do like much of the work of established artists, I feel that it is also important to support beginning and emerging artists so that my collection reflects Native art at this moment in time.  Collecting only the work of artists who have achieved a certain level of fame is a very narrow focus and doesn't reveal the breath of contemporary Native creativity.  To some, my collection may seem "oddball," but no