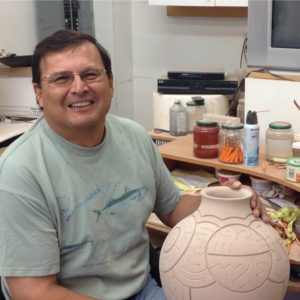 In July, 2014, I had a chance to sit down with Santa Clara potter Nathan Youngblood in his studio near Santa Fe, NM and ask him a few questions about his art and career.  I have been lucky to be working with Nathan for nearly 20 years.  You would think by now I would be out of questions, but there is always something new to learn! I hope you enjoy!
Charles S. King
_________
d
CK:  Tell me about me about your first experience attending Santa Fe Indian Market.
NY:  That was early 70's. I went to Indian market with my mom and grandma Margaret.  I was sort of a gopher, so I was helping them set up and if they had to take a break I would sit in the booth and watch the pots while they went to lunch, that sort of thing.  Quite frankly it was an overwhelming experience.  There were so many people and they were inundated all day.
d
 d
d
d
CK:  What about the first ribbon you won?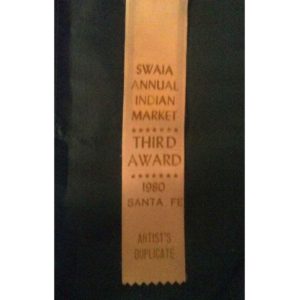 NY:  I can tell you about my favorite ribbon, my most important ribbon I ever won. I entered a carved piece of pottery.  Back then we would show up real early on Saturday morning to pick up our things.  I was there about 6 or 6:30 in line waiting.  You never know what you are going to get, because you don't know what the judging is.  So, I'm looking around and I see my piece and it has a third place ribbon on it.  I thought, "That's great!"  And then you are always curious who won first and second.  So I look and the second place piece was by my mom, Mela, and the first place piece was by grandma Margaret.  So I won a third place behind the two of them (the ribbon is pictured to the right).  That's my favorite, best, most important ribbon.
CK:  That's a great story!
k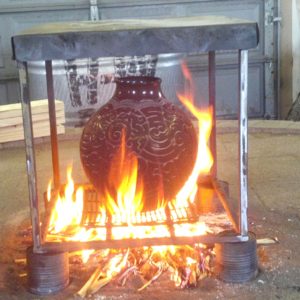 CK:  At Santa Fe Indian Market you have also been a judge numerous times.  What do you think about that experience?
NY:  Well first off, it's great to see all the artwork.  When we go in we do an orientation first thing in the morning and then the pottery judges get together and there are 3 groups of pottery judges.  We find our partners for our divisions we are going to judge and we visit for a little bit.  Then we walk around and look at all the pottery first.  Then we talk about how we are going to approach the judging and then pick the first division we are going to do.  We look through all the work and then go through the judging process. I've been very fortunate with the people I've been partnered with.  We are all on the same page as to the technical aspects of what should make an award winner. And also the aesthetic aspects.  It's a fascinating process and fun to see every year what artists are doing new or how their level of expertise has improved…hopefully.  It's been a very positive experience.
d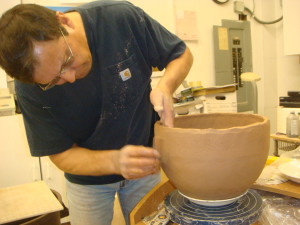 CK:  The first year I judged you were one of the head judges.  It was a really educational experience.  You took me and some of the other judges around and talked about all different pots and why things won and why they didn't and I learned so much about the technical aspects of Pueblo pottery.  I've been judging off and on now for almost 20 years. It's an amazing experience if it is done well and you have knowledge people.
NY:   It's a good chance for people who judge to come in and learn more about all the technical and aesthetic aspects.
CK:   So, let's talk a bit about your designs.  I think your designs have really changed over the past decade. Any thoughts on how you think your work is changing? Also maybe comment on how you started and learned to design from your grandfather, Alcario.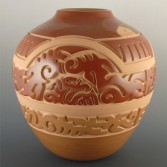 NY:  When I first started, to me, the essence of what we were doing in pottery was traditional shapes.  I was working with my grandmother and I really tried to focus on shapes and getting a great finish.  But I learned really quickly that for every undecorated piece I could sell, I could sell many more carved pieces.  That's what people were interested in.  So, as much as I didn't want to do carving I started working on it.  I would be sitting next to Alcario and I would be working on my work while he was working on one of Margaret's pieces. I would get a chance to ask him about the different designs and what he looks for.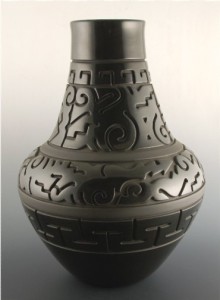 NY:  The first thing I learned is that the pot will tell you what it wants to have on it.  You can't go in there with a preconceived idea and say "I'm going to do THIS design".  The clay will tell you the shape it wants to be. The clay will tell you what designs it wants on it. You just have to open your mind up and let the pot guide you as to what you are going to put on it.
As far as the things I do now and the things I've done in the past decade…to me if you aren't doing something new, it's boring. I can put the same designs on the same shaped pots and sell them.  But at a certain point it's just boring for me and for collectors. So this is why I continually try and change and do other things.
sdfasdfsaa
sfsd
sd
hkj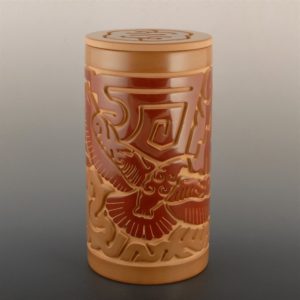 NY:  One of the pieces I made last year was a canister with a raptor, or hawk, flying on it.  I had thought about doing birds in motion.  So I scoured photographs until I found something I liked and then I tweaked it to be my own form.  Then I carved it onto my own pot and it transitioned really well.  It looked very nice.
 fsda
addfdf
dfdf
fs
asf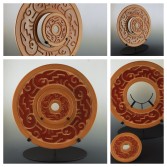 NY:   The other thing I did recently was a double plate. Years ago I made a round plate with the center cut out. It reminded me of a Chinese coin.  I thought about doing it again but this time taking the center piece and designing and finishing it.  But how would I mount it? I was able to have it mounted so that when you looked straight on it looked like one plate.  When you looked at it from the side, you can see that it has a three dimensional setback.  I really love the dimension idea.  However you turn to look at it, it changes.
das
_______________________________
The tools (screwdrivers) Nathan uses to scrape down the recessed areas of his pottery (right).  Nathan using a small screwdriver to scrape away at the clay after a red piece is fired to create the matte surface. (left)
a
_________________________
as
CK:  That is interesting to add a new style of dimensionality to the pottery.  Using multiple pieces together creates something more sculptural.
CK:  What is coming next in your work? Where do you want to see it go in the next several years?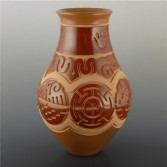 NY:  Hopefully I can keep improving on my quality.  Come up with new designs and ideas that interest me and collectors.
CK:  While you have made some miniatures, you are making some of the largest pieces of your career.  Do you like working on a larger scale?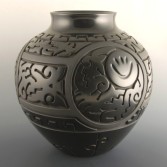 NY:  I like working on a larger scale.  Physically miniatures are very difficult.  You have to work with them right in front of your eyes and often your chest.  Your arms and shoulders tighten up.  Quite frankly it's easier to work on a big piece than it is a miniature.
______________________________________
Nathan Holding one of the large Pukis that he made for making plates and bigger vessels.  He put his "Deer Track" hallmark on the bottom.
_________________________
CK:  So, you are finishing up some pieces for Indian Market.  What are you excited about for 2014?
NY:  I really like the shapes!  I've tried to do something different.  One piece is very much inspired by an Oriental Ming vase shape.  I love the shape of the piece.  Most of the pieces, when I make them I use a puki (a type of base used when starting traditional Pueblo pottery), or a small bowl, for the base of the bowl. This helps makes the walls round up as they come up from the bottom.  On the "Ming" shapes that I do, instead of using the bowl for the base I use a small flat wooden base and build straight up off of that.  I love how the shapes come up and into the shoulders.  I'm also trying to finish a small storage jar.  It's a very round shape and where the neck comes ups instead of coming to an abrupt stop I've built that into a small shapely neck. I like the overall shape of it and how it looks. It's a more complete shape.
___________________________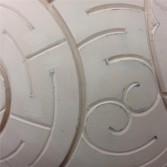 Close-up of a section of a jar in the process of being carved.
_____________________________
CK:  You have had an extraordinary career.  You do some of the most sophisticated and refined Pueblo pottery being made today.  What piece of advice would you give to a younger potter?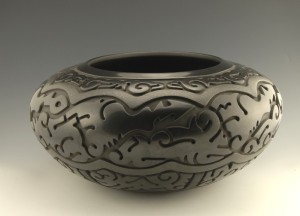 NY:  The first thing is if you are going to work in clay, devote yourself to it.  That's true of anything you are going to work in. Devote yourself to it.  You live your craft.  You don't do it once in a while you do it all the time.  It's the only way you can be good.  Someone once said "excellence is not a sometime thing, it's an all-time thing".  You have to devote yourself to what you are doing.
NY:  The other thing is that as you begin to achieve success, don't kick your prices up 20 or 30% at a time.  Just because you won a ribbon doesn't mean you "won" a career. It takes years to build a career.  I've been doing this for 45 years. I made my first piece when I was 15.  But I started devoting myself when I turned 20.  I learn something new every day when I'm working in clay.  It's not necessarily all good.  The clay can have problems or things break or crack.  Every day is a learning experience.  It's important to achieve a level of technical excellence, aesthetic excellence and quality excellence.  You need to constantly grow. That's the difference between an artist and a craftsman.  A craftsman achieves a certain level and stays there.  An artist is always challenging themselves.