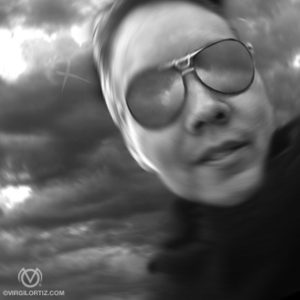 At the end of July, 2014, I had a chance to sit down and talk with Cochiti potter, designer and all-around Pueblo Renaissance artist Virgil Ortiz.  I've been lucky to work with him and his family for almost 15 years.  Believe it or not there is always something new for me to learn about his art, his family, his past and most excitingly, what's next! 
Virgil is intuitive and creative with his use of social media with an innate ability to create striking graphics.  He created a few ".gifs" for the post, so click on some of the images below for the "mini-movies".  
I hope you enjoy  and look forward to your comments! 
Charles S. King
 ___________________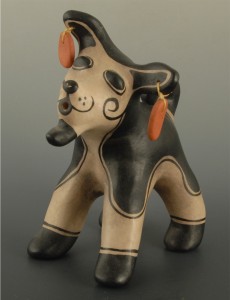 CK:         Let's start with when you were a kid and watching your mother (Seferina Ortiz) make pottery.  Did you ever think you would become a potter?
VO:        I just wanted to jump into it and mess with it too.  It looked fun. That was my first thought.  Once I touched it…well, I think the clay chooses you, right? If it will work with you, or not?  I would watch my Mom work with the clay every day.  I would wake up to her making pottery and kick back with her.  I wanted to do the same thing.   I'd start messing with the clay and then she would show me how to do it better.  Eventually that was how I learned how to coil, or put arms on, or make a pot or make a figure.  Just watching her doing it every day.  I thought it was just a normal part of everybody's life.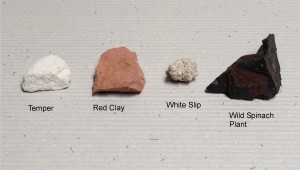 The materials the the right are used by Virgil and his family to make a piece of Cochiti pottery. Red clay is mixed with temper. The coil built jar is slipped with the white clay slip and painted with the wild spinach.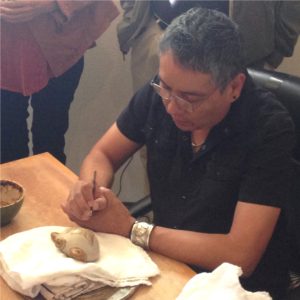 CK:         Your use of native clay, native paints and native firing seem critical to your pottery.  Can you explain the importance of these traditional techniques in your art, which in itself is often very modern and edgy.
VO:        Using all the traditional methods and materials, that's how all of my siblings and I learned.  Watching how it was all done I didn't realize how hard it was as a kid, because everything was fun while we were doing it.  When you grow older, the time it takes to get the clay, get the temper, harvest the wild spinach, fire outside, it's a lot more time consuming.  A lot harder than it was when you were a kid!  Being taught in a real traditional way like that… it's an honorable way.  Not only to the grandmas and grandpas that did it that way, but to know that you are going to keep that tradition alive and pass it on is more important.  I still welcome other ways, like in the firing, that would reduce some of the risk of the process.  I teach others how I was taught but I also encourage them to try different methods to see what works for them.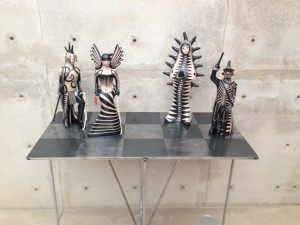 CK:         Your Pueblo Revolt 1680/2180 Series has been groundbreaking in its imagery. Did you ever imagine that your attempt to bring this story to the public would gain acceptance so quickly?
VO:        No IDEA!  That was just something that just came into my head. It's the importance of the whole story and our history and all the 19 Pueblos and what everyone went through.  It is an important story to tell because it is not told in any of the mainstream history books or in school.  Growing up I realized I could tell stories through the pottery.  Learning how to be able to tell a story through the clay was fun.  The whole process also opened up to me the possibilities of working in a lot of other mediums.  I had no idea it would gain so much attention.  It makes me want to continue to develop more characters and the storyline and educate the world!
CK:         You talk about the various characters of the Revolt Series.  In terms of process, do you create the story in your mind and then the figures, or do the figures first and then build the story around what you have created?
VO:        I think it feeds off each other.  I wrote a script about it.  It's always going to change.  I can never plan out a piece of pottery, it always changes.  Well, at least mine do!  It never comes out exactly how I want it to. 
CK:         What about the various media you utilize? How are you able to combine clay, video, fashion or other media together?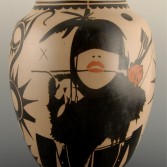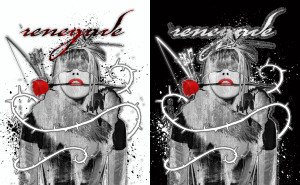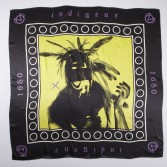 VO:        What I do usually turns into three ideas. So when I'm working on a piece of pottery I then get ideas for the clothing.  Or maybe I try to mimic a piece of pottery with clothing so the garment looks like the clay pieces.  I'll take those designs and turn them into a graphic for Instagram or Facebook and then that gives me a new idea for a figure.  The more I do the more ideas pop into my head.  All mediums inspire one another. It's a full circle.
CK:         You are successful in a variety of media (clay, fashion, art, jewelry).  I hear a lot of younger artists say you broke that barrier for them in being able to work in multiple media.  What do you think of that and how would you encourage younger artists to expand beyond the limitations of being seen as just a potter or jeweler, for example.
VO:        I think if they are young Native artists just starting out, they should try and learn the medium using traditional methods and materials of where they come from. What art comes from their heritage, and master that.  Then develop that into their own distinctive style.  They can change the whole aesthetic.  If they are non-native artists, I would encourage them to do whatever is in their head.  It is really hard to come up with original ideas and follow through with it and create it.  If you do it with no guidance it is more pure.  If you can pull it off it's even better for you!
CK:         So, let me ask you about a couple of pieces you made in the past.  Tell me a bit about this figure from the Blind Archer Series.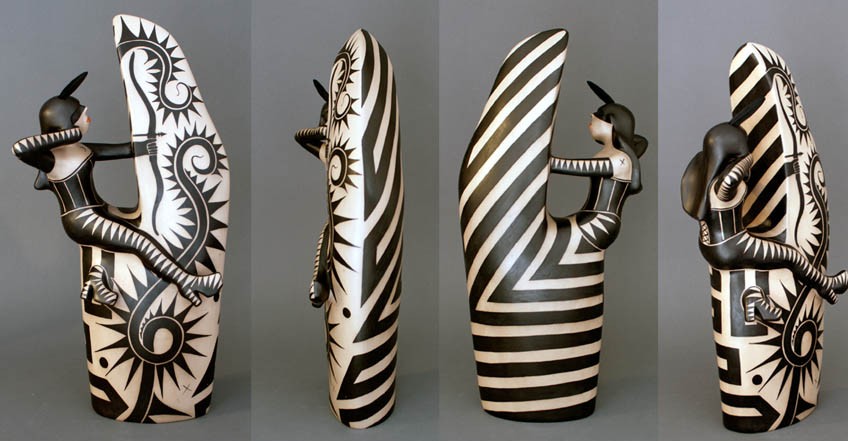 VO:        Oh that piece!  You can't sculpt tiny bows and arrows out of native clay without it breaking. You will notice on a lot of the clayworks that the arms and legs are connected to the main body for strength and stability.  I thought it would be interesting to sculpt the clay as if it were in motion and then paint it to accentuate it…to give it a look that it is moving or in action.  If you look at it straight on, it looks like a painting.  The eye "fills in" the negative space.  Only when you turn it does the depth come into play.  I wanted to see if I could make a piece that would combine the illusion of being both two-dimensional and three dimensional.
CK:         These jars are ones where you painted faces on them. That is something you only started to do around the time of the "Free Spirit" exhibit in Amsterdam in 2005.  They seem very androgynous.  Is that your intent?
VO:        It's whatever the viewer takes from it.  They are androgynous looking, so you can't really tell who's kissing what or what's kissing who (laughs).  It's left up to the viewers mind. I think it's a cool idea if you know all the traditional designs from your family but then can tweak the designs to make it your own.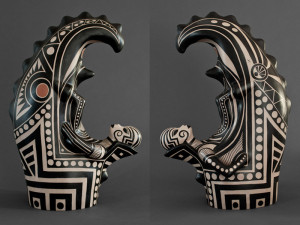 CK:         This is one of the Aeronauts from the Pueblo Revolt eVOlution 1680/2180 Series.
VO:        For the shape of it, I wanted to combine aspects from my Velocity series.  I wanted to create an illusion of motion using the sculpting and painting.  From the Blind Archer Series it has a more three dimensional style of sculpture.   The Aeronauts, I designed them so they look like they are launching off like a rocket or an aircraft.  They are portrayed like the Ancient Ancestors (aliens).  They are laid back and surrounded with old style "hieroglyphics".  I thought it would be cool to capture that in clay, in one of my figures.
CK:         Will you continue with the Pueblo Revolt Series?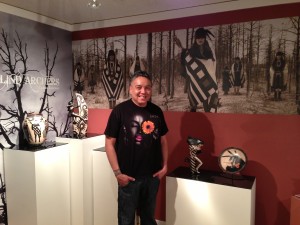 VO:        Of course I will I don't see it stopping any time soon.  It's the base storyline of my script for a feature film, as well as other projects.  The more you do something the more you dive into it dissect it and develop more ideas.  Just brainstorming about the whole process creates new ideas.  I don't think it will ever stop.  I don't see the ideas ever stopping.  Hopefully people will understand what the pottery pieces are telling them.  The pottery pieces are timelines to what happened in the past.
CK:         For Indian Market 2014, in addition to your booth on the plaza, which you share with your family, you are having your new Pop-up store in La Fonda Hotel.  How did you come up with this idea?
VO:        The VOBO Pop-Up Boutique is a first this year.  We came up with it as I'm not approved for garments or jewelry or manufactured items at the booth.  Just the pottery.  So I decided on the Pop-Up Boutique.  I've always relied on gallery shows during Market so that there can be a proper display of the artwork.   This space in La Fonda Hotel will be a nice way to display the new mediums of my work.  It's like my own "little gallery" in the midst of all that goes on during Indian Market.  We can play my films and videos on monitors, unveil my new 2015 leather accessories and I also have some unexpected surprises in store.  It will be a great place for customers to come and visit…oh, and my staff and I get to be in the AC!   

VO:        I'm also excited about participating in two other events during Market.  I was asked to donate something for IAIA's (Institute of American Indian Art) Benefit Gala and Live Auction (Thursday, August 21).  I'm donating the artist proofs of the first four collector plates that are being made by the C-File Foundation (Garth Clark).   They feature the Translator, who is the main character of my whole Pueblo Revolt 1680/2180 theme.
VO:        The other is being part of the SWAIA Gala Auction for Indian Market (Saturday, August 23).  There I'm going to do some live body painting like I do for one of my photo shoots.  You've seen me do the body painting.  It's so much fun to watch one of my characters (Translator) come to life.  I'm also donating these "Translator" Triptych photographs for the live auction.
CK:         Yeah. It's amazing to watch you do the body painting!  It's kinda mesmerizing  to watch the transformation.  Everybody should see you do the body paint!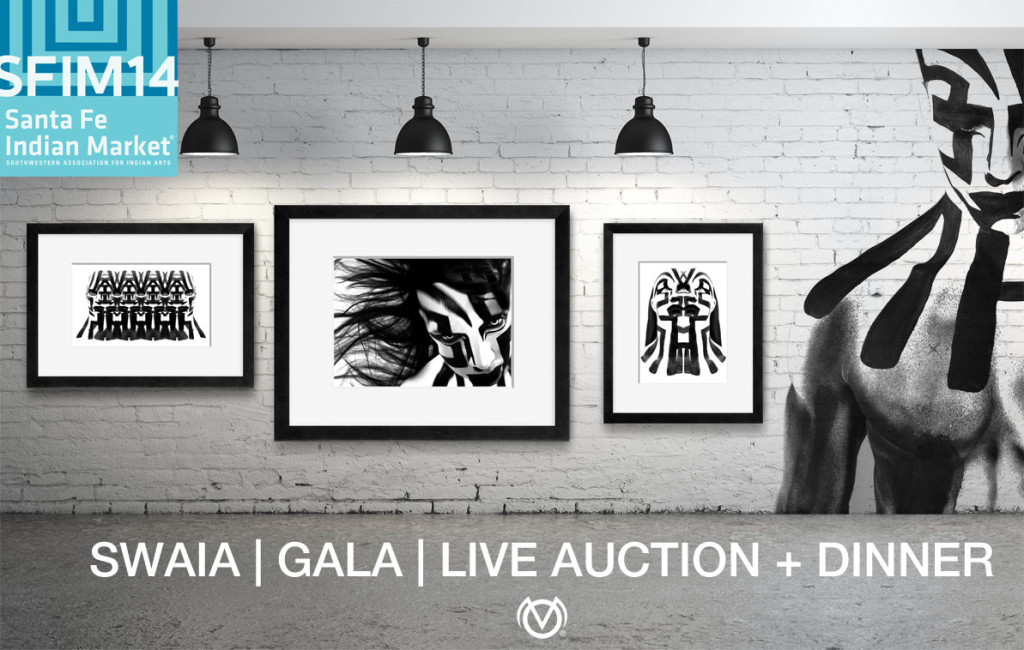 VO:       As if that isn't enough I also created a "Live Poster Printing" event where new posters will be printed on-site and I will be signing them! That is going to happen at MIAC (Museum of Indian Art and Culture) in Santa Fe on Thursday (August 21 from 5pm – 8pm).  We are also going to be releasing my new "Made In Native America" tee shirts.     
CK:       Seriously, do you EVER rest? Your support of these organizations and events is very generous.  Sounds like you have really created some interesting, fun and innovative events.  I like how you are drawing in people from so many age groups.  That's exciting!
CK:         Last question.  Tell me about one of your earliest experiences at Indian Market.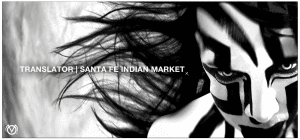 VO:        What I remember about being at Indian Market as a child was waking up early, going to go eat at the Plaza Café with my parents and being very tired but excited.  I also remember walking over to the DeVargas center with my siblings and getting addicted to the first Star Wars movie (1977).  That's where a lot of this fascination for combining Sci Fi and Native art came from!  As for Indian Market in general, it's all about being with my family, helping my nephews and nieces as they get started, taking the time to make some special pieces and meeting people from all over the world.  It's worth being tired out!
Check out more of Virgil's events and fashion on his website:  www.virgilortiz.com