More than ever before Native artists are challenging ideas of what it means to be both Native and an artist.  They are expanding Native art beyond traditional boundaries and refusing to be confined by anyone else's notions of what their art should or should not be.  Nothing, be it themes, materials, or forms, is off limits to them.  Their work is informed by their own cultures but they are not afraid to draw inspiration from wherever it may come.  Such work certainly doesn't fit stereotypical assumptions and is expanding Native art.  Many artists are breaking out of the "Native niche" to be accepted alongside mainstream contemporary artists.
As a collector, I have been drawn to a number of artists whose work I have consistently found to be inventive, challenging, and innovative.  Below are ten of my favorites.  They were chosen because they have not received as much attention from mainstream critics and curators as they deserve although the quality of their work often surpasses that of better represented artists.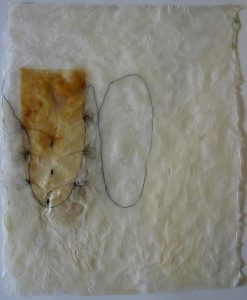 Unraveled Walrus Family Portrait (#2, Row2) by Sonya Kelliher-Combs, Inupiaq/Athabascan,  acrylic polymer, walrus stomach, sheep intestine, nylon thread, archival ink, polyurethane, 10 " x 12" app. (circa 2013). Collection of E. J. Guarino
SONYA KELLIHER-COMBS
In all of contemporary art, there is nothing quite like the art of Sonya Kelliher-Combs.  Often incorporating organic elements, such as walrus stomach, reindeer rawhide and fur, sheep intestine, seal skin, and porcupine quills as well as industrial materials including metal grommets, thread, and cotton fabric, the artist creates works that are surreal, mysterious, mystical and eerily erotic.  The found objects Kelliher-Combs employs are covered in thick layers of acrylic polymer or polyurethane, giving many pieces the appearance of stretched skin.  Although she draws inspiration from sources as diverse as geometric designs on ancient Inuit objects, historic scrimshaw imagery, and Alaska Native clothing patterns, Kelliher-Combs' work defies categorization and subverts our notions of what art should be.
_________________________________________________________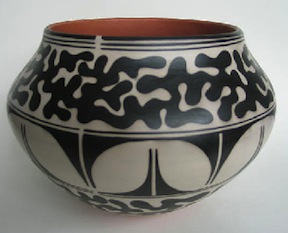 Jar with plant and "frog" design by Lisa Holt, Cochiti, and Harlan Reano, Santo Domingo, 10"h x 7½"w (2005). Collection of E. J. Guarino
 LISA HOLT & HARLAN REANO
The dynamic duo of contemporary Pueblo pottery, Lisa Holt and Harlan Reano have gained a reputation for their boldly innovative pottery and ceramic figures.  Lisa forms the pieces and Harlan decorates them.  The designs are modern interpretations of traditional Santo Domingo and Cochiti geometric and vegetal patterns, Harlan's own creations, or "tattoo" patterns, clearly an influence from the work of Lisa's uncle, multi-talented Cochiti artist Virgil Ortiz.  The couple's whimsical, intricately patterned figures have also been influenced by those of Virgil and by classic Cochiti monos, 19th Century figural ceramic works that mocked Anglos, Hispanics, and the Navajo.  Lisa Holt and Harlan Reano's pots are also coveted by savvy collectors not only because they are finely painted with intricate designs but because many of the pieces are much larger than most contemporary potters are willing to attempt since there is the likelihood that such vessels will crack during firing.  Such pieces are elegantly formed, precisely painted works that are at once delicate and dramatic.
_____________________________________________________________________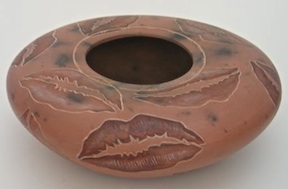 Untitled (Lips) by Susan Folwell, Santa Clara Pueblo, 2.75"h x 9" in diameter (2012).  Collection of E. J. Guarino
SUSAN FOLWELL
Collectors and curators are continually drawn to Susan Folwell's work because she is perpetually inventive.  Whether experimenting with design, form, or materials, she can always be counted on to do the unexpected.  Utilizing Native clays, the unusual shape of her pots become a canvas on which designs that range from minimal or highly decorated are etched, carved, or painted.  Each is a unique personal statement.  Susan fuses traditional and contemporary elements, taking inspiration from Pueblo and most recently from Northwest Coast designs as well as from pop culture, sometimes creating works that are pointed social commentaries.  She was one of the first Native potters to employ acrylic paints and have it accepted by collectors.  Influenced by her mother Jody and her sister Polly Rose, Susan Folwell is among the few Native artists whose work has become part of the mainstream contemporary art market.
________________________________________________________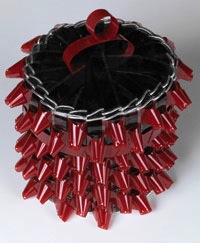 Remembering Wild Strawberries by Gail Tremblay, 16mm film stock, red leader and metallic yarn     and braid, 7 ½" x 5" in diameter (2004). Collection of E. J. Guarino
GAIL TREMBLAY
Although Gail Tremblay's work has been exhibited for quite some time it is not as well know as it deserves to be.  She has created installations, earthenware figures, and prints, but many consider her film baskets to be her signature pieces.  Derived from Iroquois fancy baskets, they are colorful and exquisitely crafted works that combine traditional weaving techniques with contemporary materials.  Fashioned mostly from either 16 or 35mm film stock, the works reveal the irony of a Native artist who has literally bent to her will a medium that has often stereotyped indigenous people.  In addition, titles chosen for the baskets are usually witty, pointed comments on historical, social, or political issues or those of Native identity.  Thoroughly contemporary, Gail Tremblay's art is informed but not bound by Native culture.
____________________________________________________________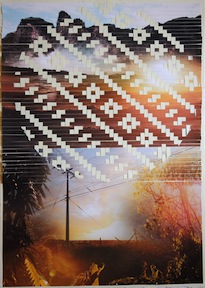 Weaving Water 8 by Sarah Sense, archival laser prints, bamboo paper, artist tape, 19.5"x 27.5" (2013).  Photo courtesy of Sarah Sense
 SARAH SENSE
            Like Gail Tremblay, Sarah Sense takes a medium with a history of stereotyping the indigenous people of the Americas and uses it for her own ends.  Her assemblages combine contemporary materials and traditional Chitimacha weaving techniques.  Employing woven photographs, Sense's work often makes pointed social, historical and political commentary as in her "Gone With Him" series.  Her recent body of work, "Weaving Water," creates exquisite images while exploring concepts of light, form and color.
__________________________________________________________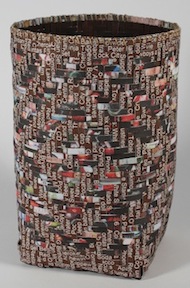 Toxic Web by Shan Goshorn, Arches watercolor splints printed with archival inks, acrylic paint, 6" x 6" x 8.5" (2013). Woven "Spider's Web" pattern. The background brown splints are printed with contemporary and stereotypical use of Indian names to promote commercial products (including mascots) while the splints that created     the multi-colored, nested diamonds are printed with bottles of alchohol.  Collection of E. J. Guarino   
SHAN GOSHORN
            Most often inspired by an idea, Shan Goshorn works in a variety of media but her social commentary baskets are fast becoming her signature work.  Much sought after by collectors, these striking and thought provoking creations employ a diverse range of Cherokee basket forms and weaving patterns.  However, rather than using traditional white or or river cane splints, Goshorn uses reproductions of manuscripts, documents, and photographs relating to Native American human rights issues.  The use of archival rather than natural materials suggests a loss of territory and of traditional gathering places.
______________________________________________________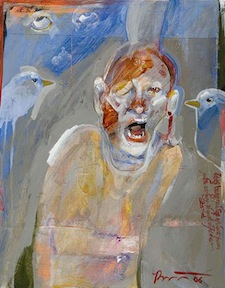 Rain Chant Little Narrative XXVIII by Rick Bartow, acrylic on masonite, 14"h x 11"w (2006). Collection of E. J. Guarino
RICK BARTOW
            Angst-filled, psychological, symbolic and visually arresting, Rick Bartow's work can be viewed over and over again and new levels of meaning will be discovered.  Bartow has produced sculptures, paintings, prints and mixed-media pieces that have dazzled collectors, curators and the public alike.  His work is richly layered and provocative.  Although known mostly for his paintings and sculptures, Bartow's prints are equally spectacular, extremely affordable and a perfect introduction to contemporary Native art for beginning level collectors.   Although sculpture, painting and prints are often regarded as European or mainstream media, Rick Bartow manages to infuse them with Native American iconography and the autobiographical nature of his work is a rare statement of Native expressionism.
_________________________________________________________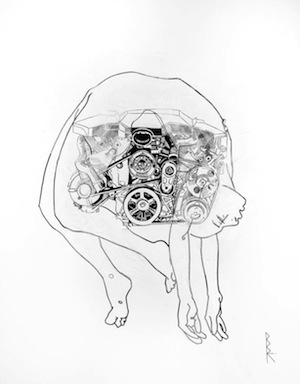 V-8 Engine by Rose B. Simpson, mixed media on paper, 14" x 17" (2013).  Collection of E. J. Guarino
ROSE B. SIMPSON
Noted for her imaginative, edgy work, Rose B. Simpson has already built a strong reputation for her inventiveness and willingness to take risks despite being young.  She dares to be a bold artist who works in a variety of media, creating both large and small scale works.  Simpson has produced sculptures, ceramics, drawings, prints, mixed-media pieces, and performance art.  Her work is always exciting and unexpected and one never knows what she will attempt next.  Although Simpson is art school trained, she is acutely aware of her position as a Native American artist but still adds her unique personality to her work.
____________________________________________________________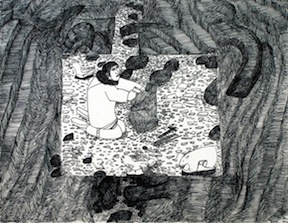 Composition (Sculptor in Landscape) by Shuvinai Ashoona, ink, Inuit, Cape Dorset, 20" x 26" (2001/02). Collection of E. J. Guarino
SHUVINAI ASHOONA
Life in the Arctic has been a staple of contemporary Inuit art since its inception.  However, as seen through Shuvinai Ashoona's eyes it is far from benign.  Shuvinai first came to the attention of collector's through a series of black- and-white works that are detailed, brooding, nightmarish visions in which mundane objects, such as rocks, pebbles, and even bird's eggs, take on ominous overtones.  Often such works were landscapes or camp scenes that were eerily devoid of animals or humans.  In addition to her fantastical landscapes, Shuvinai Ashoona is also a chronicler of modern Inuit life.  In recent years she has not only broadened her color palette but her focus as well, creating landscapes with human figures, still lifes, self-portraits, and scenes of daily living in Cape Dorset, the community in which she lives.  Although there are similarities to the work of her more famous cousin Annie Pootoogook, Shuvinai's vision and style are uniquely her own.
________________________________________________________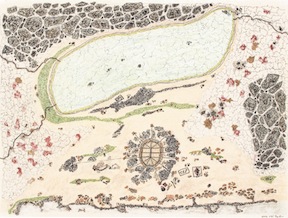 Overview of Camp by Siassie Kenneally, pencil crayon, ink, Inuit, Cape Dorset, 20" x 26" (2005/06).  Collection of E. J. Guarino
SIASSIE KENNEALLY
Siassie Kenneally's work has only recently begun to be shown but it has already attracted the attention of collectors and curators.  She is part of what Nancy Campbell, curator at the Art Gallery of Alberta, has termed the Third Wave, the third generation of contemporary Inuit artists.  Although her drawings have similarities to those of her cousin Shuvinai Ashoona, Siassie's landscapes offer vibrant aerial views which, though they at first glance appear to be abstracts, focus on specific, recognizable areas of her home community of Cape Dorset.
_________________________________________________
Native artists are creating some of the most cutting edge and interesting art being produced today.  Unfortunately, they often do not get the recognition or exposure they deserve.   However, collectors, including those whose focus is not Native art, are discovering that the work of contemporary Native artists can add a unique perspective to any collection.  The work of contemporary Naive American artists is a product of our times, but it is informed by a rich cultural tradition.