In the minds of many, Native American artists are inexorably linked with what has come to be known as the "traditional arts" – pottery, baskets, beadwork and such.  However, while many contemporary Native artists still work in these media, more often than not, they execute their art in decidedly modernist ways.  Other contemporary Native artists work in media that are not readily associated with Native Americans such as photography, painting, sculpture and printmaking.  Also, more and more Native American artists are multi-disciplinary and, in recent years, an ever growing number of them have been producing works on paper.  Compared to ceramics, for example, works on paper by Native artists are an under collected area.  This is unfortunate since many pieces are powerful examples of contemporary art.  Although the term paper tiger is usually taken to mean someone or something that appears powerful but is actually weak, the term when applied to Native American graphic artists takes on a completely new meaning: These paper tigers have teeth.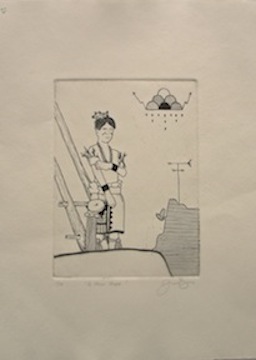 A New Hope by Jason Garcia, Santa Clara, hard ground etching, 1/10; Paper size:  14.5"h x 11"w; image size: 8"h x 6"w (2013)Collection of E. J. Guarino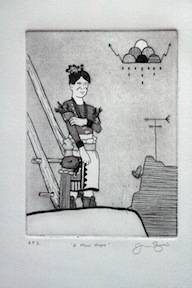 A New Hope by Jason Garcia, Santa Clara, etching and aquatint, 1/5; Paper size:  11"w x 14"h; Plate size: 6"w x 8"h (2013).  Collection of E. J. Guarino
              Although he is best known for his ceramic tiles, Jason Garcia has produced a number of stunning prints and drawings.  His work often combines aspects of traditional Pueblo culture with modern technology, pop culture and brand logos.  In A New Hope the artist portrays the reality of contemporary Pueblo life: A young man is dressed in the regalia of the traditional corn dance ceremony but on the building in the background there is a satellite dish and a TV antenna.  The title has a dual meaning.  The young man is obviously the hope of the future but, according to the artist, the words are an allusion to Star Wars: A New Hope.  Clearly, Garcia felt that the theme was important since he produced two prints on the subject: one is a hard ground print, the other an etching and aquatint.
 Corn Maiden #8 by Jason Garcia, polyester plate lithograph, Santa Clara, 1/6, 15"h x 11"w (2013).  Collection of E. J. Guarino
             Similarly, in Corn Maiden #8 Garcia once again deals with the fact that Native people must navigate through two realities – traditional and contemporary.  The print shows a young woman of Santa Clara wearing a tablita on her head, a necklace and Pueblo ceremonial regalia.  She is dressed for the corn dance, which takes place on August 12 and honors the pueblo's patron saint, Clair of Assisi.  Hovering above is an abstraction of a rain cloud.  The scene bespeaks tradition, except for what, at first glance, may appear to be incongruities – a satellite dish on a building in the background and a cell phone in the woman's right hand.  These two objects indicate that this "traditional" scene is not set in the past but in the 21st century, an indication that Native American culture continues to evolve.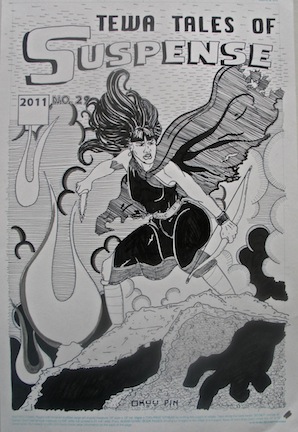 Tewa Tales of Suspense! No. 29 by Jason Garcia, felt tipped pen, Santa Clara, 17"h x 11"w (2011).  Collection of E. J. Guarino
             Like other Pueblo artists, most notably Virgil Ortiz and Diego Romero, Jason Garcia has produced graphics that reference the Pueblo Revolt of 1680.  In Tewa Tales of Suspense! No. 29, a 2011 drawing, Garcia cast the rebellion in the form of a comic book cover, the female warrior portrayed as a super hero.  By employing the comic book style, Garcia makes an important event in American history accessible to a wider audience, particularly young people.  He also counters the stereotype of the passive Native woman by creating a powerful image of a female figure in an aggressive pose, wielding a knife and a bow.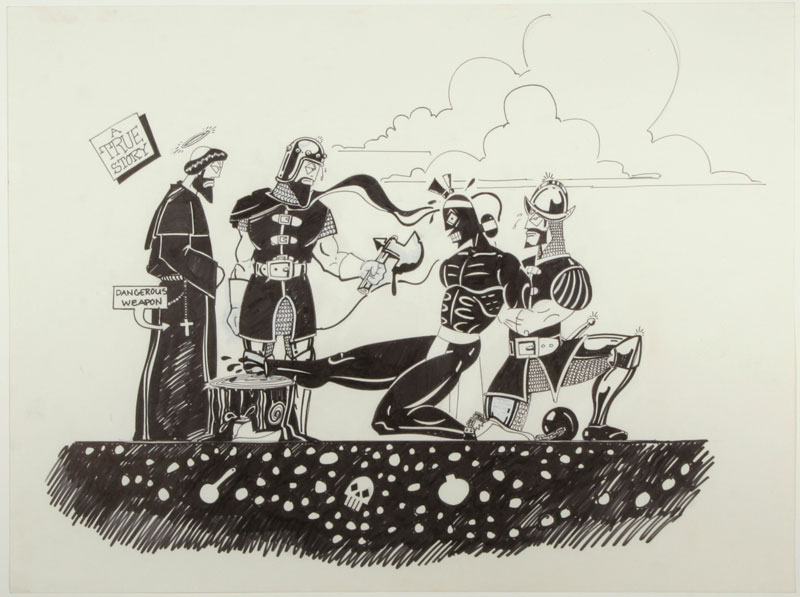 A True Tale by Diego Romero, Cochiti Pueblo, ink on paper, 17.5 x 24" (2004).  Collection of E. J. Guarino
             Like Jason Garcia, Diego Romero has been inspired by comic book art as well as by the imagery found in the ceramic bowls created by the Mimbres, an ancestral Puebloan people, and by the art of ancient Greece.  These influences are evident in A True Tale, a 2004 drawing that alludes to the Pueblo Revolt.  In this work, a Native warrior, a ball and chain on one leg, is held down by a conquistador while another chops off the prisoner's foot in reprisal for his participation in the rebellion.  A scowling Franciscan looks on.  Employing techniques from comic book art, Romero makes it clear that what is being portrayed is "a true story" and comments on the Christian cross as a "dangerous weapon"  Oddly, the friar is shown with a halo above his head in the way that saints are pictured.  This may be the artist's way of saying that what we assume to be holy may, in fact, be quite the opposite.  Below the scene, buried in the earth, is a human skull and pottery, indicative of the Native people who inhabited the land long before the arrive of the Spanish.
          A True Tale is the basis for a ceramic bowl of the same title by Diego Romero that is in the permanent collection of the Nelson-Atkins Museum of Art in Kansas City, Missouri.  The artist often creates drawings as studies for his pottery.
Shakespeare's Dreaming by Rick Bartow, drypoint etching on Kozo Paper, 3/14, Wiyot,16"h x 11"w (2009).  Collection of E. J. Guarino
             Although predominantly known for his painting and sculpture, Rick Bartow has also produced a large body of prints.  Though it is not as well known by the public, Bartow's graphic art, much of which is decidedly surreal and expressionistic, is an important part of his creative output.  In Shakespeare's Dreaming, for example, the artist combines surrealism with literary allusion.  The print shows a figure curled in a fetal position, which is suggestive of birth and creativity.  Above looms the head of a donkey, a reference to A Midsummer Night's Dream, in which the character of Bottom has his head turned into that of an ass.  Human and animal are connected by a roughly drawn slash mark.  The work is the artist's visual representation of the creative process.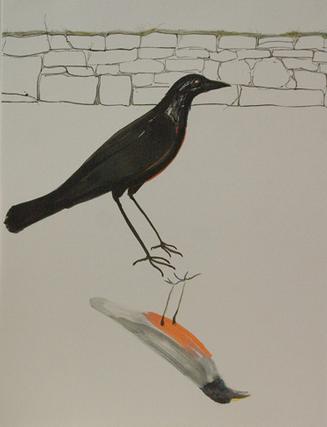 Dreams of Singing Robin Dance by G. Peter Jemison, serigraph, 8/20, Seneca, 10"h x 10"w, (2011).  Collection of E. J. Guarino
           G. Peter Jemison is, perhaps, most famous for his iconic paper shopping bags, found objects that he decorates with unique imagery.  (See "A VIEW TO A THRILL: The Quest for that Special Work of Art," July 2011.)  However, Jemison also produces prints and drawings.  A number of the artist's prints portray birds, something he has in common with Rick Bartow though each man has a vastly different artistic style.  In Dreams of Singing Robin Dance, Jemison's aim is not mere slavish representation.  A crow and a robin are presented as mirror images of each other.   The two animals are meant to convey ideas with humor.  Apparently, the crow dreams of singing as beautifully as the robin, rather than cawing, and is also envious of the other bird's distinctive bobbing walk.  The work is a humorous commentary on human nature since none of us is ever satisfied with what we have.  The crow, renowned for its intelligence, would rather sing and dance.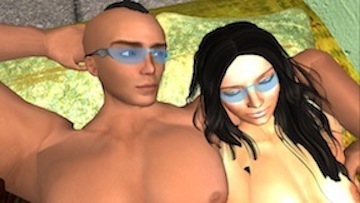 Native Love, production still from TimeTraveller™ by Skawennati; Mohawk, digital inkjet print with archival inks on poly banner, 13.5" x 24", ed. 50 (2012).  Collection of E. J. Guarino
             In addition to traditional printing processes such as lithography, etching and engraving, Native artists are also exploring cutting edge contemporary techniques.   Skawannati, for example, produced Native Love as a digital inkjet print.  Drawn from TimeTraveller™, a work created in cyberspace (See "THE ULTIMATE FRONTIER: Indians in Cyberspace," January 2013), the print forces the viewer to confront the reality of Native sexuality, a subject that has either been stereotyped or avoided.  Because the setting of Native Love is hundreds of years in the future (note the futuristic eyewear) the print suggest that not only have Native people survived but will continue to do so.  Although Skawennati creates her art in cyberspace, works on paper are important to her work since sketches art an integral part of her creative process.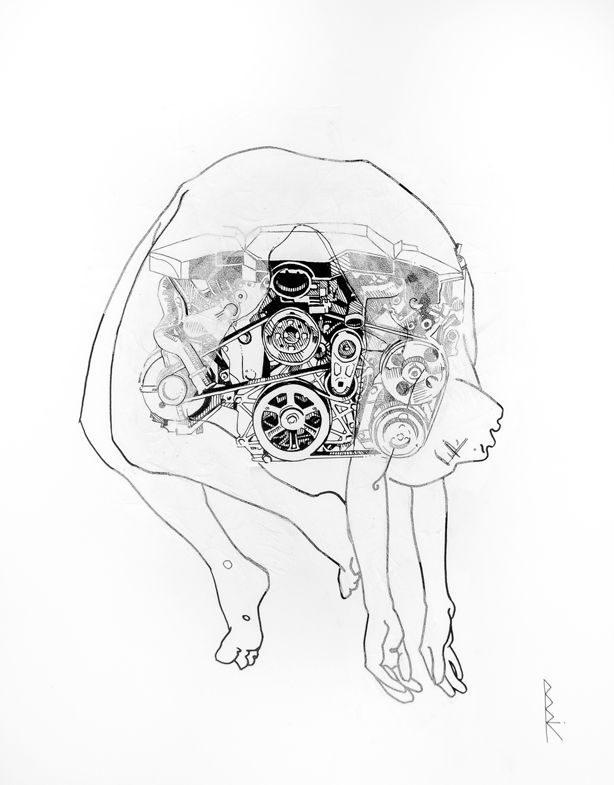 V-8 Engine by Rose B. Simpson, mixed media on paper, Santa Clara, 14" x 17" (2013).  Collection of E. J. Guarino
             Rose B. Simpson is a multidisciplinary artist who creates sculptures, ceramics, graphics, installation pieces, performance art and music.  No matter what medium she chooses, her work is always provocative, powerful and unique.  With V-8 Engine, Simpson has produced a mixed-media drawing that explores the idea of the body as machine as well as the concept of human creativity.  A figure, which bears a striking resemblance to the artist, is presented as  an automobile motor.  The positioning of the body and its closed eyes indicates that the mechanism has shut down, suggesting that all artists, even one as high powered as Simpson, must sometimes recharge.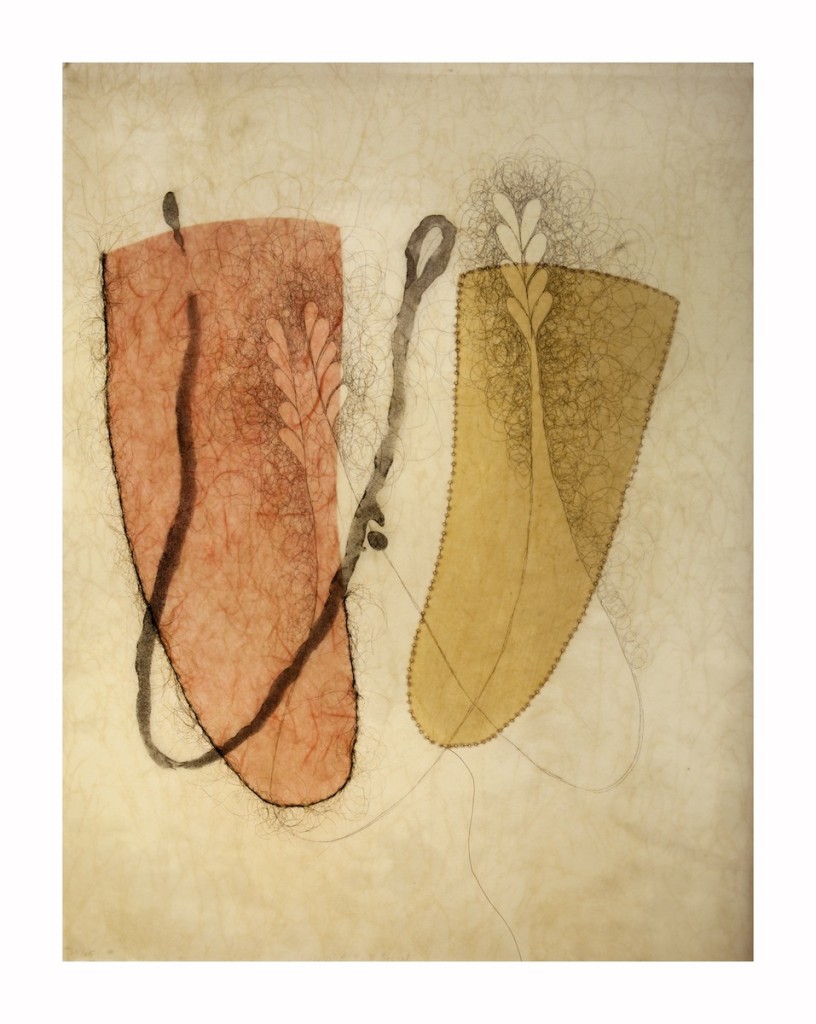 Unraveled Pink Secret by Sonya Kelliher-Combs, Inupiaq/Athabascan, color intaglio with chine-collé, hair, thread, beeswax, 10/25, 19" x 15" (2013).  Collection of E. J. Guarino
                   Often incorporating organic elements, such as walrus stomach, reindeer  rawhide and fur, sheep rawhide, seal skin, and porcupine quills as well as thread,  metal grommets, cotton fabric and acrylic polymer, the work of Sonya Kelliher-Combs has a surreal, other worldly quality.  In all of contemporary art, there is nothing quite like it.  Much of Kelliher-Combs work consists of biomorphic shapes, many of which look decidedly phallic.  However, the artist explained that the forms represent walrus tusks, signifying generations.  This imagery is like a last name ". . . certain patterns adorning Alaska Native garments are linked to families and communities," Kelliher-Combs stated.  "For generations, Inupiaq families have and still utilize this pattern on their garments."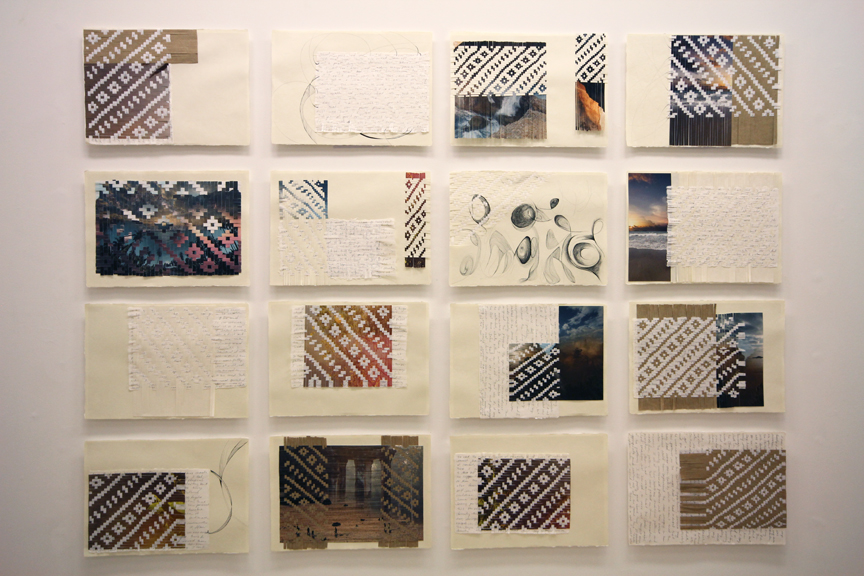 My Basket Story (installation consisting of sixteen individual pieces each 12" x 16.5") by Sarah Sense, Chitimacha/Choctaw, bamboo paper, pen and ink, archival laser prints, artist tape (2013).  Collection of E. J. Guarino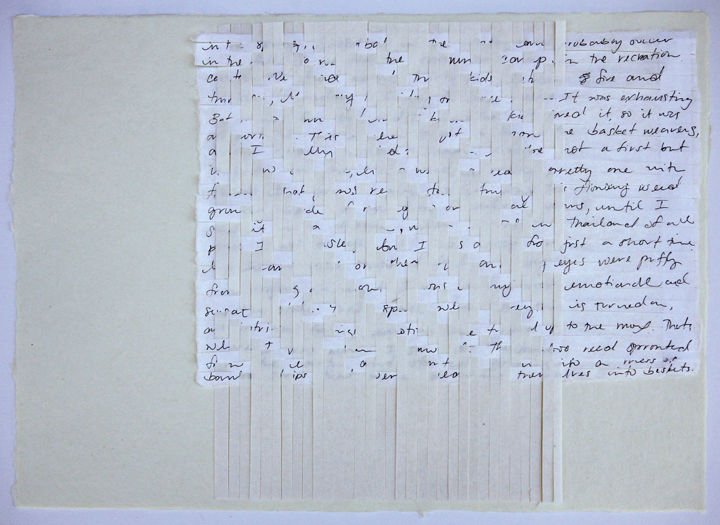 My Basket Story 8 by Sarah Sense, by Sarah Sense, Chitimacha/Choctaw, bamboo paper, pen and ink, archival laser prints, artist tape, 12" x 16.5" (2013). Collection of E. J. Guarino
             Consisting of sixteen individual pieces, My Basket Story by Sarah Sense is one of the artist's most personal creations, so much so that it was her wish that the entire work be sold to a collector as a whole.  During an extended stay in Thailand, Sense began to weave bamboo paper, finally peaking with her realization that her search for weaving and tradition connected with her hope to  learn Chitimacha weaving and then realizing that she may never be an apprentice to the weavers.  According to the artist, "This particular work is so emotionally driven.  The whole piece is made up of one handwritten story about my desire to learn how to weave Chitimacha baskets, but how I haven't yet learned from a basket weaver because they are guarding the tradition.  There is a lot of personal writing in the journal, but the words are skewed with the weaving."
          Most people are unaware that as soon as Native American artists had access to paper they began to express themselves through that medium, the earliest examples being ledger drawings.  Today, Native artists produce drawings, mixed media works on paper and they are also exploring a wide range of printmaking techniques.  This work is among the most exciting and diverse art being created today.  Like all sophisticated artists, works on paper – sketchbooks, drawings, prints – are part of the creative process for many Native artists and, increasingly, many of these works are the end product.