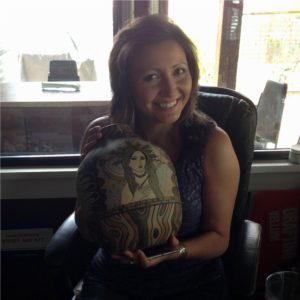 On June 18, 2014, I had a chance to sit down and ask Santa Clara potter Susan Folwell a few questions about her pottery and her career.  Susan is an amazing potter and artist and her work includes numerous styles and facets.  She is smart and funny and so thoughtful about her art.  It was a fascinating look into her pottery and I'm sure that this will be something that we will do more often!  Enjoy!
Charles S. King
sdflkjsf
asdfsf
CK:         What is your earliest recollection of making pottery with your mother (Jody Folwell)?
SF:          Earliest recollection I can think of is that my mother gave me a ball of clay.  I decided I wanted to make a snake. It was a long flat tube. She said if you want people to be interested in it, it has to have some character.  I said I thought it had enough character. She said no, so she bent the tube and made it into an "S" and she pinched the nose.  I cried for like an hour, as she pinched the nose and I thought it was now a worm, she swore it was still a snake.  End the end I was thrilled because it sold for $2.  I was hooked after that.
CK:         How old were you?
SF:          I might have been 5 or 6.
CK:         After that, what was the first actual pot you made?
SF:          As far as I can remember, the next actual pot, was when I was 6.  That actually lives at the AZ State Museum. It probably shouldn't be living anywhere.  It looks like a seedpot, with a strange sharp lip to it. And of course not that well polished and not quite black and not quite brown.
CK:         When you start working on a piece of pottery.  Do you have a vision of what you want it to be in terms of shapes or design?
SF:          I used to just make pottery and let it come out in whatever form it wants to.  It's going to do that anyway, no matter what you want it to do.  It definitely has a mind, a soul of its own. 
Generally now, the past several years, I draw out designs and have an idea or thought that I want to convey.  I never turns out how I think it will. But I'm working more now in a more structured environment.
CK:         Do you think you have an imperative to have Santa Clara culture reflective in your pottery?
SF:          Good question.  I think in my mind yes, but I think in what I'm reflecting, not so much.  I'd like to think that I do, but I'm not sure it reads that way.
CK:         How much do you want your pottery to tell a story or your work to have social commentary? Do you think that is important? Or do you just want to make "pretty pots"? Or are they the same thing?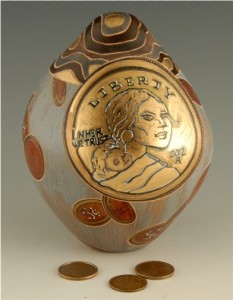 SF:          I think in general, because I love putting imagery on my pieces, I think they actually become one in the same.  Even if I make a pot just to be "pretty", I seem to find a message.  Eventually I feel there is a message inside it, even if I don't set out make a comment.  
CK:         In 2005 I wrote about your work in American Indian Art Magazine and said, "Viewing Susan's intricately designed pottery is like reading a book, as each piece must be turned, examined and viewed from different angles to understand the whole story".  Do think that is still true?
SF:          Very much so.
CK:         Do you think that is an accurate way to describe your pottery?
SF:          Yes.
CK:         Do you have a feeling about doing organic shapes versus creating classic Santa Clara shapes?  Do you favor one more than the other?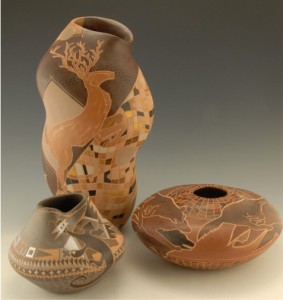 SF:          I don't.  I always like a challenge. Every so often I work on a piece that I feel is sculptural or organic in form.  It's really whatever strikes me at the moment.  Maybe creating something that can be "read", like a book.  I think if there is an idea in my mind, the shape conveys or is the 'canvas' for what I want to say.  So depending on my feelings or thoughts or a comment I would like to make…it comes out in the shape of the pot.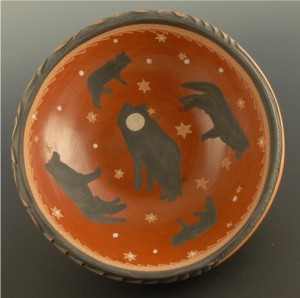 CK:         You have created your own iconography which is distinctive to your work.  How do you think you convey that message to people who look at your work? How do you think they grasp your meaning?
SF:          I'm not sure if people need to recognize the meaning or if I need for them to recognize it because  I recognize it in the work myself.  I realize when I see a piece and often I can see something that might have a progression, like the 'wolf with the moon face'.  I can see my progression of that concept.  I can almost go back and reflect and it's like my own personal timeline.  Where I was, where I was living at that moment. Relationships with people.  Relationships just being in the world.  I think that's more of what that is about.  It reflects the time and place of "me".   The many parts of me.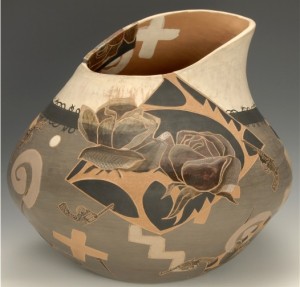 CK:         Is that the same with the "guns and roses" iconography? Here is a picture of what I think is the first "Guns and Roses" piece you made.
SF:          That is the very first piece of the "guns and roses" theme.  I've used that imagery off and on for the last several years.  That particular piece is when I first met my now present husband (Davison).  I can reflect back on that, and think about a time when things in my life changed quickly and were very new.  It was exciting and wild.  It is fun to work with that imagery and how it changes over time.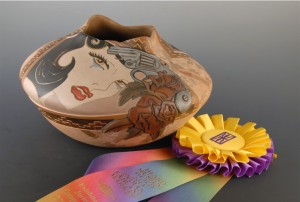 CK:         Looking at this bowl, for which you won some major awards, can you comment on women in your art?
SF:          I think this particular piece is a good segway between "guns and roses" and female imagery.  She was created as part of the "Cry Baby" series where women and particularly Native women find themselves in precarious situations.  At the time there were some things going on in the world that we needed to reflect on in terms of our gun laws, there were many random shootings, and not that they don't go on almost daily, but that was also reflecting on that idea.  I like the idea of femininity, feminism and female power, but that's not to say that we can't have more.  I think what I like to do with women and portraying them is to make them sexier beings.  What I'm hoping I'm doing as well, is that when you are looking at a woman,  she may be in a precarious situation but she's still a woman, she is still female, being a woman just doesn't mean you have to be strong all the time.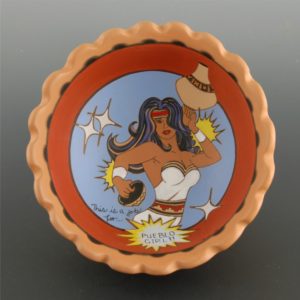 There is a difference between 'sex object' and 'sexy'.   Your being sexual can be your own internal power.  That is a good way to interpret it. With that comes a certain amount of energy. There is just energy when you are giving that sexuality power.  When you are revealing it to the world, I think that it makes us linger a little longer in looking at the women on the pottery.