To say that I have eclectic tastes would be an understatement.  Some might claim that my movement from one end of the artistic spectrum to the other could best be described as unpredictable.  That certainly was the case with my choices from the 2020 Cape Dorset Annual Print Collection.  The two works I chose could not be further apart artistically – one is realistic while the other is decidedly expressionistic.
Like other collectors the world over, each October I anxiously await the release of Cape Dorset's Annual Print Collection.  The prints are produced in editions of fifty each, though on rare occasions one or two prints are done in a run of one hundred.  The quality of the prints is always artistically exceptional because the artists and printers consistently embrace creative and technical innovation and experimentation.  The 2020 collection is no exception; it contains thirty works, as well as a special edition release, in a variety of print media – stonecut, stonecut & stencil, etching & chine-collé, lithograph, etching & acquaint, and etching & acquaint with hand coloring.  The collection also contains a diverse range of imagery: birds (owls, cranes, geese, a loon, plus imaginary birds), whales, a salmon, a whimsical polar bear, an Inuit vampire, a dog team, a portrait of an Inuk man, four landscapes, and. a massive piece of baleen
Represented in the 2020 collection are established artists Shuvinai Ashoona, Pitaloosie Saila, Qavavau Manumie, Kakulu Saggiatok, and Nigiukulu Teevee; fast rising stars Saimaiyu Akesuk, Ooloosie Saila, Padloo Samayualie, Nicotye Samayualie and Johnny Pootoogook; and new artists Sita Saila, Pee Ashevak, Pauojoungie Saggiak, Nujalia Quvianaqtuliaq, Malaija Pootoogook, and Quvianaqtuk Pudlat.
Deciding which works to acquire is always challenging.  From one year to the next I never know what will attract me.  It might be a scene from Inuit life, an iconic image of an Arctic animal, a whimsical work, a landscape, or a work that is expressionistic.
Whether or not I buy a piece greatly depends on my immediate emotional response to it.  I never acquire a work based on the fame of the artist who created it.  In fact, I am more likely to buy the work of an emerging or beginning artist.  However, the overriding factor is that the pieces selected are artistically significant.  As with most collectors, money is always a consideration and I am only able to acquire a few prints from each year's collection, sometimes only one.    After repeatedly looking at the 2020 offerings the prints to which I was most drawn were Massive Bowhead by Pauojoungie Saggiak and Frenzy by Kakulu Saggiatok – two works that could not be more dissimilar.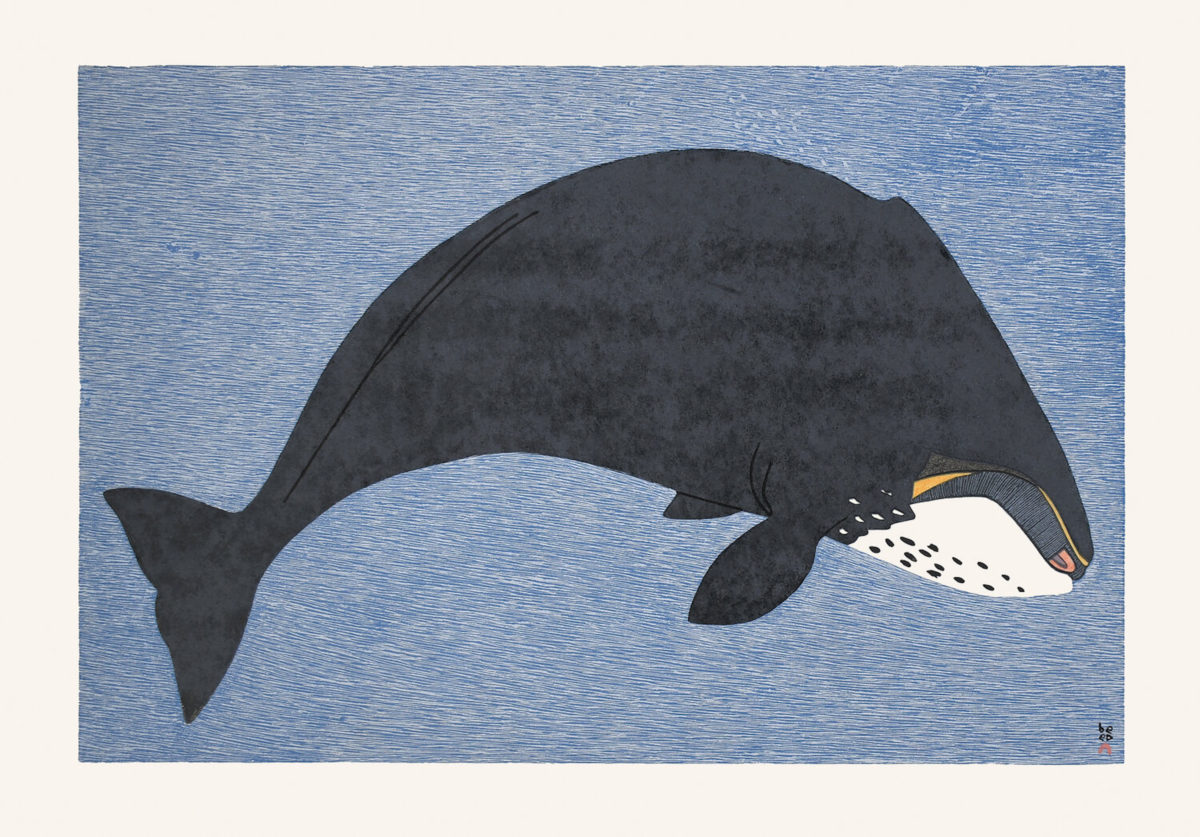 Massive Bowhead by Pauojoungie Saggiak, Inuit, Cape Dorset, Stonecut & Stencil, Paper: Kizuki Kozo Natural, Printer: Qavavau Manumie, ed. 11/50, 25.5" x 35," (2020),  #23 in the 2020 Cape Dorset Annual Print Collection.  Collection of E. J. Guarino.  Photo courtesy of Arctic Artistry Gallery and Dorset Fine Arts
         Massive Bowhead epitomizes the Cape Dorset printmaking practice of isolating one iconic image of Arctic wildlife on the page.  Although I am drawn to animals, as a collector I am particularly selective when it comes to portrayals of them, avoiding overly sentimental as well hyperrealistic works.  I am drawn to representations of animals that have a quality that is hard to put into words, but that I know is unique.  Pauojoungie Saggiak's print is just such a work.
The immense whale is rendered in three colors – black, which predominates, white, and gold – as it appears to float on a blue background.  The print's, size, 25.5" x 35," adds to the sense of monumentality.  As with other works by the artist, Massive Bowhead employs strong lines and bold colors.  The artist has projected the essence of a wild creature seen in her Arctic environment through her attention to realistic detail.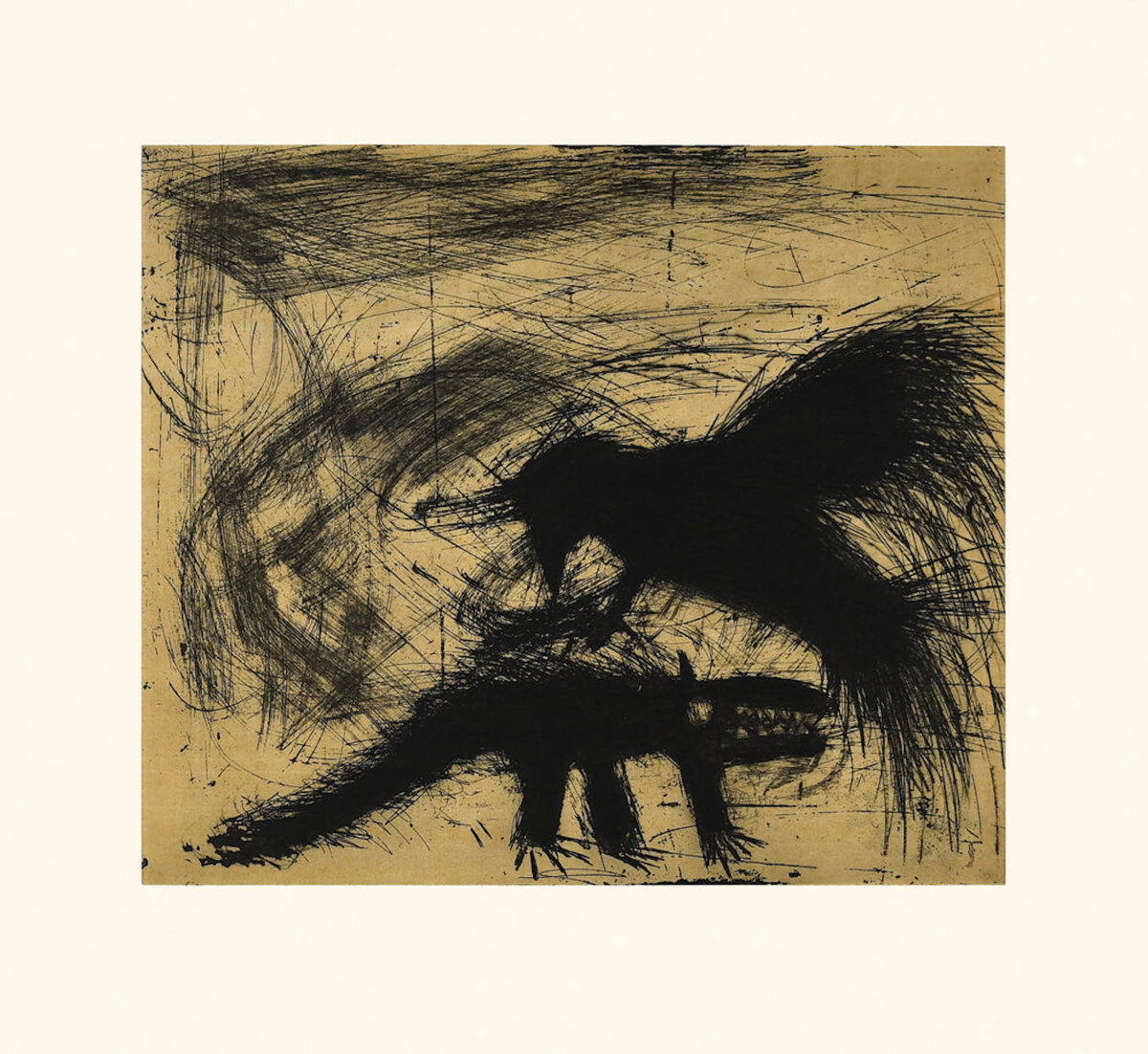 Frenzy by Kakulu Saggiaktok, Inuit, Cape Dorset, Etching & Chine Collé, Paper: Arches White, Printer: Studio PM, ed. 13/50, 25.5" x 27.75" (2020),  #22 in the 2020 Cape Dorset Annual Print Collection.  Collection of E. J. Guarino.  Photo courtesy of Arctic Artistry Gallery and Dorset Fine Arts.
Even a cursory look at Kakulu Saggiaktok's Frenzy immediately reveals the work's emotionality to the viewer.  A sense of agitation is palpable.  The predominant colors of the print are black on a matte gold background.  Violent strokes create the tone of the print and give it an air of mystery.  The two creatures depicted are enigmatic: a large, unidentifiable bird is attacking what may be a mammal, a crocodilian-like reptile, or a wholly imaginary creature.  Swirling above and around these animals are random marks produced by lines the artist scratched onto the printing plate.
Like Kakulu Saggiaktok's previous work, Frenzy is highly personal, a bit humorous, and somewhat bizarre.  The artist often draws inspiration from her childhood memories of her Arctic homeland and this print may reflect her impression of a violent encounter she saw involving a raptor and a land animal.
Kakulu Saggiaktok is a unique voice and her style is clearly recognizable to anyone familiar with her art.
The word art does not exist in Inuktitut, the Inuit language.  Instead, Inuit use the word isumanivi, meaning "your own thoughts" or "whatever comes to mind".  It is one of the many Inuit words used to describe what the rest of the world calls art.  Although their language does not have a word for art, Inuit artists continue to produce it.  Every year Cape Dorset graphic artists put their thoughts on paper, each using a distinctive visual style, continuing what earlier generations had begun.  Their creativity is what makes collectors around the world look forward to the Annual Cape Dorset Print Collection.
To see all of the prints in the 2020 Annual Cape Dorset Print Collection, go to the link below and scroll down.
http://www.dorsetfinearts.com/2020-cape-dorset-annual-print-collection-1