Brand
Montoya, Florentino (1858–1918) and Martina Vigil (1856–1916)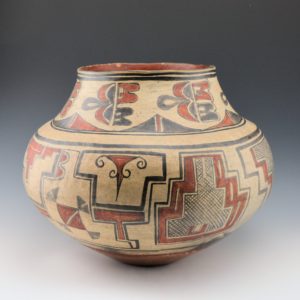 Florentino Montoya and Martina Montoya were two of the most renown San Ildefonso potters creating polychrome pottery around 1900. "The pottery of this husband and wife team is that of artist and innovators who introduced new materials and techniques to other potters. Martina's experimentation with shapes and slips, and Florintino's distinctive painting style facilitate the identification of many of their pots. [They] were active during a period of change in San Ildefonso pottery."—Jonathan Batkin, 1987
Naranjo-Morse, Nora (b. 1953)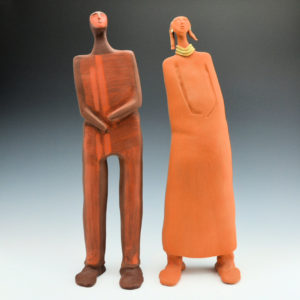 Nora Naranjo Morse is a daughter of noted potter Rose Naranjo. She is also a sister of potters Jody Folwell, Dolly Naranjo and sculptor Michael Naranjo. Her daughter, Eliza, is a well known graphic artist. Nora is known for her poetry from her book, "Mud Women" and also for her contemporary clay work.
Nora Naranjo-Morse, born in 1953, is a potter and a poet with an unusual world view, though she lives a traditional life at Santa Clara Pueblo. Her pointedly satirical figures and huge conceptual installations make her one of the most exciting Indian artists of her generation.
"For hundreds of years Pueblo people have treasured their powerful relationship with clay," writes Nora in the preface to her book of poetry, Mud Woman. "Veins of colored earth run along the hillsides of New Mexico, covering remote trails with golden flecks of mica. Channels of brown and scarlet mud wash across the valleys, dipping and climbing with the sprawling landscape. Intricately woven patterns of clay fan out under the topsoil, carrying the life of pottery to the Pueblo people."
Nora, youngest daughter of Rose Naranjo, a well-known Santa Clara-Laguna potter, has eight siblings, all of whom have made pottery at one time or another in their lives. Nora remembers that years ago they gathered clay together and while their mother was making a pot, she gave pieces of clay to her children to work too.
One of Nora's important recollections is of watching her mother one night when Rose was sitting on a small stool making a huge pot out of micaceous clay that was "testing her boundaries." Nora was so impressed with Rose's wondrous look of peace and accomplishment that she never forgot it. Rose's serene countenance that night inspired Nora to work with clay.
After Taos High School and the College of Santa Fe, taking ten years to get her bachelor's degree, Nora traveled and wrote poetry. Then she married, had two children – girl and boy twins, who she says have changed her life – and built her own house. Today she is confident that she can do almost anything she wants. The major events in her life have made her more zealous and directed in her own way.  – Courtesy Susan Peterson, Pottery by American Indian Women