Brand
Fields, Anita (b. 1951)

Anita Fields
Anita Fields is a fascinating potter who works with non-traditional clay to create abstracted images of traditional clothing and artifacts along with imagery intended to honor all women, particularly those of Indian descent. Anita was influenced by traditional Osage ribbon work, clothing, and blankets. She also studied the objects and ceremonial dress of other tribes. The personal and emotional elements in these textile designs led Anita to use them symbolically in clay, translating the personality of these vestments into her work. About one of her recent series, Native American Dresses, which are coil-and slab-built installations, Anita says: "The dresses convey my attitudes toward the strength of women and how native peoples show remarkable resourcefulness and adaptability toward their environment. The clothing Indian women created shows great pride, dignity, and hope in a culture facing insurmountable odds." Over the years Anita has spent a good part of her life traveling and collecting seemingly insignificant items. From these items, these memories, she creates original stamps. Anita has won numerous awards for her pottery and her work can be found in the permanent collection of museums such as The Heard Museum, the Denver Art Museum and others. She was featured in the book, "Pottery by American Indian Women". Most recently she won "Best of Pottery" at the 2012 Heard Indian Market.
Click Here to See New Works by Anita Fields!
King, Charles S.
[caption id="attachment_62551" align="aligncenter" width="300"]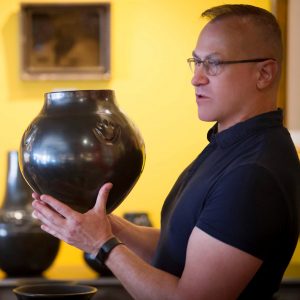 Charles S. King. Photo by Evan Sanders[/caption] Since its inception, King Galleries has been committed to represent work by potters who create the highest quality and greatest innovation in their pottery. Charles King has been a judge in various years since 1996 for pottery at the most prestigious Indian art events, such as Santa Fe Indian Market, the Heard Museum Indian Market and Gallup Ceremonials. He has also given numerous talks on Pueblo pottery at the Heard Museum, Museum of Indian Art and Culture (MIAC), the Pueblo Grande Museum, Rockwell Museum of Western Art, The Philbrook Museum and The Denver Art Museum. Charles served on the Board of Directors of the Indian Arts and Crafts Association (IACA), which has the mission of encouraging and preserving authentic Indian art. He was elected in 2008 to the Board of Directors for SWAIA (Southwest Association for Indian Arts), which is the group which puts on Santa Fe Indian Market. He first wrote about Pueblo pottery in the book "Collecting Authentic Indian Art" and this was followed by the article, "Pueblo Pottery: Folk Art to Fine Art" for the thirtieth anniversary of American Indian Art Magazine. His first book, Born of Fire: The Life and Pottery of Margaret Tafoya, was published in 2008. His articles, "Santa Clara and San Ildefonso Pottery: Black is Beautiful"-2009, and "Four Emerging Potters: Gen Next"-2010 were published in Native Peoples Magazine. His second book, "The Art and Life of Tony Da" was written with Richard Spivey and published in 2012.
Naranjo-Morse, Nora (b. 1953)
[caption id="attachment_38366" align="aligncenter" width="300"]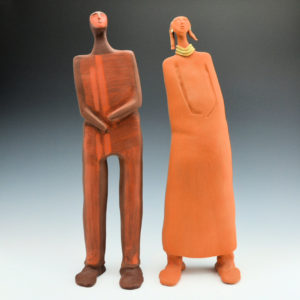 Nora Naranjo-Morse[/caption] Nora Naranjo Morse is a daughter of noted potter Rose Naranjo. She is also a sister of potters
Jody Folwell
, Dolly Naranjo and sculptor Michael Naranjo. Her daughter, Eliza, is a well known graphic artist. Nora is known for her poetry from her book, "Mud Women" and also for her contemporary clay work. Nora Naranjo-Morse, born in 1953, is a potter and a poet with an unusual world view, though she lives a traditional life at Santa Clara Pueblo. Her pointedly satirical figures and huge conceptual installations make her one of the most exciting Indian artists of her generation. "For hundreds of years Pueblo people have treasured their powerful relationship with clay," writes Nora in the preface to her book of poetry, Mud Woman. "Veins of colored earth run along the hillsides of New Mexico, covering remote trails with golden flecks of mica. Channels of brown and scarlet mud wash across the valleys, dipping and climbing with the sprawling landscape. Intricately woven patterns of clay fan out under the topsoil, carrying the life of pottery to the Pueblo people." Nora, youngest daughter of Rose Naranjo, a well-known Santa Clara-Laguna potter, has eight siblings, all of whom have made pottery at one time or another in their lives. Nora remembers that years ago they gathered clay together and while their mother was making a pot, she gave pieces of clay to her children to work too. One of Nora's important recollections is of watching her mother one night when Rose was sitting on a small stool making a huge pot out of micaceous clay that was "testing her boundaries." Nora was so impressed with Rose's wondrous look of peace and accomplishment that she never forgot it. Rose's serene countenance that night inspired Nora to work with clay. After Taos High School and the College of Santa Fe, taking ten years to get her bachelor's degree, Nora traveled and wrote poetry. Then she married, had two children - girl and boy twins, who she says have changed her life - and built her own house. Today she is confident that she can do almost anything she wants. The major events in her life have made her more zealous and directed in her own way.  -
Courtesy Susan Peterson, Pottery by American Indian Women
Ortiz, Virgil (b.1969)
Virgil Ortiz
Virgil Ortiz is one of the most innovative potters working today. He is a son of noted potter Seferina Ortiz and grandson of Laurencita Herrera. His sisters Janice, Inez, and Joyce are also potters and his niece, Lisa Holt. He encourages his nieces and nephews also to continue making traditional pottery. His work has been featured in numerous museum exhibits nationwide, and he is also known for his fashion designs. He has won multiple awards at Santa Fe Indian Market, the Heard Museum Indian Market, and other events. His pottery can be found in museums worldwide. "The thought has never crossed my mind to be anything other than an artist and fashion designer. Art is in my blood", says Virgil Ortiz, a Cochiti Pueblo Native. Sought by celebrities, royalty, and collectors, American Indian artist Virgil Ortiz artworks move into a new era combining art, décor, fashion, video, and film. Hailing from a family of celebrated Pueblo potters.  From the National Museum of the American Indian in New York, and Denver Art Museum, to the Hertogenbosch Museum in The Netherlands, and Foundation, and Cartier's Paris, France.  Virgil Ortiz's exquisite clay works are exhibited worldwide. Born in 1969, the youngest of six children, Ortiz grew up in a creative environment.  Storytelling, collecting clay, gathering wild plants, and producing figurative pottery was part of everyday life. His grandmother Laurencita Herrera and his mother, Seferina Ortiz, were both renowned Pueblo potters.  "I didn't even know it was art that was being produced while I was growing up," he remembers. Virgil Ortiz, who works and lives in Cochiti Pueblo, New Mexico, has worked very hard and has had a few lucky breaks.  His efforts have propelled him to a preeminent place among contemporary Native artists. After a highly successful collaboration with fashion mogul Donna Karan, he developed boldly patterned textiles based on his graphic decorative painting.  Ortiz launched his fashion line. His designs are captivating, provocative, and edgy, thus creating a high demand. His sharp laser-cut leather jackets, swinging taffeta skirts, cashmere sweaters, and silk scarves echo the Pueblo pottery's voluminous contours and sinuous motifs. He showcases the richness of indigenous, high fashion, and compelling storytelling of Pueblo culture and history. Virgil Ortiz debut Colorblind, his all-new T-shirt collection blending art, vibrant colors, and graphic images.  Each of which portrays his interpretation of the historic Pueblo Revolt of 1680 – the First American Revolution. "I want to pay tribute to our great leader Po'pay and ancestors that lived and walked on our lands, and respect that their spirit will live on through me." Creating a global awareness of Pueblo culture is reflected in the design components that reach past a traditional Ortiz sculpture.  His art form delves into an untapped age of décor elements that honor a prosperous civilization with skill and vision.  Ortiz also designed 'Indigenous Imprints'®, a carpet collection designed exclusively for Aqua Hospitality Carpets. This collection consists of twenty unique patterns.  His design concepts are a fascinating balance between contemporary and traditional for guest rooms, corridors, and public spaces in some of the most exclusive hotels and resorts worldwide. 'Indigenous Imprint's® is a natural progression toward leading-edge furnishings and adornment that capture the elegance and spirit of Ortiz's inspiration. Beyond the notoriety of his artistic talent, Ortiz's professional agenda centers on a lifelong dream to create opportunities for children in his tribal community that reflects his ancestors' legacy. "It's important to recognize that Pueblo communities are very much alive.  They have a vitality level that speaks to generations of strength, persistence, brilliance, and thriving energy. I have something vital to do before I go. I want to preserve my culture and inspire our youth to accomplish whatever it is they dream of being." – Virgil Ortiz
[button text="Subscribe to New Additions for this artist" style="outline" size="small" animate="blurIn" radius="10" depth="2" expand="0" icon="icon-angle-right" link="https://kinggalleries.com/subscriptions/"]
Swentzell, Roxanne (b. 1962)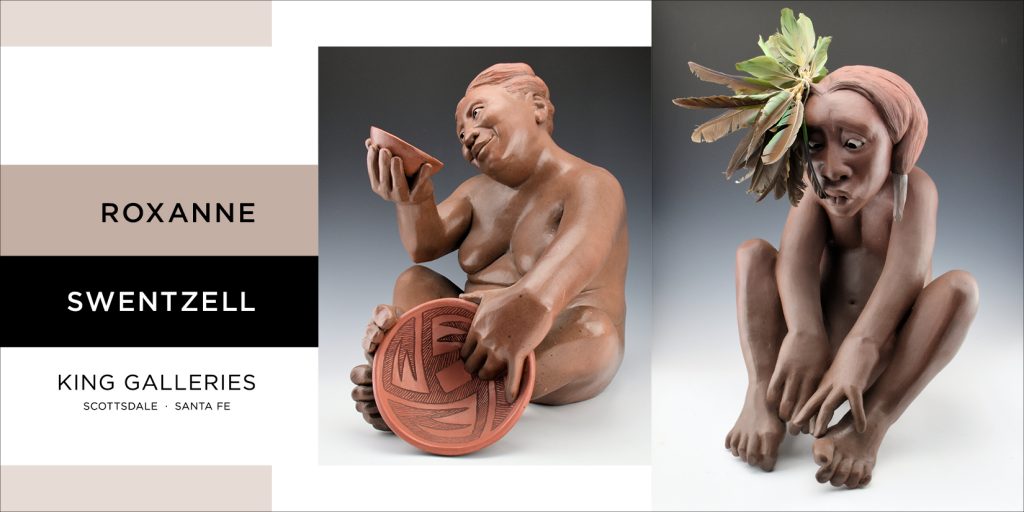 Roxanne Swentzell
Roxanne Swentzell (b. 1962) continues to be one of the pivotal Pueblo artists, and her work continues to be among the most dynamic and innovative in contemporary figurative pottery. She is a granddaughter of Rose Naranjo, a niece of Nora Naranjo-Morse, Michael Naranjo and Jody Folwel. She is a cousin to Jody Naranjo, Susan Folwell, Forrest Naranjo, and others. She is part of one of the most innovative families at Santa Clara Pueblo. Roxanne has won numerous awards for her work, along with being the subject of several museum exhibitions and books, such as "Women Potters: Transforming Traditions".
Roxanne's first public exhibition was at Santa Fe Indian Market in 1984.  In 1994, she won the Santa Fe Indian Market Creative Excellence in Sculpture award.  Her sculptures have shown at the White House and currently show in many museums and galleries.  A few of her collections include works at the Smithsonian, Cartier in Paris, and Santa Fe Convention Center.
Vigil, Lonnie (b. 1949)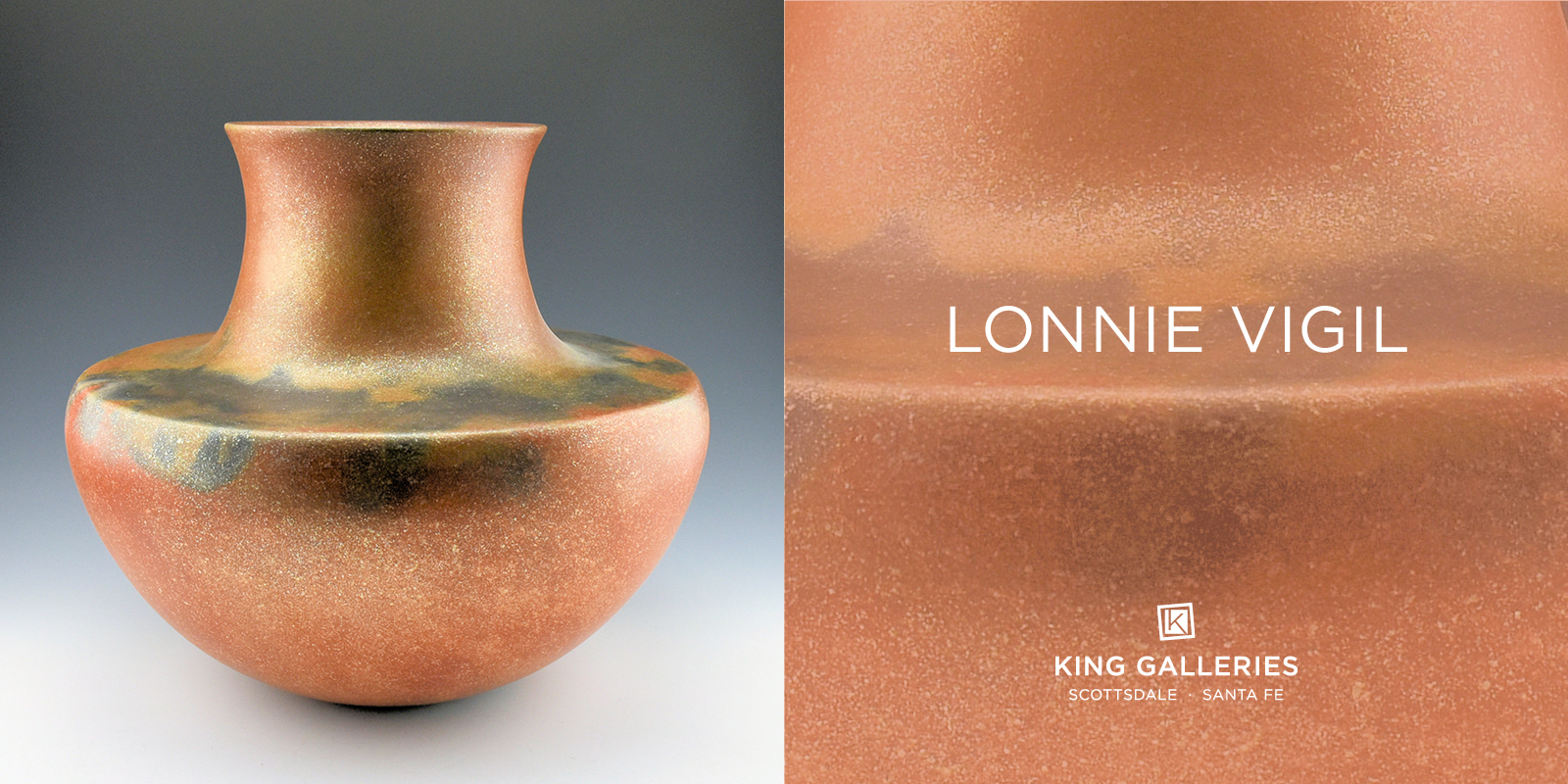 Lonnie Vigil is a name synonymous with micaceous pottery. During his time at the School of American Research, he refined his technique of making and firing micaceous pottery. He creates vessels from micaceous clay near his home in Nambe Pueblo.  Lonnie has won "Best of Show" at Santa Fe Indian Market for his large vessels and is among the most sought-after of the traditionalist pueblo potters.