Brand
King, Charles S.
[caption id="attachment_62551" align="aligncenter" width="300"]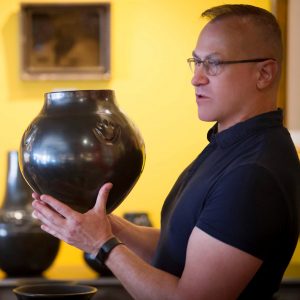 Charles S. King. Photo by Evan Sanders[/caption] Since its inception, King Galleries has been committed to represent work by potters who create the highest quality and greatest innovation in their pottery. Charles King has been a judge in various years since 1996 for pottery at the most prestigious Indian art events, such as Santa Fe Indian Market, the Heard Museum Indian Market and Gallup Ceremonials. He has also given numerous talks on Pueblo pottery at the Heard Museum, Museum of Indian Art and Culture (MIAC), the Pueblo Grande Museum, Rockwell Museum of Western Art, The Philbrook Museum and The Denver Art Museum. Charles served on the Board of Directors of the Indian Arts and Crafts Association (IACA), which has the mission of encouraging and preserving authentic Indian art. He was elected in 2008 to the Board of Directors for SWAIA (Southwest Association for Indian Arts), which is the group which puts on Santa Fe Indian Market. He first wrote about Pueblo pottery in the book "Collecting Authentic Indian Art" and this was followed by the article, "Pueblo Pottery: Folk Art to Fine Art" for the thirtieth anniversary of American Indian Art Magazine. His first book, Born of Fire: The Life and Pottery of Margaret Tafoya, was published in 2008. His articles, "Santa Clara and San Ildefonso Pottery: Black is Beautiful"-2009, and "Four Emerging Potters: Gen Next"-2010 were published in Native Peoples Magazine. His second book, "The Art and Life of Tony Da" was written with Richard Spivey and published in 2012.
Tafoya, Margaret (1904-2001)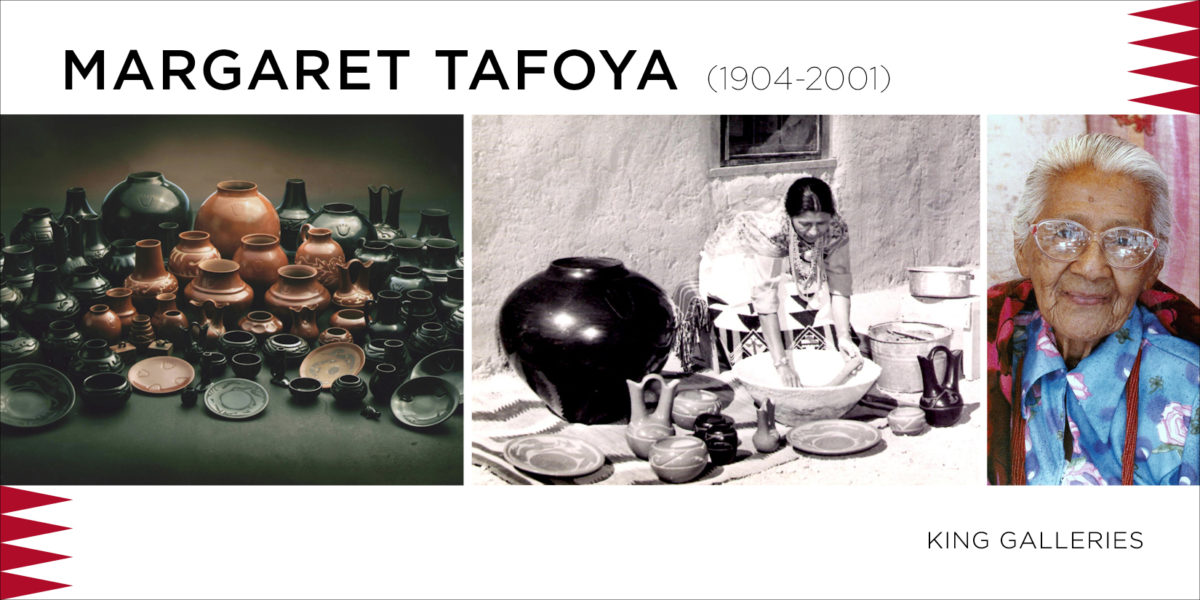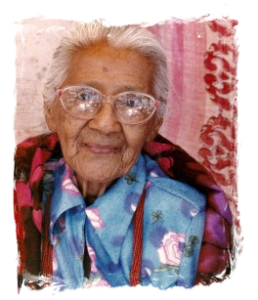 Margaret Tafoya
Margaret Tafoya is a daughter of noted potter Sara Fina Tafoya and a sister of Christina Naranjo and Camilio Tafoya.  She is the matriarch of a family of renowned potters, each of whom created their distinctive styles.  Margaret Tafoya had twelve children, eight of whom became potters.  They include Virginia Ebelacker, Lee Tafoya, Toni Roller, LuAnn Tafoya, Mela Youngblood, Jennie Trammel, Mary Ester Archuleta, and Shirley Tafoya.  Her grandchildren and her great-grandchildren carry on the pottery-making tradition today. Margaret Tafoya was a guardian of traditional pottery-making methods and techniques.  She created large vessels with stone polished surfaces.  Her carving was done before the piece was polished.  She produced her work from the 1920s through the 1980s.  Margaret Tafoya won numerous awards throughout her career, including Best of Show at Santa Fe Indian Market in 1979 and 1980.  She was also awarded the Heritage Fellowship from the National Endowment for the Arts in 1984.
The book, "Born of Fire," follows her life and art over many decades.  It is also the only book to identify her pottery by the decade produced using the variations in her signature.  This book is the first complete biography of Margaret Tafoya's life.  It is divided into decades, giving the reader a deeper understanding of her life and pottery over nearly 100 years.  There are new biographies on Virginia Ebelacker, Richard Ebelacker, Lee Tafoya, Linda Tafoya, Jennie Trammel, Mela Youngblood, Nathan Youngblood, Nancy Youngblood, Toni Roller, Jeff Roller, LuAnn Tafoya, Daryl Whitegeese, Mary Ester Archuleta, and Shirley Tafoya.  The photography of the pottery in this book is exceptional.  Throughout the book, personal narratives by family members and family photographs create a wonderful sense of her humanity and artistic accomplishments.