Brand
Folwell, Susan (b.1970)
Susan Fowell: Peublo Persectives

Susan Fowell: Peublo Persectives
Susan Folwell
Susan Folwell is one of the exciting innovators in Pueblo pottery. Her work is native clay and inspired by traditional designs, but she continually experimented with techniques and clays. Susan is the daughter of Jody Folwell and the sister of Polly Rose Folwell. She has won numerous awards at the Santa Fe Indian Market and the Heard Indian Market. In addition, she has been featured in several books, including "NDN," "Free Spirit," and others.
Susan has said, "My Earliest recollection I can think of is that my mother gave me a ball of clay.  I decided I wanted to make a snake. It was a long flat tube. She said if you want people to be interested in it, it has to have some character.  I said I thought it had enough character. She said no, so she bent the tube and made it into an "S," She pinched the nose.  I cried for like an hour as she pinched the nose, and I thought it was now a worm; she swore it was still a snake.  In the end, I was thrilled because it sold for $2.  I was hooked after that."
Garcia, Jason (b. 1973)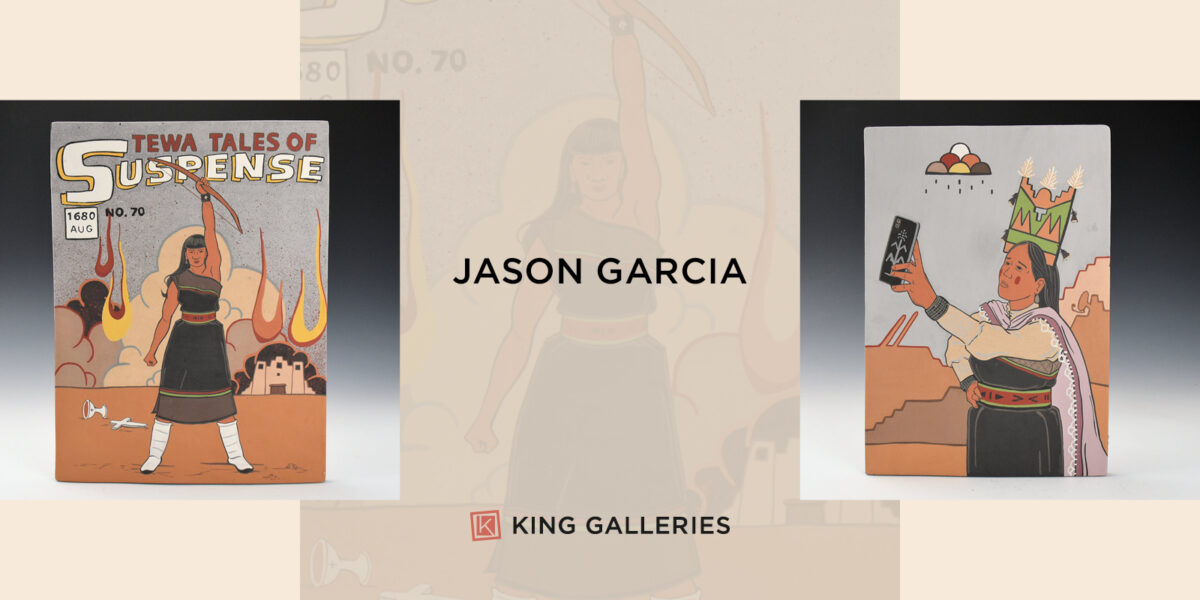 Jason Garcia
Jason Garcia (b.1973) is a son of noted potter Gloria "Goldenrod" Garcia and the nephew of Minnie Vigil, Thelma Talachy, Lois Gutierrez, and Tina Garcia. He has won numerous prestigious awards for his tiles at Santa Fe Indian Market, the Heard Museum Market. He has been featured in books and magazine articles on Native pottery. In 2007 he was a Dubin Fellowship recipient at the School of American Research in Santa Fe. Jason's innovative style and artwork continue to make him one of the young leaders in Pueblo art. In 2016 he won "Best of Paintings" at Santa Fe Indian Market.
Subscribe to New Additions for this artist