Over the course of more than thirty years, my collection came to encompass baskets, beadwork, textiles, masks, headdresses, katsinas, jewelry, pottery and works on paper.  Eventually, for various reasons, there were areas in which I no longer collected and, in recent years, my interest narrowed to three collecting spheres: contemporary Native American ceramics, Inuit works on paper and Native American works on paper.  From the very start of my collecting, I was fortunate to meet knowledgeable people who were willing to share their expertise and offer guidance.  In every case, this has been done very gently.  Not one of these specialists has tried to force his or her opinions on me.  Usually, it is just a suggestion that I take a look at the work of a particular artist.  Each of the ten people who have played a role in my collecting has a discerning eye and I came to rely on their experience and judgment.  In most cases, we have never uttered the word mentor.  Nonetheless, each person has been an invaluable resource for my collection.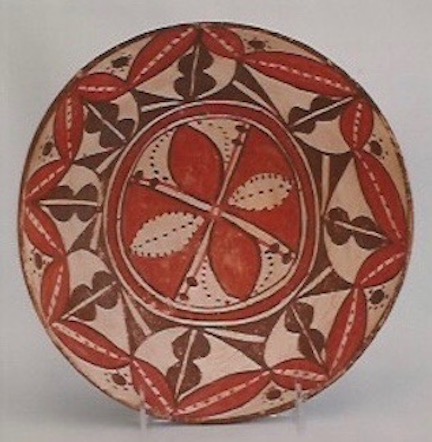 Polychrome bowl unsigned, Isleta Pueblo, foliate design, red and brown on cream, unsigned, 3½" deep x 9 ½ " in diameter (circa. 1910).  Collection of E. J. Guarino.  Acquired from Speaks of the Earth.    
When I first started collecting, I really had no idea what I was doing.  Eventually, I discovered American Indian Art magazine and, in addition to the articles, I combed through the many advertisements where I discovered Speaks of the Earth, a business run by Betty Johnston from her home in Sedona, Arizona.  Before long, Betty had become the first mentor for the collection.  Over the years, Betty suggested the work of a wide variety of ceramic artists.  Every so often, Betty would mail me photographs (this was pre-Internet) of pottery she thought I might find of interest.  I would keep the photos of the pieces I wanted to put on layaway and send the photos of the ones that I did not find of interest back to Betty.  Each month I would send her a check for fifty or one hundred dollars.  When the amount was paid in full, Betty would ship the pots to me.  I did this for many years.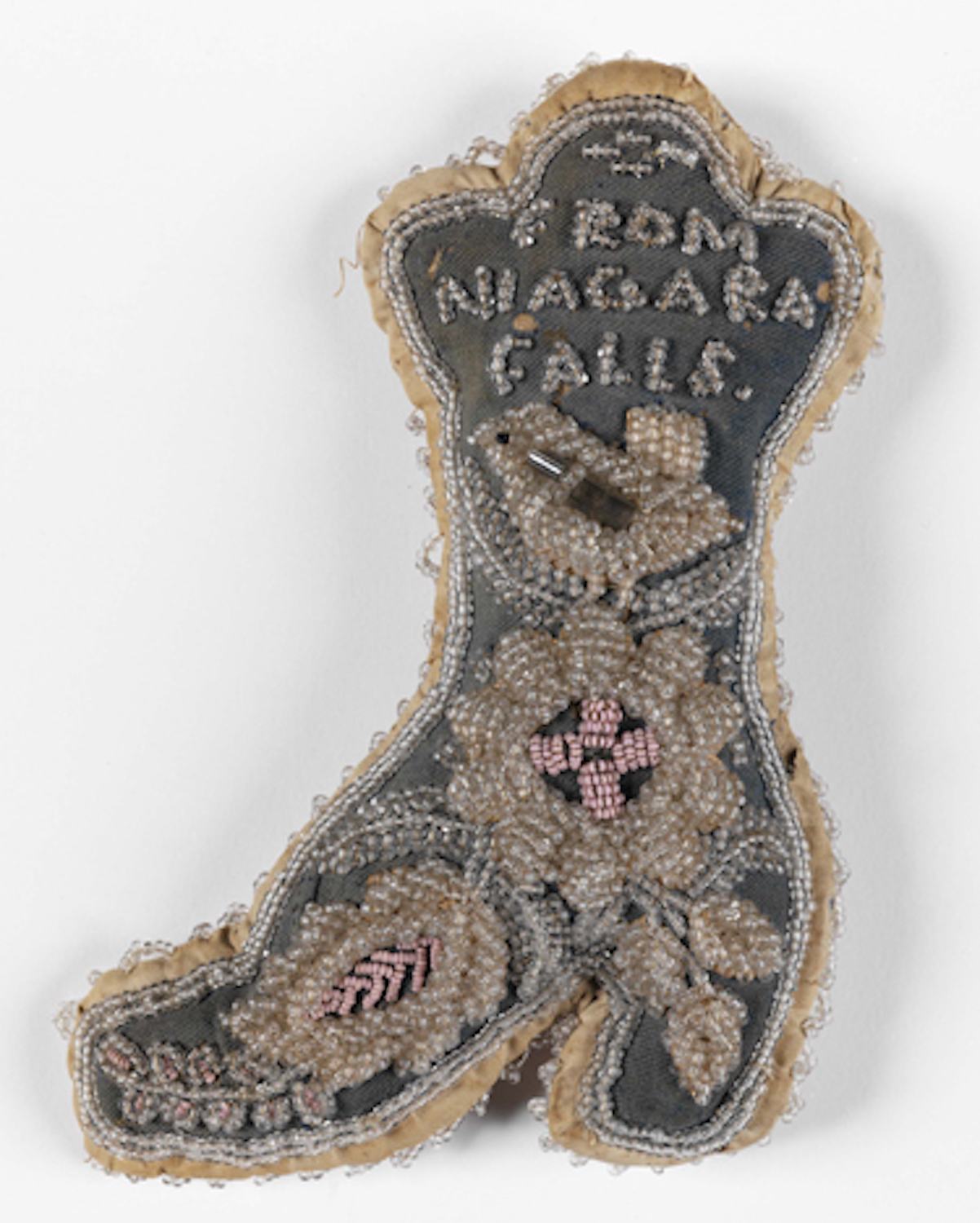 Iroquois boot whimsy with the words "From Niagara Falls," bird and flower design, clear and pink beads on blue cloth with white border, 8" h x 5 1/8"w (circa. 1890 – 1900). Collection of E. J. Guarino.  Acquired from Crown & Eagle Antiques.  Donated in 2007 to the Frances Lehman Loeb Art Center, Vassar College in honor of Mauricette Casile.
            At one point in my life, I was traveling on a weekly basis to New Hope, Pennsylvania, a lovely town located in Bucks County,.  There I discovered Crown & Eagle Antiques.  Lynn Trusdell, the owner, and I became fast friends.  She was just the kind of no-nonsense, honest person I like.  Lynn's advice was invaluable in acquiring pottery and baskets for the collection, but she particularly helped me build a wonderful collection of historic Iroquois and Micmac beadwork, most of which was eventually donated to the Brooklyn Museum.  When Lynn died unexpectedly, I lost not only a mentor but a dear friend.  Emotionally, I associated her with collecting historic beadwork, and from that point on I could no longer do so.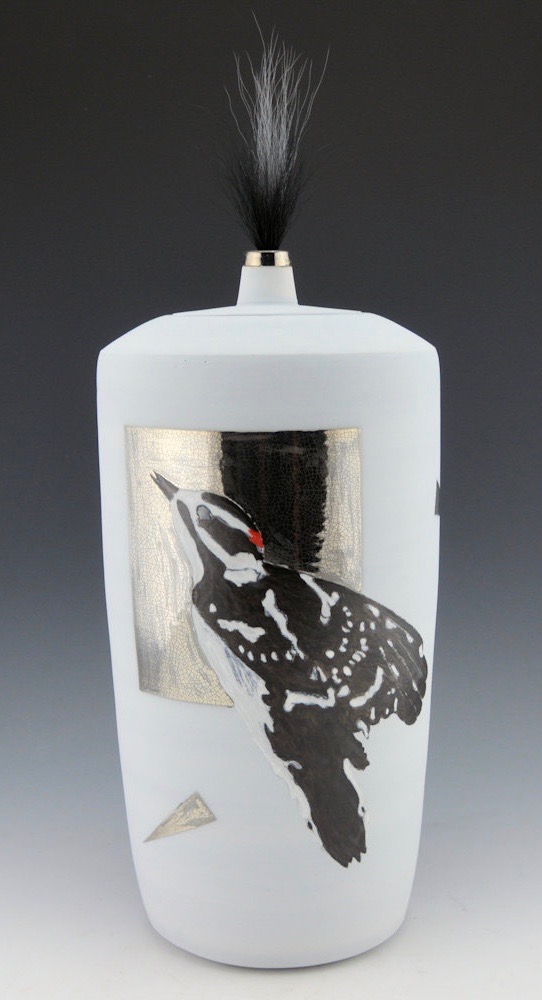 Woodpecker, lidded jar by Jason Wesaw, Potawatomi, 5.75″w x 12"h, ceramic, glazes, underglazes, silver luster, dyed deer tail (2020).  Collection of E. J. Guarino.  Acquired from King Galleries.
            A few years later, Betty Johnston passed on.  I had lost another beloved friend and mentor.  It was at this time that I met Charles King.  It was a case of my simply having wandered into King Galleries in Scottsdale.  I was immediately impressed with the outstanding quality of ceramic works on display in the gallery and the fact that Charles King was so personable and made me feel instantly welcome.  For close to twenty years, (although he may not have realized it) Charles has been the sole mentor for the ceramics section of my collection.  I have depended on him to acquire historic pottery as well as works by established, emerging, and beginning Native American ceramic artists.  Because of Charles, I was able to acquire works by Maria Martinez, Jody and Susan Folwell, Diego Romero, Jason Garcia, Les Namingha, Preston Duwyenie, Virgil Ortiz,  Nathan Youngblood, LuAnn Tafoya, Lisa Holt & Harlan Reano, Christopher Youngblood, Christine McHorse, Joel McHorse, and, more recently, Bobby Silas, Debbie Clashin, Jason Wesaw, and Juan de la Cruz.  With Charles' guidance, the ceramic portion of my collection has grown in size and quality.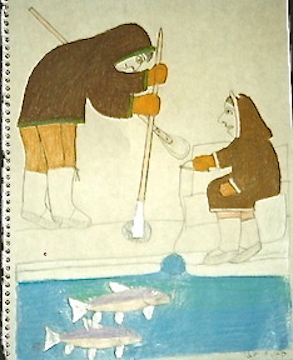 Ice Fishing – Jigging for Trout by Janet Kigusiuq from the artist's sketchbook, pencil, pencil crayon and watercolor crayon, Inuit, Baker Lake, 14" x1 1" (1997).  Collection of E. J. Guarino.  Acquired from the Isaacs Innuit Gallery with the assistance of Ruby Bronstein.
Between 1993 and 1995, I made a number of visits to Vancouver and Toronto, which sparked my interest in Inuit art.  I became especially fascinated with works on paper and began acquiring drawings from the now-defunct Isaacs Innuit Gallery in Toronto.  My guide to this exciting new collecting area was Ruby Bronstein whom I came to adore.  Every so often Ruby would send me a lovely letter with photos of works she thought might interest me.  (Again, this was before the Internet.).  At that time, few collectors paid much attention to Inuit drawings.  It was the prints that were in demand.  I found this odd since the drawings cost so much less than the prints and also because a drawing was a one-of-a-kind work while the prints were generally produced in editions of fifty.  Ruby explained that most collectors focused on the prints because they had been published and that this afforded them the imprimatur (her word) they needed before buying.  She added that many collectors came into the gallery holding a book open to the image of a particular print and would ask, "Do you have this one?"  Because they were so affordable, for many years I collected only Inuit drawings.  Eventually, the market righted itself mostly because of the efforts of Patricia Feheley, owner of Feheley Fine Arts in Toronto, and Robert Kardosh, Director of the Marion Scott Gallery in Vancouver.  Today, Inuit drawings command the prices they rightfully deserve.
When the Isaacs Innuit Gallery closed I was at a loss.  Not long afterward, I discovered the Arctic Artistry Gallery which, at the time, was less than two miles from where I lived.  At this time I also learned of Feheley Fine Arts in Toronto.  Before long, the owners of both galleries had become mentors of my collection.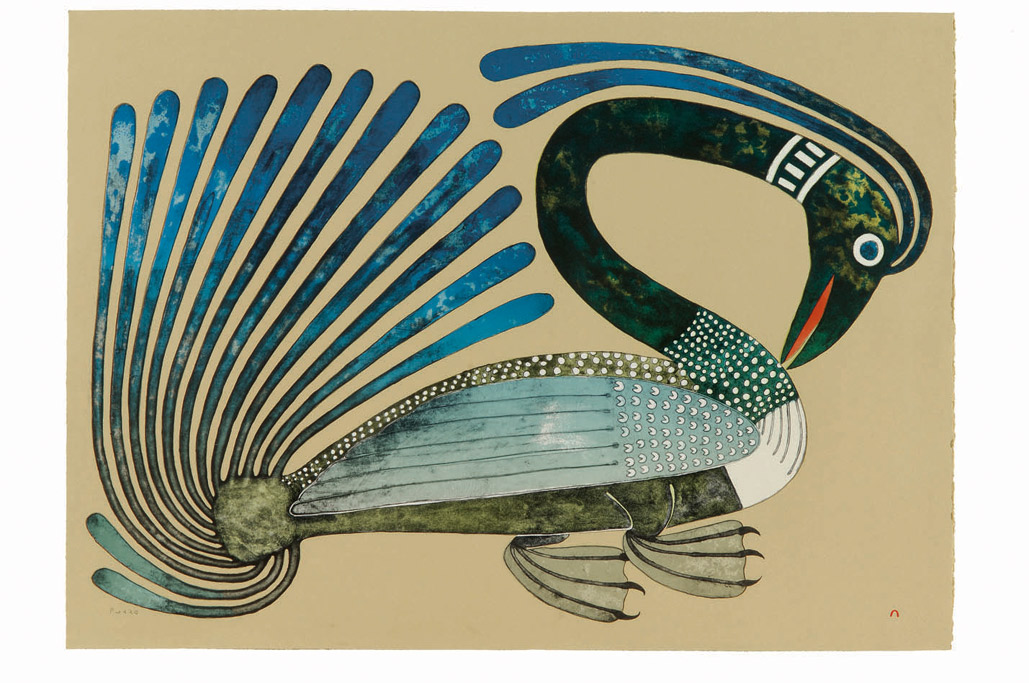 Long-Necked Loon by Kenojuak Ashevak, lithograph; Paper: BFK Rives tan; Printer: Pitseolak Niviaqsi, 36/50, Inuit, Cape Dorset, 30"h x 41.5"w, Cape Dorset Annual Print Collection # 16 (2008).  Collection of E. J. Guarino.  Acquired from the Arctic Artistry Gallery.
            In the course of over twenty years, I have spent many hours at the Arctic Artistry Gallery being educated by owner Elaine Blechman.  I think it is fair to say that without Elaine I might not have a collection of Inuit art or, at the very least, not a very good one.  On my first visit to her gallery, I was immediately taken with Elaine.  She was welcoming, vivacious, and willing to share her vast knowledge of Inuit art with me.  Since 1997 Elaine has guided my collecting while never once forcing her opinion on me.
Elaine's importance became especially clear the year I decided that I should acquire one of Kenojuak Ashevak's iconic prints of fantastical birds, something the collection lacked.  I felt that this would be an essential and necessary addition; Elaine concurred, but the print I wanted had sold.  Although she said that she could get me another copy, Elaine added that she didn't think this particular work was exactly the right Kenojuak print for the collection and suggested I wait.  Of course, waiting meant that I would not have another chance to acquire one of Kenojuak's fabulous birds for another year and there was no guarantee that she would produce such a work for the next annual collection or that what she created would be a "fit" for my collection.  However, trusting in Elaine's judgment paid off.  The following year I was able to acquire Long Necked Loon, one of Kenojuak's most spectacular bird prints.  As Elaine showed the print to me, she simply said, "This is the one."  Looking at it, I immediately knew that she was right.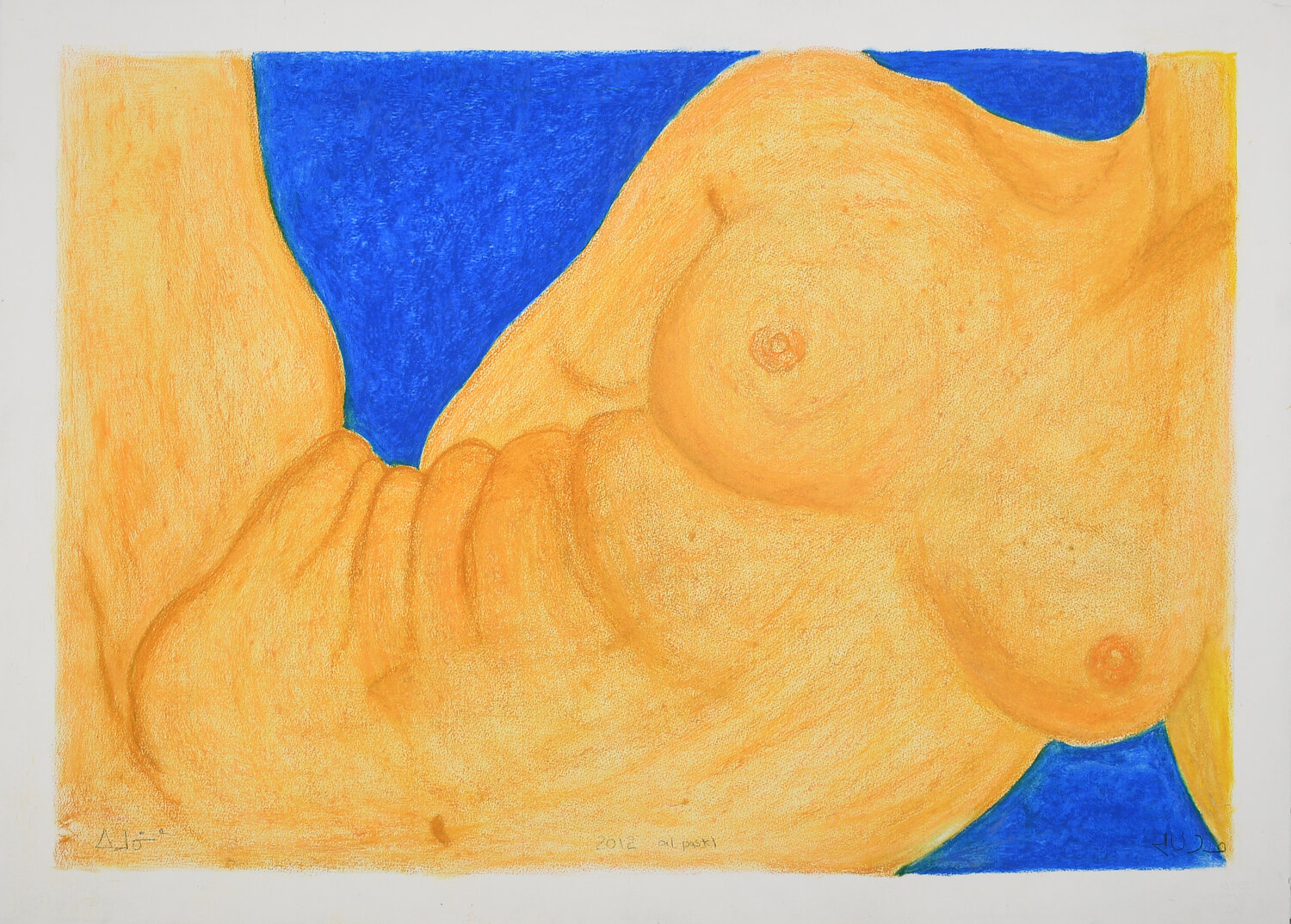 Untitled (Female Nude) by Jutai Toonoo, Kinngait (Cape Dorset), graphite, pastel, 30" x 41" (2012).  Collection of E. J. Guarino.  Acquired from Feheley Fine Arts.
            Although Elaine Blechman has been the main mentor for the Inuit portion of my collection I have been fortunate to have had the help of others as well.  Patricia Feheley, the owner of Feheley Fine Arts Gallery in Toronto, was kind enough to allow me to have scores of Inuit works on paper on layaway for years.  Pat, as she is affectionately known, is a leading expert in Inuit art.  Of the twelve works borrowed from my collection for Akunnittinni: A Kinngait Family Portrait, an exhibit curated by Andrea Hanley that originated at the Museum of Contemporary Native Arts in Santa Fe and then traveled to other venues around the country, ten were acquired from Feheley Fine Arts with the direct help of Pat Feheley.  For more than twenty years, Pat and her staff have assisted in my acquiring important Inuit works on paper.  She has graciously answered my many questions and has supplied information and images to institutions that have borrowed works from my collection.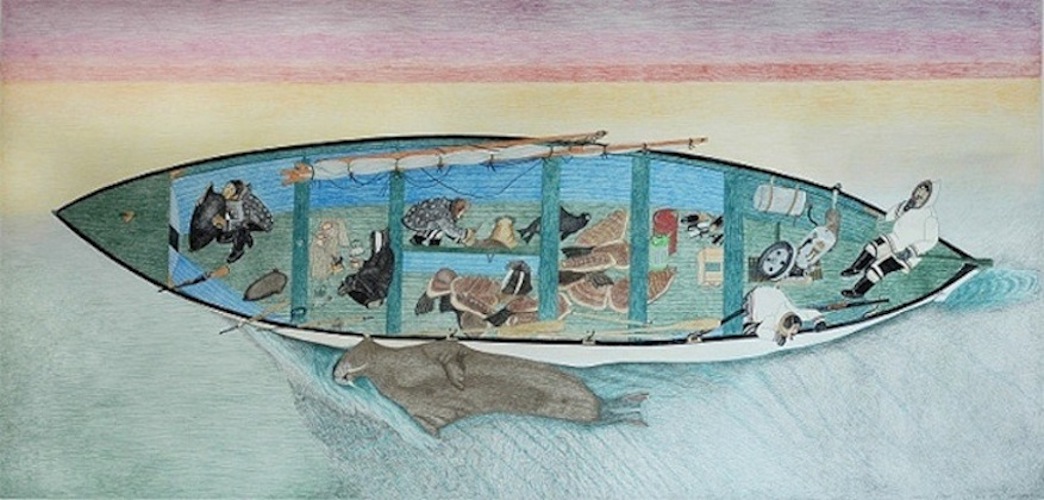 Untitled drawing by Kananginak Pootoogook, colored pencil & ink, Inuit, Cape Dorset, 48" x 96" (2009).  Artist's inscription: "Successful walrus hunt."  Collection of E. J. Guarino.  Acquired from the Marion Scott Gallery with the assistance of Paul Conroy.  Long-term loan and promised gift to the Brooklyn Museum in memory of Edgar and Josephine Guarino.
          When Paul Conroy worked at the Marion Scott Gallery in Vancouver, he was another valuable resource.  I could always count on him to give me his honest opinion as to whether a particular work should be added to my collection.    Untitled (Successful Walrus Hunt) by Kananginak Pootoogook, one of the jewels of my collection, would not have been acquired without Paul's help.  Unknown to anyone, this amazing mural-sized drawing was destined to go on an amazing journey and I got to go along with it.
In 2013/14, this work was exhibited as part of Decolonizing the Exhibition: Contemporary Prints and Drawings from the Edward J. Guarino Collection at the Frances Lehman Loeb Art Center, Vassar College.  While on view, the work was seen by Nancy Rosoff, Andrew W. Mellon Curator and Chair of the Arts of the Americas, Brooklyn Museum, and Associate Curator Susan Kennedy Zeller (now retired) who asked if the work could next be borrowed by the Brooklyn Museum.  During the six months, it was on exhibit at the Brooklyn Museum, the drawing was seen by Christine Macel, the curator of Viva Arte Viva, the 57th International Venice Biennale, who chose it as one of the works to be included in the Biennale that was held in 2017.  I traveled to Venice and had the thrill of a lifetime seeing a work from my collection displayed in this prestigious venue.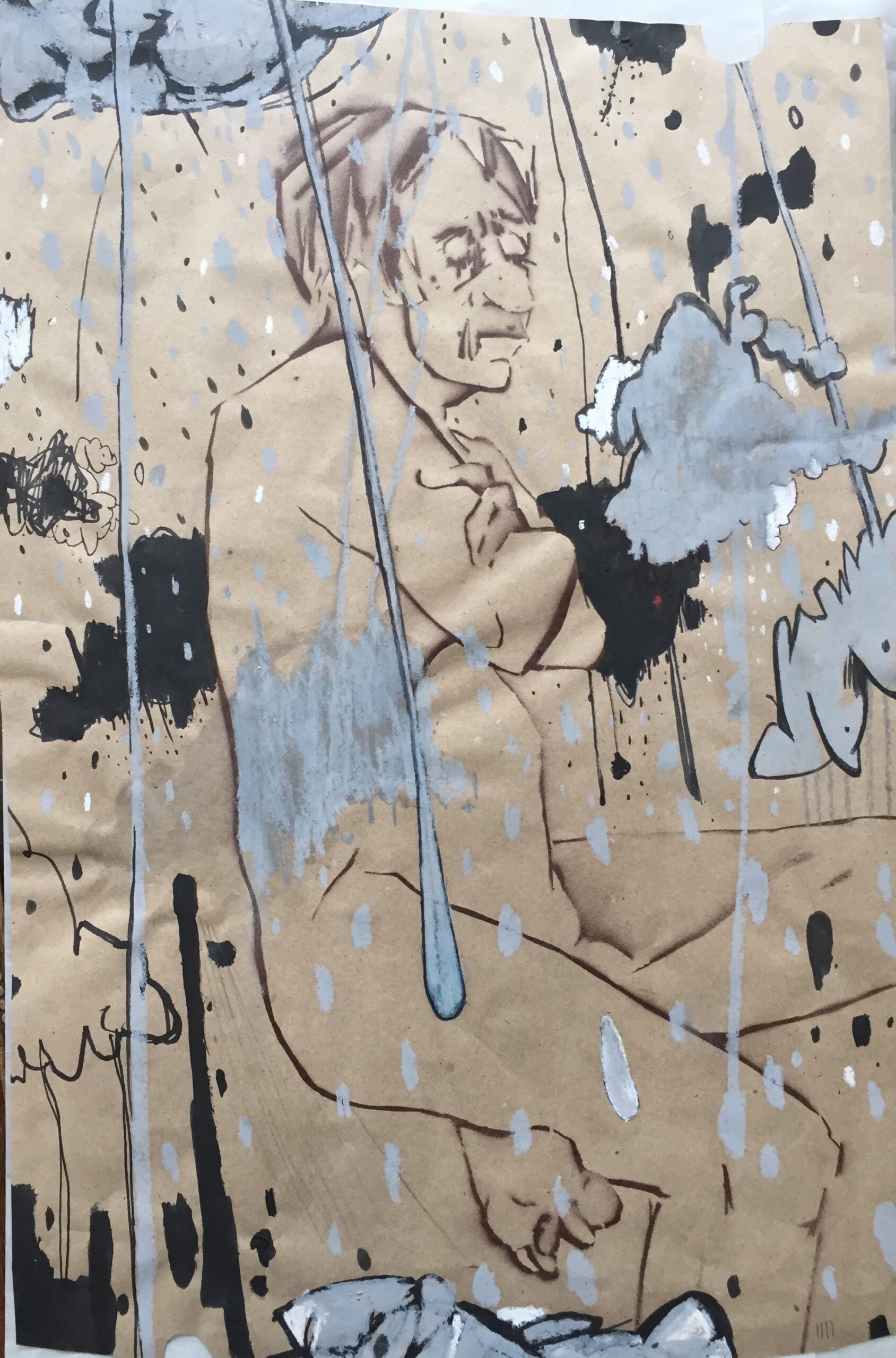 Sitting by Myself, Self, Self II by Eliza Naranjo Morse, Santa Clara Pueblo shipping paper, spray paint, pencil, ink, pastel, and iron oxide,18"w x 27.5"h (2012).  Collection of E. J. Guarino.  Acquired through the assistance of Andrea Hanley.
            About twelve years ago, I became interested in works on paper created by Pueblo ceramic artists whose work was in my collection.  It was Andrea Hanley, currently Chief Curator at the Wheelwright Museum of the American Indian, who encouraged me to broaden my collecting in this new area to encompass works on paper by artists from a wide range of Native backgrounds as well.   Thanks to Andrea, I have added works by Eliza Naranjo Morse, Sarah Sense, Shan Goshorn, Rick Bartow, G. Peter Jemison, Jaune Quick-to-See Smith, and many other artists to the collection.  Without Andrea's influence, the focus of the Native American works on paper section of my collection would be narrow.  Thanks to her, a diversity of artists – beginning, emerging, established, and superstars – are represented as are a wide range of themes and media.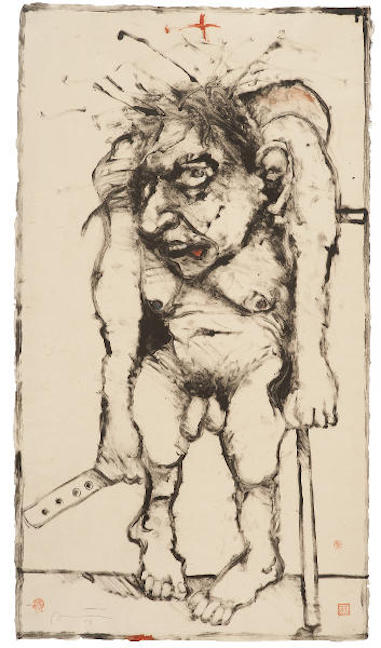 Kokopelli at Sunset by Rick Bartow, Wiyot, monotype, 39" x 21.5" (2003).  Collection of E. J. Guarino.  Acquired from the Froelick Gallery.
Charles Froelick, owner of the Froelick Gallery in Portland, Oregon, and Wilder Schmaltz, the gallery's assistant director, have been invaluable in my acquiring spectacular works on paper by Rick Bartow.  I think of them as the Dynamic Duo.  From the very first time I walked into the Froelick Gallery in 2003, I have been treated like visiting royalty whenever I show up.  My guess, however, is that Charles Froelick treats all visitors to his gallery in this manner.  He is just that kind of guy.  Every time I'm in the gallery, Charles lets me spend hour after hour pouring over works on paper by Rick Bartow and patiently answering my many questions.  However, me being me, the questions don't end when I leave the gallery.  Usually, there are many emails containing even more questions that are answered either by Charles or Wilder Schmaltz.  Wilder has supplied me with a wealth of information about individual Bartow works.  Both he and Charles have been critical resources for my articles on Rick Bartow's artistic output.
No one builds a collection alone, much less a good one and especially not a great one.  Many professionals have shared their expertise with me and have been generous with advice and encouragement.  I feel privileged to have a collection rich in so many marvelous works of art, but this would not be the case without the help of a group of wonderful advisors many of whom became dear friends.  Without Betty Johnston, Lynn Trusdell, Charles King, Ruby Bronstein, Elaine Bleckman, Patricia Feheley, Paul Conroy, Andrea Hanley, Charles Froelick, and Wilder Schmaltz I doubt my collection would be what it is today and I continue to be grateful for their influence and support.