Among collectors and even curators when Inuit works on paper are acquired or presented the focus is most often on the "Big Names" such as Kanojuak Ashevak, Pitseolak Ashoona, Kananginak Pootoogook, Annie Pootoogook, and, more recently, Shuvinai Ashoona.  However, there is much more to the story of Inuit graphic art.  Many artists did not get their proper due during their lifetime.  However, because of the efforts of gallerists such as Patricia Feheley of Feheley Fine Arts, Toronto, and Robert Kardosh of the Marion Scott Gallery, Vancouver perceptions are changing and artists whose work was not given the consideration it deserved is being reevaluated.  Among those whose work has been relatively unsung is Kinngait (Cape Dorset) artist Meelia Kelly. In an e-mail, Emily Lawrence, Associate, Feheley Fine Arts, summed it up: "For me, Meelia Kelly is one of the most underrated Kinngait artists of the 'middle' generation.  She . . . was featured in annual print collections through 2001 – 2006. She created highly distinctive images that translated beautifully into the stone-cut and etching and aquatint techniques.  Her incredible images of wiry birds and blob-like creatures should have garnered her more recognition during the height of her artmaking. During her lifetime Kelly had one solo exhibition . . . and was seldom written about in articles or catalog essays.  However, the style of her work is so very distinctive and contemporary that I would not be surprised if there was a resurgence of interest in Kelly's work in the 2020s."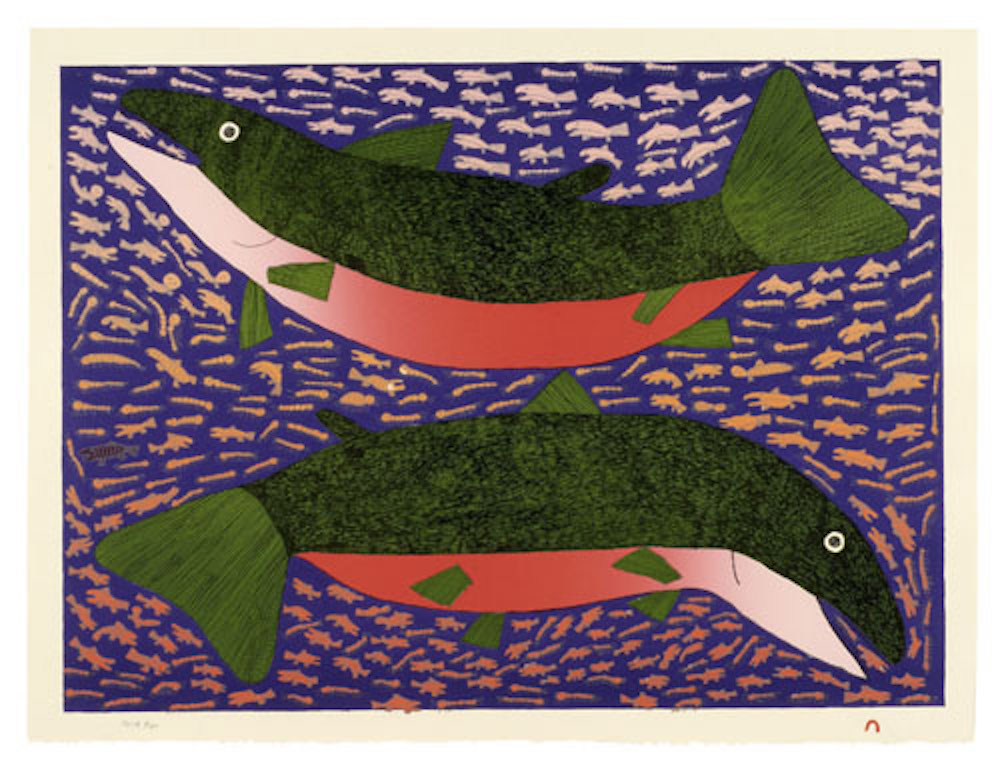 Bountiful Sea by Meelia Kelly, lithograph on BFK Rives cream paper; Printer: PitseolakNiviaqsi, 36/50; Inuit, Cape Dorset, 21"h x 28"w, Cape Dorset Annual Print Collection #15 (2006). Donated from the Edward J. Guarino Collection to the Frances Lehman Loeb Art Center, Vassar College, in honor of Josephine Guarino.  Photo courtesy of the Arctic Artistry Gallery, Chappaqua, NY and Dorset Fine Arts, Toronto.
 I first became aware of Meelia Kelly's work in 2006 when I saw her print Bountiful Sea, which was part of the 2006 Annual Cape Dorset Print Collection.  Funds were low when I saw this print, but it was so delightfully whimsical that I knew that one way or another I would add it to my collection.  I was much taken by the image of two large salmon trying to eat the scores of little pink sea creatures swimming around them.  Each of the little marine animals is amusingly rendered and adding to the humor of the piece is the fact that some of them seem to be swimming out of the print's border.  Also, the colors employed are bright and cheerful, even electric, not something one would expect in a piece about one species devouring another.
A few years later, Bountiful Sea was donated to the Frances Lehman Loeb Art Center at Vassar College and I am embarrassed to state that I thought no more about Meelia Keely until 2020 when I saw a group of drawings she had created in 2006 on the Feheley Fine Arts website.  These works immediately caught my attention.  I had never seen anything like them.  Their style was at once distinctive and decidedly contemporary.  I was entranced by the use of shape and color.  Clearly, what I was looking at were Arctic animals, but they were presented in a unique way.  Some are easily identifiable while others are mysterious, perhaps even creatures of fantasy.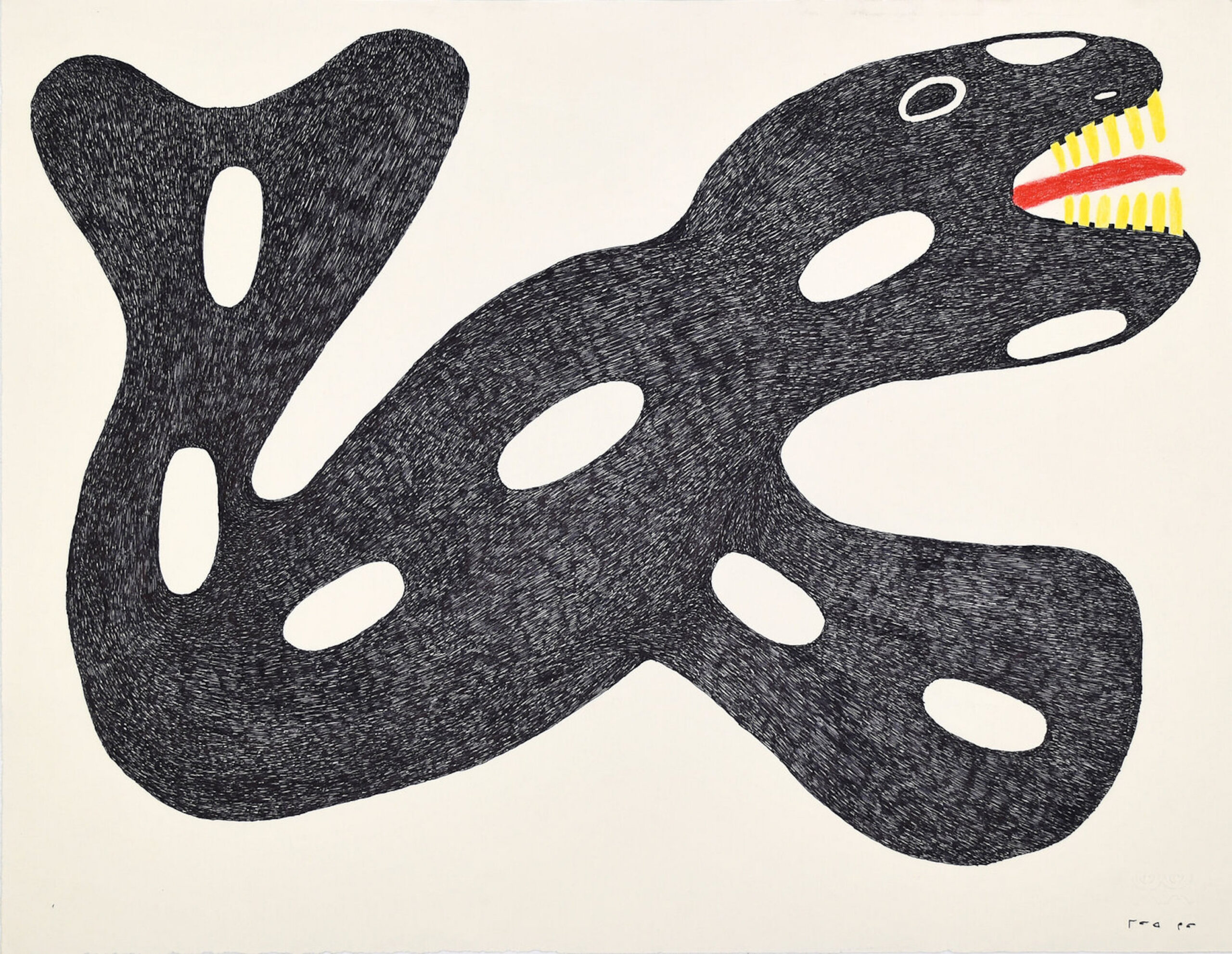 Composition (Menacing Whale) by Meelia Kelly, Inuit, Cape Dorset colored pencil & ink, 20" x 26" (2006).  Collection of E. J. Guarino.  Photo courtesy of Feheley Fine Arts, Toronto, and Dorset Fine Arts, Toronto.
           In spite of the title Composition (Menacing Whale), it is difficult to see the creature portrayed as ominous, perhaps because the artist has chosen to stylize it rather than draw a realistic image.  Instead of creating a sense of fear, whenever I look at Meelia Kelly's interpretation of a whale it brings a smile to my face.  So why the term menacing?  Generally, when drawings are sent to galleries from the co-operative in Kinngait (Cape Dorset) they are untitled.  It is then left up to gallerists whether to leave them as untitled works, sometimes simply attaching the word composition to them, or to give them a title.  However, having more than one untitled work in a private or museum collection tends to be confusing.  Often galleries title works as Composition and adds a title in parenthesis that describes the work.  The descriptive title is left up to gallerists and is, of course, subjective.  This may have been the case with Composition (Menacing Whale).  Nonetheless, the drawing is delightful and is emblematic of Meelia Kelly's unique style.  Because the whale is black with white spots it may very well represent a stylized killer whale.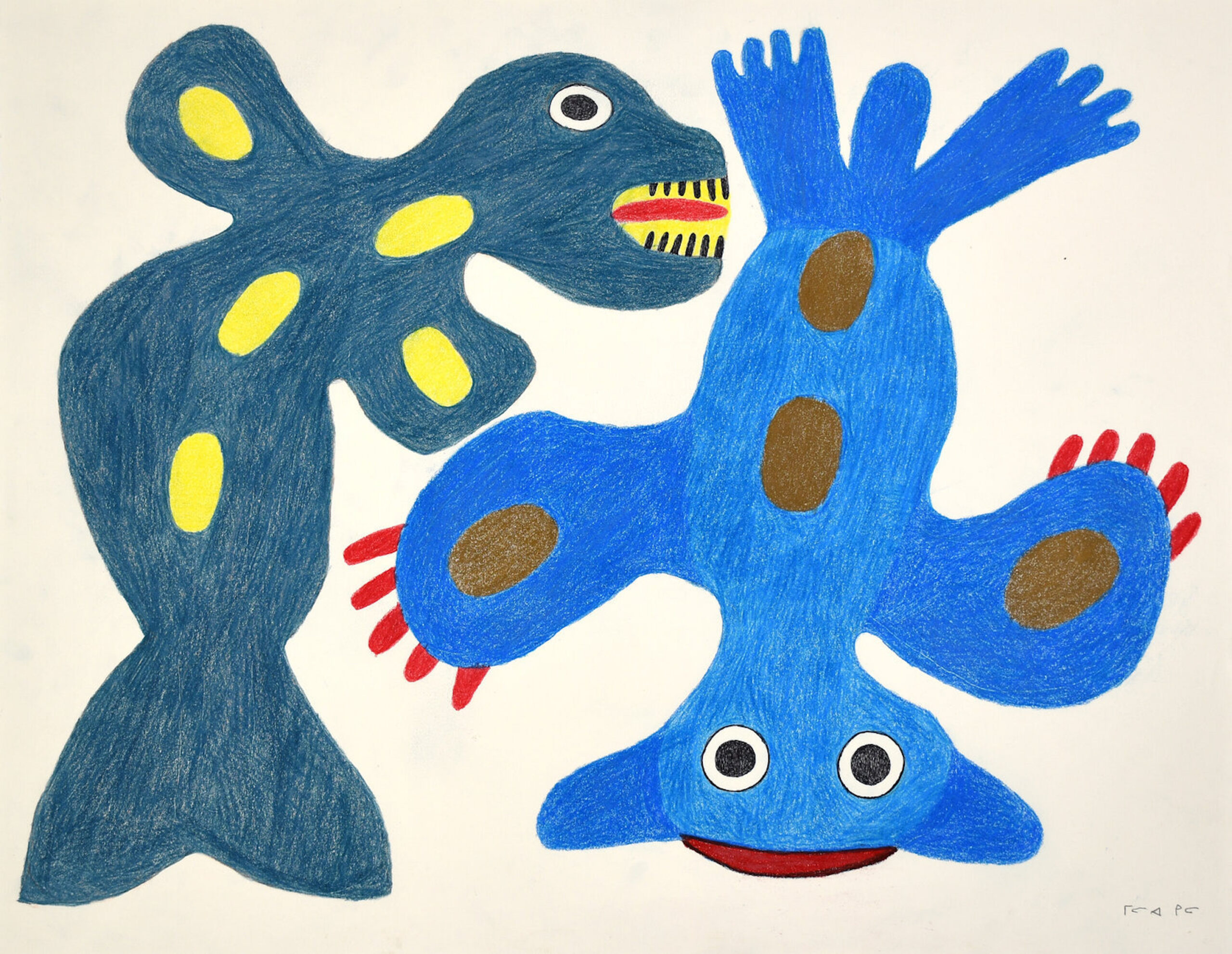 Composition (Creatures) by Meelia Kelly, Inuit, Cape Dorset, colored pencil & ink 20" x 26" (2006).  Collection of E. J. Guarino.  Photo courtesy of Feheley Fine Arts, Toronto, and Dorset Fine Arts, Toronto.
                   Composition (Creatures) is another charmingly idiosyncratic drawing by Meelia Kelly.  The animal on the left-most closely resembles a seal; however what the one on the right represents is anybody's guess and is most likely a creature of fantasy, though it, too, could be a seal.  Ultimately, it doesn't matter.  The viewer is made to see the world through the artist's imagination.  Much of Meelia Kelly's youth was spent living on the land and her fantastical beasts are her representation of what she witnessed.  The often amorphous critters Meelia Kelly produced are an exploration of form and color rather than a realistic rendering of animals.  
Although Meelia Kelly came late to artmaking, in her short career, beginning in the mid-1990s until her death in 2006, she produced nearly 400 drawings and twenty-four of her prints were included in Cape Dorset's Annual Print Collections.  However, during her lifetime, despite a rich and varied artistic output, Meelia Kelly never received the accolades she deserved.  Perhaps in the near future, her work will finally be given the attention it so justly deserves.