Brand
Browning, Ashley (b. 1992)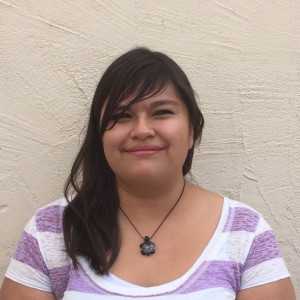 Ashley Browning
Ashley Browning is a granddaughter of LuAnn Tafoya, the daughter of Michele Browning and the niece of Daryl Whitegeese. She graduated from the University of New Mexico with a degree in Film and Digital Media.  
Ashley's first influence into the art community was watching her grandmother, Lu Ann Tafoya work on her pottery. She comes from a long line of potters from Santa Clara Pueblo, where they are known for their deep carved, red and black pottery. Lu Ann being the master showed Ashley how to continue the tradition but as Ashley was growing up, it was hard for her to work while attending school. After school, Ashley attended her local Boys and Girls Club, where she continued to do other sorts of art, like painting, drawing and most of all graphic. She participated and won ribbons in local, statewide and regional contests in fine arts and graphic arts. 
At the University of New Mexico, Ashley was accepted into the Interdisciplinary Film and Digital Media program, there she was able to hone in her graphic design and photography skills. She explored different types of digital media, such as filmmaking, screenwriting, 3D animation and most of all cinematography. She is currently working as a cinematographer/animator on two documentaries for the U.S. Forestry Service.
Ashley's family have been part of the Southwest Association for Indian Arts since it started in 1922 and she felt that it was her time to be part of that. In 2013, she entered in the painting, drawing and photography division for the first time where she won two first place ribbons for her "Paper Doll" and "Juxtaposition." She has been participating in the Santa Fe Indian Market ever since.