Brand
Tafoya, Jennifer (b. 1977)

Jennifer Tafoya
Jennifer Tafoya (Moquino) is the daughter of Ray and Emily Tafoya.  The use of realism in their imagery has revitalized the style of sgraffito pottery originated by Joseph Lonewolf in the 1970s.  Jennifer has won numerous awards for her pottery and is featured in books such as "Talking with the Clay," "Crafted to Perfection," and "Breaking the Mold." Jennifer has also been featured in recent magazine articles in "Native Peoples Magazine" and "Southwest Art Magazine" and won "Best of Pottery" for a collaborative jar at the 2013 Heard Indian Market Guild.  She has continued to be an award-winning potter at Santa Fe Indian Market and the Heard Indian Market.  Jennifer uses the Native American traditional hand-coiled pottery methods, then shapes, polishes, and is traditionally fired before applying scraffito.  She then paints natural ore colors and slips them into her designs.  She collects and processes all of her pottery materials from natural sources.
Youngblood, Christopher (b. 1989)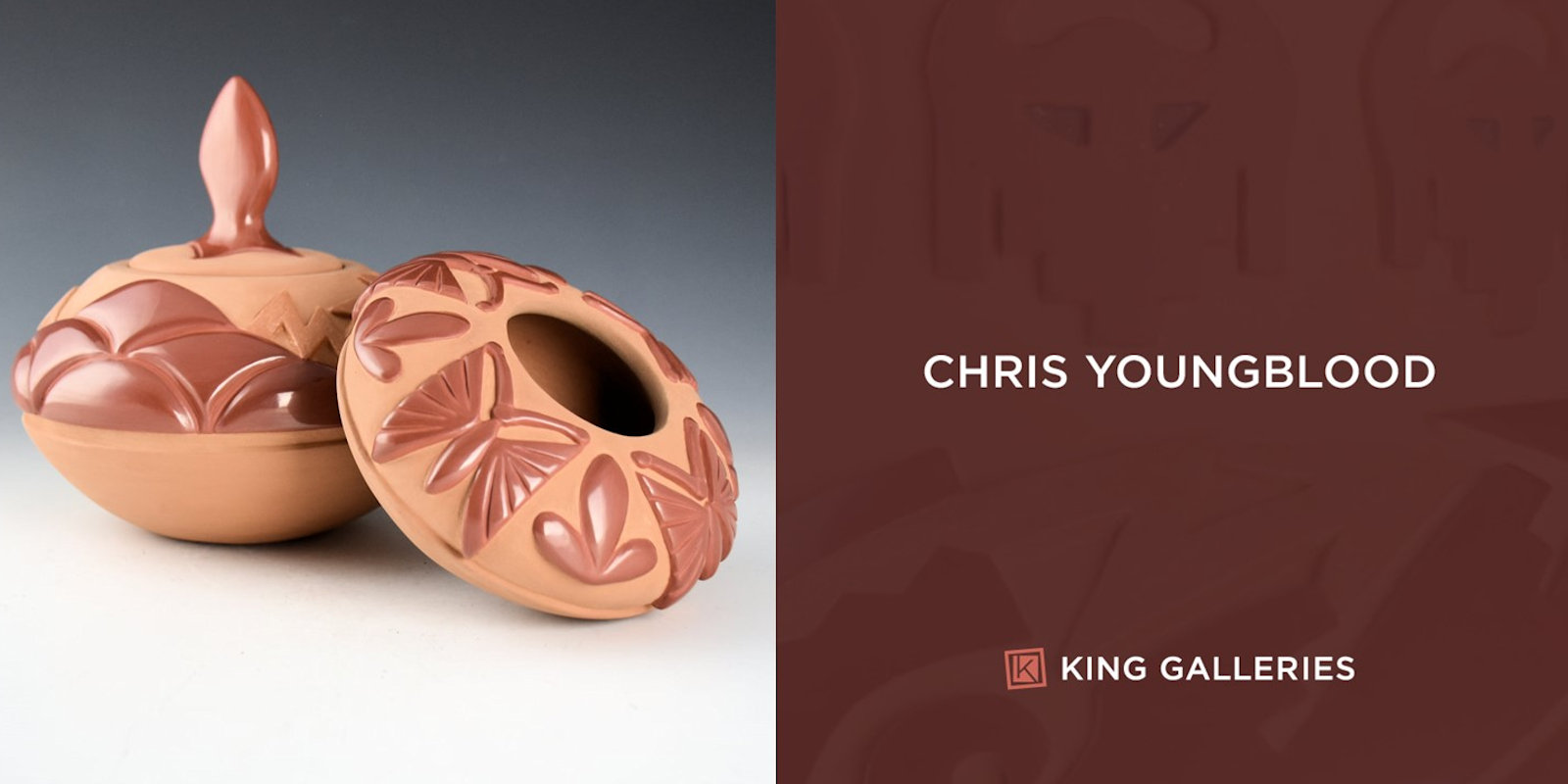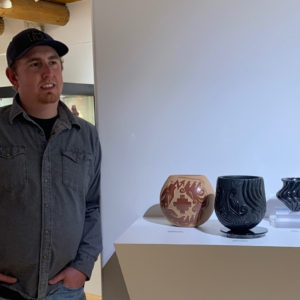 Chris Youngblood
Chris Youngblood is Margaret Tafoya's great-grandson and Nancy Youngblood's son.  His mother, Nancy, taught him to make pottery.  He won the "Best of Class - Youth Award" at Santa Fe Indian Market and the prestigious "Best of Pottery" in 2014.  In the 2010 Native People's Magazine, he was featured as one of the "Generation Next Emerging Potters" and recently featured in Native Art Magazine in 2016 as one of the "Three Potters Under 30" to watch. In addition, his "Best of Pottery" jar was featured in the book "Spoken Through Clay."
Chris Youngblood says that he focuses on each piece, taking the time to work on the shape and stone polish the surface to a high shine, often polishing it several times to get it right.  Chris comes to the clay focused on expanding his illustrious family's technical and artistic boundaries.  His manipulation of the clay surface through his technically inspired imagery expands the art in new directions.