Brand
Da, Popovi (1923 - 1971)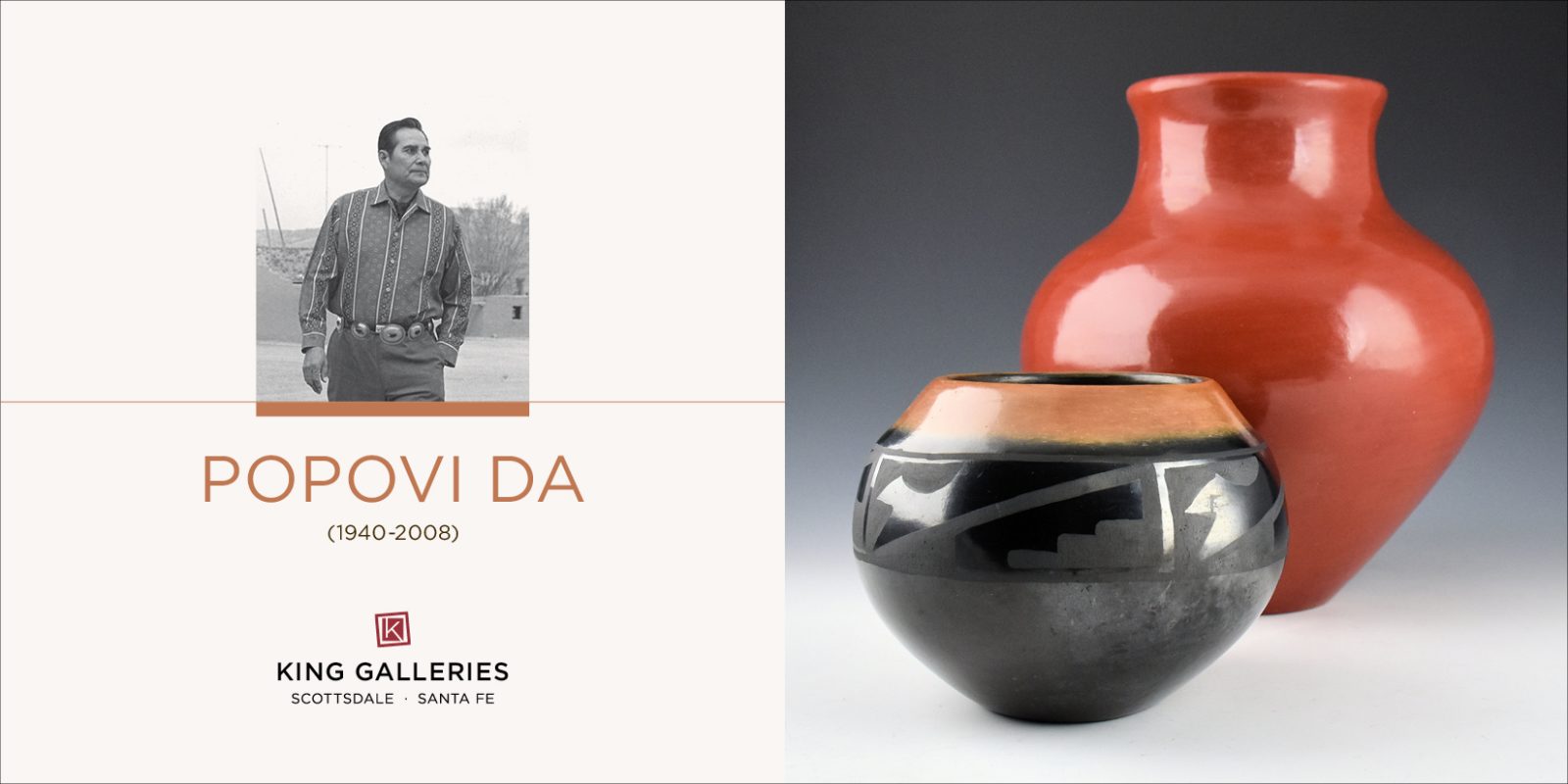 Popovi Da
Popovi Da was a son of potter, Maria Martinez.  He was known for his painting and began to work with Maria on her pottery in 1956.  He also began to make his own pottery beginning in 1962.  Popovi is credited with creating the sienna pottery along with a revival of polychrome pottery in the 1960s. He was planning to continue making pottery on his own after Maria retired but unfortunately passed away in October 1971 before this could occur.
Da, Tony (1940-2008)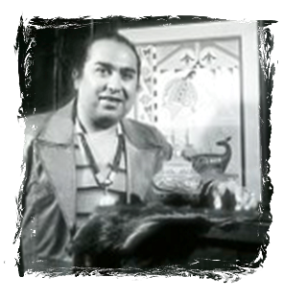 Tony Da
Tony Da was the first Pueblo "rock star." He broke cultural barriers as a "modern Indian," steeped in San Ildefonso Pueblo tradition but living in a contemporary world.  A grandson of Maria Martinez and the son of Popovi Da, his precision designs and techniques revolutionized Pueblo pottery and created a new vocabulary for the art.  Among the first men to both make and design pottery, he introduced sgraffito etching, inlaid stones, and beads, initiated black and sienna colorations, and invented his stylized iconography derived from the ancient Mimbres pottery.  Although his career only spanned fifteen years, his work and persona are increasingly relevant. In 2011, Tony Da's pottery and paintings focused on an exhibit entitled; 'Creative Spark, The Life, and Art of Tony Da.' (Museum of Indian Arts and Culture of Santa Fe 2011-2013.) Over the course of his career, Tony Da demanded perfection.  He was an innovator in his art, as well as in his life.  Tony was known to his family members as a creative perfectionist and his collectors as a creative genius.  Tony's pottery today is considered to be among the most sought after by collectors. Charles King and Richard Spivey co-authored a history of his life, and artwork is a testament to his legacy, '
The Life and Art of Tony Da.'
  Tony was both an art superstar of his time and a profoundly private individual.  This portrayal brings the reader into the innovative and volatile world of this noted Potter.
Folwell, Susan (b.1970)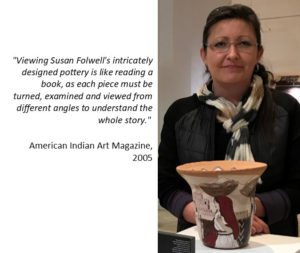 Susan Folwell
Susan Folwell is one of the exciting innovators in Pueblo pottery. Her work is native clay and inspired by traditional designs, but she is continually experimenting with techniques and clays. She is the daughter of Jody Folwell and sister of Polly Rose Folwell. She has won numerous awards at events such as the Santa Fe Indian Market and the Heard Indian Market. She has been featured in several books, including "NDN," "Free Spirit," and others. Susan has said, "My Earliest recollection I can think of is that my mother gave me a ball of clay.  I decided I wanted to make a snake. It was a long flat tube. She said if you want people to be interested in it, it has to have some character.  I said I thought it had enough character. She said no, so she bent the tube and made it into an "S," She pinched the nose.  I cried for like an hour, as she pinched the nose and I thought it was now a worm, she swore it was still a snake.  In the end, I was thrilled because it sold for $2.  I was hooked after that."
Garcia, Tammy (b. 1969)

Tammy Garcia 
Tammy Garcia is undoubtedly one of the most renowned Pueblo potters. She is the daughter of Linda Cain and sister to Autumn Borts-Medlock.  She is also the granddaughter of Mary Cain, great-granddaughter of Christina Naranjo, and great-great-granddaughter of Sara Fina Tafoya.  Tammy learned to make pottery from her mother and continues the Pueblo traditions of using native clay as the foundation.  Her distinctive pottery bridges the gap between traditional and modern. The intricacy and precision of her carving are one of the attractions to her pottery and bronze art.  Tammy's pottery continues to evolve in new directions with each new idea. Amazingly, Tammy Garcia makes less than ten pieces a year. This small number is a reflection of the time involved in each section.  The building, designing, carving, polishing, and firing are labor-intensive.  As a result of the time required, she never replicates a design or pot, which is part of her art's dynamic process. Tammy Garcia's distinctive forms and imagery create "stories" on the vessels. Her designs inspired by Pueblo's life, animals, insects, pueblo stories, or traditional images are traditional and contemporary.  Her works' surface is polished then carved, and there is always a fantastic balance of carved versus matte areas. Tammy's pottery is in permanent collections and museums worldwide, such as The Denver Art Museum, the Heard Museum, and The Autry Museum. She has won multiple awards for her pottery and, most recently, was the subject of a one-woman exhibit at the National Museum of Women in the Arts.
King, Charles S.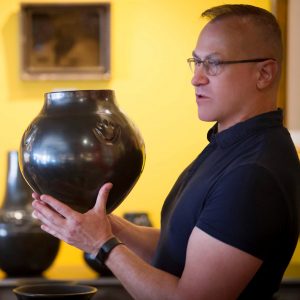 Since its inception, King Galleries has been committed to represent work by potters who create the highest quality and greatest innovation in their pottery. Charles King has been a judge in various years since 1996 for pottery at the most prestigious Indian art events, such as Santa Fe Indian Market, the Heard Museum Indian Market and Gallup Ceremonials. He has also given numerous talks on Pueblo pottery at the Heard Museum, Museum of Indian Art and Culture (MIAC), the Pueblo Grande Museum, Rockwell Museum of Western Art, The Philbrook Museum and The Denver Art Museum. Charles served on the Board of Directors of the Indian Arts and Crafts Association (IACA), which has the mission of encouraging and preserving authentic Indian art. He was elected in 2008 to the Board of Directors for SWAIA (Southwest Association for Indian Arts), which is the group which puts on Santa Fe Indian Market. He first wrote about Pueblo pottery in the book "Collecting Authentic Indian Art" and this was followed by the article, "Pueblo Pottery: Folk Art to Fine Art" for the thirtieth anniversary of American Indian Art Magazine. His first book, Born of Fire: The Life and Pottery of Margaret Tafoya, was published in 2008. His articles, "Santa Clara and San Ildefonso Pottery: Black is Beautiful"-2009, and "Four Emerging Potters: Gen Next"-2010 were published in Native Peoples Magazine. His second book, "The Art and Life of Tony Da" was written with Richard Spivey and published in 2012.
Lonewolf, Joseph (1932-2014)

Joseph Lonewolf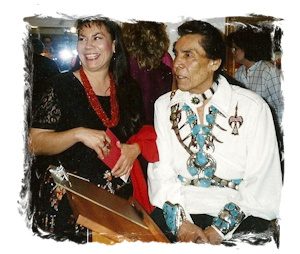 Joseph Lonewolf was a son of noted potters Camilio and Agapita Tafoya and the brother of Grace Medicine Flower. In the early 1970s, Joseph revolutionized the world of Santa Clara pottery by incorporating his sgraffito (lightly etching the surface of the clay) and incised (more deeply cut into the clay) designs in his work. When Joseph and his family gather clay, they do it with the utmost respect. Before the clay can be taken from Mother Earth, they must say a prayer, asking to take the clay and tell the clay mother that they will take her and make her into a beautiful pot. The clay is brought home, and water is added to turn the clay into a liquid form known as slip. The slip is then strained to take out any rocks or debris, and then the clay can be dried, kneaded, and used. Joseph was awarded numerous awards throughout his career, and his work can be found in museums worldwide. He has been featured in multiple books, including "The Art of Clay." He has received the prestigious New Mexico Governor's Award for Excellence in the Arts in 2009 and the SWAIA Lifetime Achievement Award.
Lucas, Steve (b. 1955)

Steve Lucas
Steve Lucas (b.1955) is a great-great-grandson of Nampeyo of Hano. His grandmother was Rachel Nampeyo, and his great-grandmother was Annie Healing. While Steve grew up around potters, he primarily learned the art from his aunt, Dextra Quotskuyva Nampeyo.  His pottery is amazingly thin-walled, and each piece has a dynamic use of form and design. The pottery is coil-built, stone-polished, traditionally painted, and native fired. Steve uses not only traditional designs but often gives his own creative spin to the ancient imagery. His pottery is signed with his name and the Mudhead symbol, or Koyemsi. This is reflective of his Hopi-Tewa clan.  Steve Lucas has won numerous awards for his pottery, including "Best of Show" at Santa Fe Indian Market.  Steve is a featured artist in the book by the gallery owner, Charles S. King, 'Spoken Through Clay.'  We are pleased to carry Steve's work at both our Scottsdale and Santa Fe locations.
Martinez, Maria (1887-1980)
Maria Martinez (1887-1980)
Maria Martinez is undoubtedly one of the best known and most influential Native potters of the 1900s.  She became famous for her creative pottery and traveling to museums, World Fairs, and other events throughout her lifetime. Maria learned to make pottery from her aunt Nicolasa Montoya.  Around 1919-1920, Maria and her husband Julian Martinez created the "black-on-black" style of pottery.  This unique process allowed matte designs to be painted on a stone polished surface and the entire piece to be fired black. At the time, this unique and distinctive style of pottery quickly became a success, and by 1922 was made by nearly every potter at San Ildefonso Pueblo.  It helped to change the economy of the Pueblo as pottery became a successful career. Maria worked with Julian until he died in 1943. She then worked with her daughter-in-law Santana who was married to her eldest son, Adam.  Again, she would make the pottery, and Santana would paint the designs.  In the 1950s, Maria made pieces that were plain and signed with her Tewa name, "
Pove-ka
," which means "Water Lilly." Beginning in 1956, Maria started to work with her son, Popovi Da.  Maria made the pottery, and Popovi would paint the designs.  These are often considered among the best of her career after the early work with Julian.  Popovi Da worked to revive polychrome pottery, created the sienna (double-fired) coloration, and made redware vessels.  Maria also made a few pieces with her grandson,
Tony Da
, whom she also taught to make pottery.  Tony was one of the first male potters at San Ildefonso and had an exceptional career in ceramics and paintings.  He was the subject of a book, "
The Art and Life of Tony Da
" by Charles S. King and Richard Spivey. Maria Martinez was the subject of several books during her career.  Alice Marriot wrote the book "
Maria: The Potter of San Ildefonso
" in 1948.  Richard Spivey also wrote a book on her entitled "Maria." Both were essential additions to the collector knowledge of this vital potter. Maria was also the subject of numerous museum exhibitions.  Her pottery can be found around the world in various museum permanent collections. Today, Maria's descendants include Barbara Gonzales, Cavan Gonzales, and Marvin Martinez, who all continue to make traditional San Ildefonso pottery.  Jarrod Da is known for his modernist paintings.
McHorse, Christine Nofchissey (b. 1948)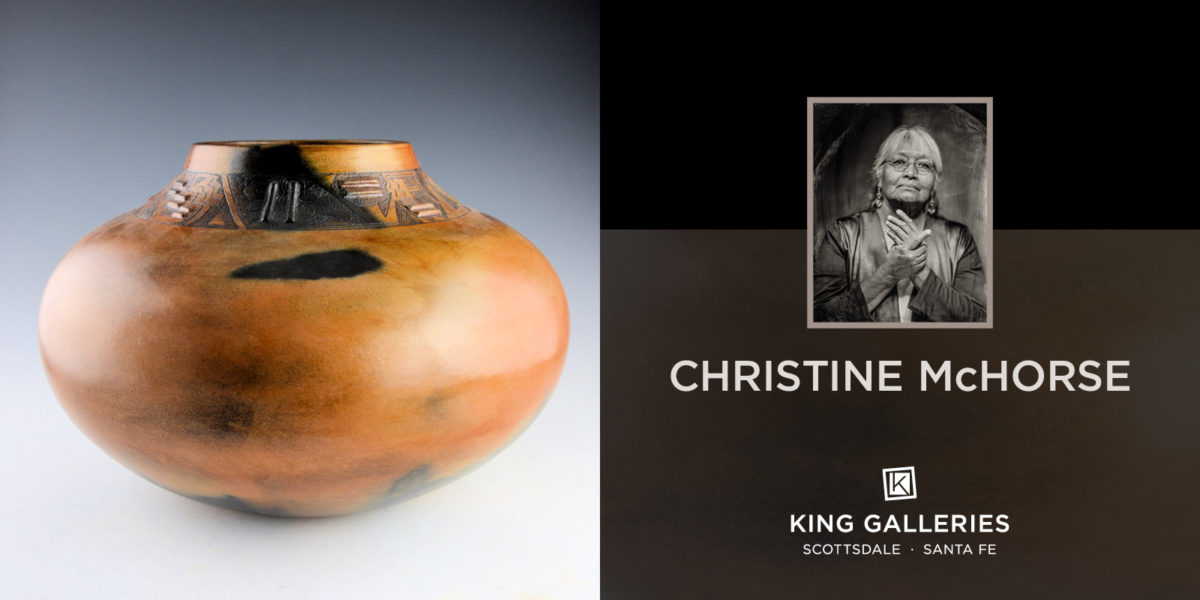 Christine McHorse has taken the traditional micaceous clay and transcended its utilitarian dimension and to create stunning sculptural vessels. Each piece is hand coiled from the micaceous clay near Taos, NM. Her work has a wonderful native aesthetic and vision yet a modern use of the clay to defy expectations. Christine is one of the only potters to win Best of Class at Santa Fe Indian Market for her clay work in both the pottery and sculpture categories. While Christine is Navajo, she learned to make pottery from her mother-in-law, Lena Archuleta (Taos). Her son Joel McHorse also learned to make pottery from Christine. She has received numerous awards at events such as Santa Fe Indian Market. Her work can also be found in museums such as the Heard Museum, the Denver Art Museum, the National Museum of the American Indian and others. She has also been featured in numerous book, including "Free Spirit". It is not often that we get in contemporary pieces of her pottery and they certainly a delight to the eye!
Ortiz, Virgil (b.1969)
Virgil Ortiz
Virgil Ortiz is one of the most innovative potters working today. He is a son of noted potter Seferina Ortiz and grandson of Laurencita Herrera. His sisters Janice, Inez, and Joyce are also potters and his niece, Lisa Holt. He encourages his nieces and nephews also to continue making traditional pottery. His work has been featured in numerous museum exhibits nationwide, and he is also known for his fashion designs. He has won multiple awards at Santa Fe Indian Market, the Heard Museum Indian Market, and other events. His pottery can be found in museums worldwide. "The thought has never crossed my mind to be anything other than an artist and fashion designer. Art is in my blood", says Virgil Ortiz, a Cochiti Pueblo Native. Sought by celebrities, royalty, and collectors, American Indian artist Virgil Ortiz artworks move into a new era combining art, décor, fashion, video, and film. Hailing from a family of celebrated Pueblo potters.  From the National Museum of the American Indian in New York, and Denver Art Museum, to the Hertogenbosch Museum in The Netherlands, and Foundation, and Cartier's Paris, France.  Virgil Ortiz's exquisite clay works are exhibited worldwide. Born in 1969, the youngest of six children, Ortiz grew up in a creative environment.  Storytelling, collecting clay, gathering wild plants, and producing figurative pottery was part of everyday life. His grandmother Laurencita Herrera and his mother, Seferina Ortiz, were both renowned Pueblo potters.  "I didn't even know it was art that was being produced while I was growing up," he remembers. Virgil Ortiz, who works and lives in Cochiti Pueblo, New Mexico, has worked very hard and has had a few lucky breaks.  His efforts have propelled him to a preeminent place among contemporary Native artists. After a highly successful collaboration with fashion mogul Donna Karan, he developed boldly patterned textiles based on his graphic decorative painting.  Ortiz launched his fashion line. His designs are captivating, provocative, and edgy, thus creating a high demand. His sharp laser-cut leather jackets, swinging taffeta skirts, cashmere sweaters, and silk scarves echo the Pueblo pottery's voluminous contours and sinuous motifs. He showcases the richness of indigenous, high fashion, and compelling storytelling of Pueblo culture and history. Virgil Ortiz debut Colorblind, his all-new T-shirt collection blending art, vibrant colors, and graphic images.  Each of which portrays his interpretation of the historic Pueblo Revolt of 1680 – the First American Revolution. "I want to pay tribute to our great leader Po'pay and ancestors that lived and walked on our lands, and respect that their spirit will live on through me." Creating a global awareness of Pueblo culture is reflected in the design components that reach past a traditional Ortiz sculpture.  His art form delves into an untapped age of décor elements that honor a prosperous civilization with skill and vision.  Ortiz also designed 'Indigenous Imprints'®, a carpet collection designed exclusively for Aqua Hospitality Carpets. This collection consists of twenty unique patterns.  His design concepts are a fascinating balance between contemporary and traditional for guest rooms, corridors, and public spaces in some of the most exclusive hotels and resorts worldwide. 'Indigenous Imprint's® is a natural progression toward leading-edge furnishings and adornment that capture the elegance and spirit of Ortiz's inspiration. Beyond the notoriety of his artistic talent, Ortiz's professional agenda centers on a lifelong dream to create opportunities for children in his tribal community that reflects his ancestors' legacy. "It's important to recognize that Pueblo communities are very much alive.  They have a vitality level that speaks to generations of strength, persistence, brilliance, and thriving energy. I have something vital to do before I go. I want to preserve my culture and inspire our youth to accomplish whatever it is they dream of being." – Virgil Ortiz
Quotskuyva, Dextra Nampeyo (1928-2019)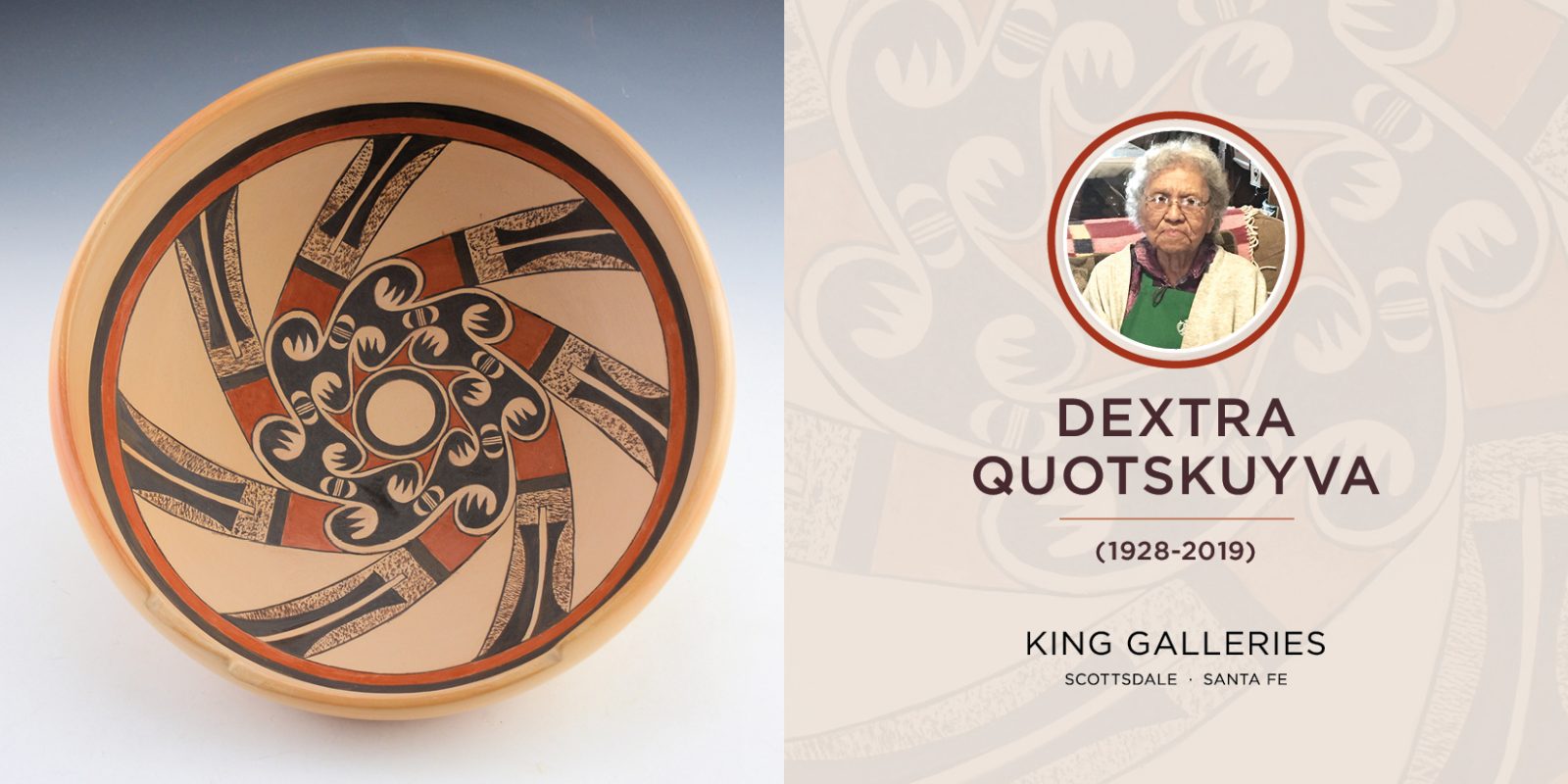 Dextra Quotskuyva Nampeyo
Few potters to have had such an impact on their art as Dextra Quotskuyva Nampeyo.  She was a great-granddaughter of Nampeyo of Hano, descending through her eldest daughter, Annie Healing.  For almost forty years, she was one of the most creative, innovative, and influential potters at Hopi.  She is also the mother of famed painter Dan Namingha and potter Hisi Quotskuyva.  She taught
Steve Lucas, Loren Ami, Yvonne Lucas,
and
Les Namingha
to make pottery, resulting in Hopi pottery's nearly unprecedented influence. Dextra used the bee-weed plant for the black and native clay slips for the red. Dextra's pottery can be found in numerous museums' permanent collection and has been the subject of a book and exhibition at the Wheelwright Museum, entitled "Painted Perfection."  Dextra uses only traditional Hopi pottery methods in hand coil construction, stone polish, paint, and open fire.
Romero, Diego (b. 1964)

Diego Romero
Diego Romero has been one of the early innovators in Pueblo pottery since the late 1980's. He studied at the Institute of American Indian Arts, before subsequently attaining degrees from the Otis College of Art and Design (BFA) and UCLA (MFA). His pottery forms are nearly consistent, based on the Mimbres pottery of around 1100. His graphic central imagery is a "modern" version of the intricately painted bowl and are painted in a graphic art style. Diego has won numerous awards for his pottery at events such as Santa Fe Indian Market, and his pieces can be found in museums worldwide, including the New York Metropolitan Museum of Art, the Fondation Cartier pour l'Art Contemporain of Paris France, the Peabody Essex Museum of Salem Mass., the Denver Art Museum, the Heard Museum of Phoenix Arizona, the British Museum, and the Scottish National Museum. He is also featured in books such as "Free Spirit", "NDN Art" and "Changing Hands".
Sanchez, Russell (b. 1963)

Russell Sanchez
Russell Sanchez (b. 1963) continues to be one of the master innovators in Pueblo pottery. He creates each piece perfectly hand-coiled, stone polished, then etched, inlaid, designed, and fired with utilizing traditional Native American pottery methods. Russell learned to make pottery from his great-aunt, noted potter and pottery matriarch Rose Gonzales (1900-1989.) He started making pottery at the early age of 12 years old on the San Ildefonso Pueblo. Russell has received numerous awards and recognition for his pottery throughout his career. Including such distinctions as 'Best of Division' at both the Santa Fe Indian Market and the Heard Indian Market. In 2007 Russell's art was presented in the feature article of the Fall issue of Native People's Magazine. In 2011, Russell was awarded the exclusive 'Tony Da Award' for Pottery in Santa Fe. Russell was recently a recipient of the 'New Mexico Governor's Award for Excellence in Art 2017.  In 2019 he won "Best of Pottery" at Santa Fe Indian Market.  At the same time, he was involved in a major exhibition of historic San Ildefonso pottery at the Museum of Indian Arts and Culture in Santa Fe, NM.  His work remains on a continued path of excellence and creativity.
Subscribe to New Additions for this artist
Swentzell, Roxanne (b. 1962)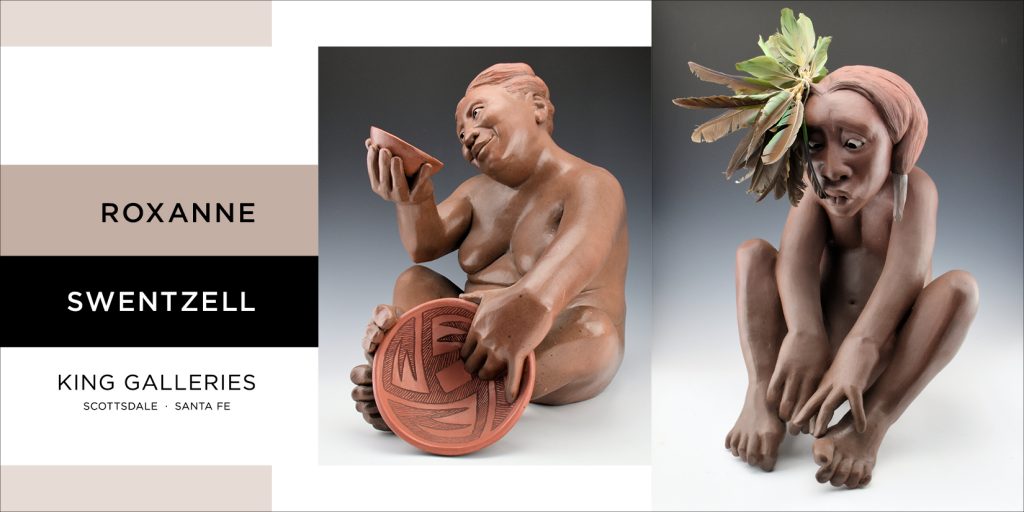 Roxanne Swentzell
Roxanne Swentzell (b. 1962) continues to be one of the pivotal Pueblo artists, and her work continues to be among the most dynamic and innovative in contemporary figurative pottery. She is a granddaughter of Rose Naranjo, a niece of Nora Naranjo-Morse, Michael Naranjo and Jody Folwel. She is a cousin to Jody Naranjo, Susan Folwell, Forrest Naranjo, and others. She is part of one of the most innovative families at Santa Clara Pueblo. Roxanne has won numerous awards for her work, along with being the subject of several museum exhibitions and books, such as "Women Potters: Transforming Traditions".
Roxanne's first public exhibition was at Santa Fe Indian Market in 1984.  In 1994, she won the Santa Fe Indian Market Creative Excellence in Sculpture award.  Her sculptures have shown at the White House and currently show in many museums and galleries.  A few of her collections include works at the Smithsonian, Cartier in Paris, and Santa Fe Convention Center.
Tafoya, Luann (b. 1938)


.
LuAnn Tafoya (b.1938)
LuAnn Tafoya learned to make pottery from her mother, Margaret Tafoya. She is renowned for her large vessels and variations on classic imagery and forms. LuAnn's son, Daryl Whitegeese, has learned from his mother and continues in the Tafoya family tradition. LuAnn Tafoya has won numerous awards for her pottery, including "Best of Pottery" and "Best of Show" at Santa Fe Indian Market. Her work can be found in the permanent collection of numerous museums around the country. LuAnn is best known for her massive vessels, which are often inspired by her mother's work. The classic "water jar" shape is of special importance to her, as she was instructed by her mother to keep the shape alive!  She is also one of the few potters to have created the very large storage jars, which are coil built and often over 20" tall! LuAnn continues an amazing family legacy with her pottery, and it is exciting that she has also passed it on to her son, Daryl.  She continues to show at Santa Fe Indian Market and also at King Galleries.
,.
Torivio, Dorothy (1946-2011)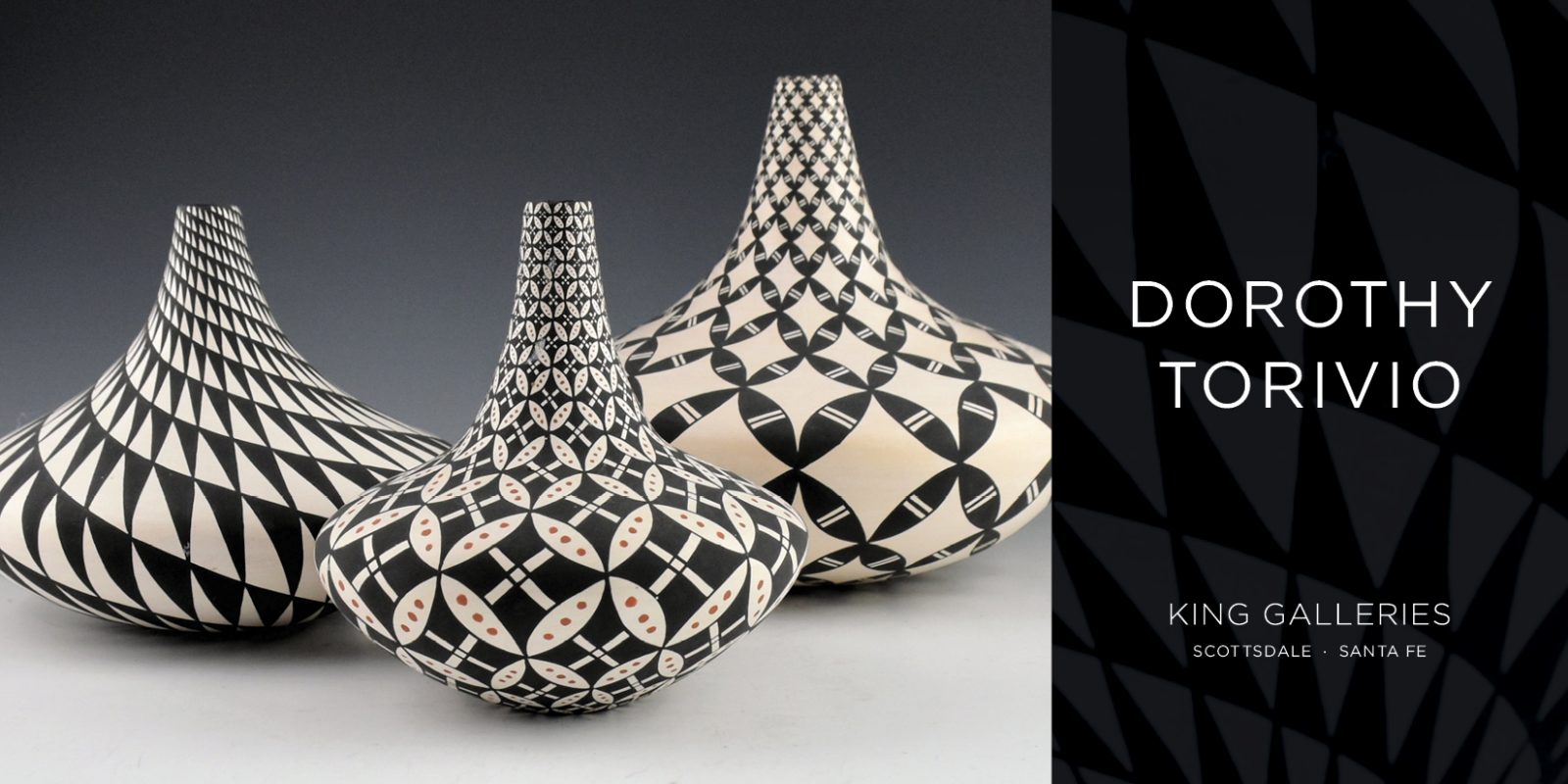 Dorothy Torivio
Dorothy Torivio was among the first to utilize and then refine the "op-art" style in her Acoma pottery. She took classic Acoma patterns and then repeated them on a vessel, ranging the size from small to large and then small again, following the vessel's shape. Dorothy has won numerous awards for her pottery, including Best of Pottery at the Heard Indian Market, and was featured in books such as "The Art of Clay" and "Legacy of Generations."
Youngblood, Nancy (b. 1955)

Nancy Youngblood
Nancy Youngblood is a daughter of Mela Youngblood and a granddaughter of Margaret Tafoya.  She was inspired to begin making the swirl melon bowls when she saw one made by her great-uncle Camilio Tafoya.  Each piece is coil built, carved, stone polished, and native fired.  Nancy is focused on the artistry of her pottery and the traditions of Santa Clara Pueblo and her family. When Nancy Youngblood first began making pottery, she started with miniatures, focusing on creating intricate and tightly carved designs.  Her melon ribbed vessels are among her best-known forms.  There are a variety of styles, including straight ribs, swirl ribs, and "s" swirl ribs.  Each variation required different techniques.  Nancy also creates "free form" designs, which allow her to use the melon rib concept of abstract designs. In 1989 she won "Best of Show" at Santa Fe Indian Market. This was a testament to the quality and integrity of her pottery art.  It was ten years earlier that Margaret Tafoya, her grandmother, also won "Best of Show." Today, Nancy Youngblood continues this fantastic legacy.  Her sons, Christopher, Sergio, and Joseph, have all worked with the clay.  It is essential to her that each of them learns the techniques and cultural importance of the clay.  Nancy's pottery can be found in museums worldwide.  She has also been featured in numerous books including, "Crafted to Perfection," "Born of Fire," and "The Art of Clay."  She won "Best of Pottery" at the 2015 Santa Fe Indian Market for a large jar with melon ribs and a horse design. In 2018, once again, she won "Best of Pottery" at Santa Fe Indian Market for a swirl water jar.
Youngblood, Nathan (b. 1954)
Nathan Youngblood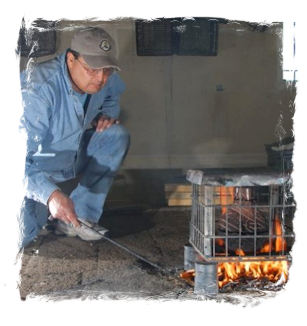 Nathan Youngblood is the grandson of noted potter Margaret Tafoya and the son of Mela Youngblood; Nathan has a traditional legacy of highly polished deep carved pottery.  In 1976 he moved in with his grandparents and began an intense apprenticeship making pottery under their guidance.  Attention to the small details was also imparted to him by his mother and grandmother. His work's precision is particularly evident in his forms, which have near geometric perfection in shape and symmetry.  Nathan says, "I realize I don't make pots; I'm just involved in the process. The clay does what it wants to do, goes where it wants to go.  I stick my hands in the clay, and where it goes, I follow."
Nathan Youngblood's clay art has evolved dramatically throughout his career.  His early work focused on classic Santa Clara shapes and designs. In the early 1990s, Nathan re-examined his experiences with art worldwide and how it could be incorporated as part of his designs.  His love of Asian ceramics influenced how he designed his pottery and how he utilized matte and polished surfaces to emphasize form.  The designs seemed to be more complicated, less linear, and more ethereal in concept.  He "opened the door for other potters to use clay as a vehicle for their personal and cultural experiences."
Over the years, Nathan has won over 140 awards for his pottery. He is one of only a handful of Santa Clara potters who use natural clay slips to create color contrasts of red and tan in his pottery.  This combination of polished red and tan sections with matte or micaceous surfaces has become the new Santa Clara "polychrome."  Throughout his career, he has continually built on the lessons learned from his mother and grandmother. This legacy has created a solid foundation for the evolution of his pottery, and "he has set the bar high for any potter to balance creativity, innovation, and technical expertise.
https://kinggalleries.com/brand/youngblood-nathan/