Artist
Ami, Loren (b.1968)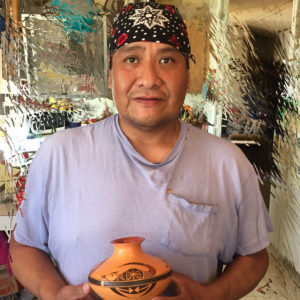 Loren Ami
Loren Ami is a descendant of Sadie Adams.  However, he learned to make pottery from Dextra Quotskuyva Nampeyo.  His pottery has a similar traditional style to the painting and the forms.  He is well known for his canteens and classic shapes. Each piece is coil built, painted with native clays (red) and bee-weed.
Borts-Medlock, Autumn (b. 1967)
Autumn Borts-Medlock

Autumn Borts-Medlock is one of the great young innovative potters of the Santa Clara Pueblo. Her renown family includes Sister Tammy Garcia, Mother Linda Cain, Grandmother Mary Cain and Great-Grandmother Christina Naranjo.
Autumn has said of her work; Growing up in Santa Clara Pueblo, in a family whose connection to the clay goes back generations, pottery has always been a part of my life. I was introduced to the art form as a child, making my first formal attempts at clay work under the guidance of my mother and grandmother. Working exclusively in the ancient traditional Pueblo technique of coil-building, they shaped bowls, vases, and plates from clay they had gathered from the hillsides near the village and processed themselves. Nearby, I sculpted animal figurines and nativity scenes from the moist clay, always welcoming the gentle hands that occasionally reached down to direct or redirect my efforts. These lessons solidified my connection to the clay and gave me the skills I needed to move into coil work. Within a few years, I was working alongside my mother and grandmother, making pottery from clay that I was now helping to gather and process. Drawing from the spiritual symbolism and nature-oriented design aesthetics of Tewa culture, we carved the shapes of kiva steps, bear paws, feathers, rain clouds, water serpents and lightning bolts into the surface of the vessels and used smooth stones to polish them to a shiny, mirror-like finish. We waited for a calm, wind-free morning to fire them outdoors in flames kindled by thin, fragrant sticks of red cedar, watching the timing down to the second in hopes of keeping our long-labored creations from succumbing to this always-risky phase of the pottery-making process. Learning directly from these two extraordinary artists was indeed a gift, and they remain among my strongest influences even now."
  Autumn has won numerous awards for her pottery at Santa Fe Indian Market, and her work is in the permanent collections of museums such as the Denver Art Museum and the Heard Museum. Her pottery continues to charm and intrigue with her distinctive and intricately designed imagery.
Da, Popovi (1923 - 1971)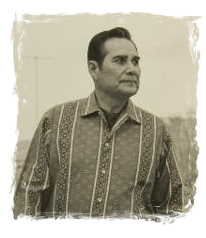 Popovi Da
Popovi Da was a son of potter, Maria Martinez.  He was known for his painting and began to work with Maria on her pottery in 1956.  He also began to make his own pottery beginning in 1962.  Popovi is credited with creating the sienna pottery along with a revival of polychrome pottery in the 1960's. He was planning to continue making pottery on his own after Maria retired but unfortunately passed away before this could occur.
Da, Tony (1940-2008)

Tony Da

Tony Da was the first Pueblo "rock star." He broke cultural barriers as a "modern Indian," steeped in San Ildefonso Pueblo tradition but living in a contemporary world.  A grandson of Maria Martinez and the son of Popovi Da, his precision designs, and techniques revolutionized Pueblo pottery and created a new vocabulary for the art.  Among the first men to both make and design pottery, he introduced sgraffito etching, inlaid stones, and beads, initiated black and sienna colorations, and invented his stylized iconography derived from the ancient Mimbres pottery.  Although his career only spanned fifteen years, his work and persona are increasingly relevant. In 2011, Tony Da's pottery and paintings were the focus of an exhibit entitled; 'Creative Spark, The Life and Art of Tony Da.' (Museum of Indian Arts and Culture of Santa Fe 2011-2013.) Over the course of his career, Tony Da demanded perfection.  He was an innovator in his art as well as in his life.  Tony was known to his family members as a creative perfectionist, and to his collectors as a creative genius.  Tony's pottery today is considered to be among the most sought after by collectors. Charles King and Richard Spivey co-authored a history of his life and artwork in testament to his legacy titled, '
The Life and Art of Tony Da.'
  Tony was both an art superstar of his time and a profoundly private individual.  This portrayal brings the reader into the innovative and volatile world of this noted Potter.
Ebelacker, James (b. 1959)
James Ebelacker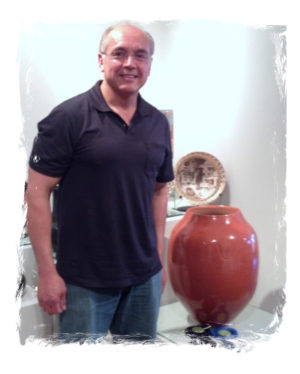 James Ebelacker is a son of Virginia Ebelacker and a grandson of Margaret Tafoya. He learned to make pottery from his mother and excelled at making larger vessels than many of the potters at Santa Clara. James has won numerous awards for his pottery at Santa Fe Indian Market and his work can be found in museums and books on Santa Clara pottery. His daughters Sarena and Jamelyn continue the family tradition of innovative artists!
Ebelacker, Richard (1946-2010)

Richard Ebelacker
Richard Ebelacker was a son of Virginia Ebelacker and a grandson of Margaret Tafoya. He learned to make pottery from his mother and excelled at making larger vessels than many of the potters at Santa Clara. Richard won numerous awards for his pottery at Santa Fe Indian Market and his work can be found in museums and books on Santa Clara pottery, such as "Born of Fire".
Ebelacker, Virginia (1925-2001)

Virginia Ebelacker
Virginia Ebelacker was the first child of Margaret Tafoya (1904-2001) and a matriarch of a family of renown potters including her son, Richard Ebelacker. As a child, Virginia remembered helping her grandmother, Sara Fina Tafoya, polish her large storage jars. She worked in Los Alamos and only began making pottery full time in the late 1960's. She quickly developed a reputation for her large-scale pottery and amazing even polish!
Folwell, Jody (b. 1942)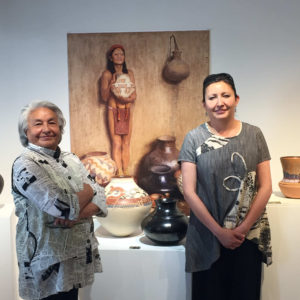 Jody Folwell has long been one of the important innovators in Pueblo pottery. She is a daughter of Rose Naranjo and the mother of potters Polly Rose Folwell and Susan Folwell. Her pottery can be found in museums around the country and her work has been featured in numerous books, including "The Art of Clay" and "Legacy of Generations". Her revolutionary work of the 1970's changed the surface of Santa Clara pottery with her distinctive firings, use of various clay slips and utilizing non-traditional design elements.  Creative patina and a wide variety of subject matter in her designs, not only follow elements of traditional Pueblo subjects but reach out to current events of the world.  Today, Jody continues to evolve in her art and each piece brings together different aspects of her long history of making pottery.
Folwell, Susan (b.1970)

Susan Folwell
Susan Folwell is one of the exciting innovators in Pueblo pottery. Her work is native clay and inspired by traditional designs, but she is constantly experimenting with techniques and clays. She is a daughter of Jody Folwell and sister of Polly Rose Folwell. She has won numerous awards at events such as the Santa Fe Indian Market and the Heard Indian Market. She has been featured in several books, including "NDN," "Free Spirit" and others. Susan has said; "My Earliest recollection I can think of is that my mother gave me a ball of clay.  I decided I wanted to make a snake. It was a long flat tube. She said if you want people to be interested in it, it has to have some character.  I said I thought it had enough character. She said no, so she bent the tube and made it into an "S" and she pinched the nose.  I cried for like an hour, as she pinched the nose and I thought it was now a worm, she swore it was still a snake.  End the end I was thrilled because it sold for $2.  I was hooked after that."
Garcia, Tammy (b. 1969)

Tammy Garcia 
Tammy Garcia is undoubtedly one of the most renown of Pueblo potters. She is a daughter of Linda Cain and sister to Autumn Borts-Medlock.  She is also the granddaughter of Mary Cain, great-granddaughter of Christina Naranjo and great-great-granddaughter of Sara Fina Tafoya.  Tammy learned to make pottery from her mother and continues the Pueblo traditions of using native clay as the foundation.  Her distinctive pottery bridges the gap between traditional and modern. The intricacy and precision of her carving are one of the attractions to her pottery and bronze art.  Tammy's pottery continues to evolve into new directions with each new idea. Amazingly, Tammy Garcia makes less than ten pieces a year. This small number is a reflection of the time involved in each section.  The building, designing, carving, polishing, and firing are labor intensive.  As a result of the time required, she never replicates a design or pot, and this is part of the dynamic process of her art. Tammy Garcia's distinctive forms and imagery create "stories" on the vessels. Her designs inspired by Pueblo life, animals, insects, pueblo stories or traditional images, are both traditional and contemporary.  The surface of her works are polished then carved, and there is always a fantastic balance of carved verses matte areas. Tammy's pottery is in permanent collections and museums worldwide such as The Denver Art Museum, the Heard Museum, The Autry Museum among others. She has won multiple awards for her pottery and most recently was the subject of a one-woman exhibit at the National Museum of Women in the Arts.
Holt, Lisa (b. 1980)

Lisa Holt & Harlan Reano, 2014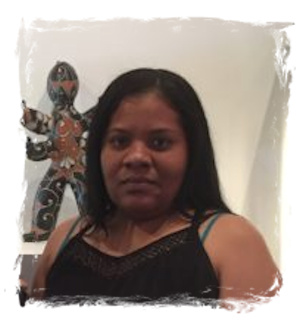 Lisa Holt and Harlan Reano make an amazing team, working to create innovative pottery using traditional techniques. Lisa makes the vessels and they are painted by Harlan. Lisa learned to make pottery from her mother, Inez Ortiz and she is also a niece of Virgil Ortiz, Janice Ortiz and a granddaughter of Seferina Ortiz. The materials are all traditional as the red and cream are both native clays while the black is wild spinach (a plant). Traditional forms and designs have become modernistic interpretations of cultural imagery. Lisa and Harlan have won numerous major "Best of Pottery" awards for their pottery at the Heard Indian Fair, Autry Museum Indian Fair, and Santa Fe Indian Market. They are also featured in books such as "Talking with the Clay" and their work can be found in museums nationwide. They are definitely among the leading younger potters working today!
Huma, Rondina (b. 1947)
Rondina Huma
Born in Keams Canyon, Arizona, Rondina has continuously lived in the Hopi village of Polacca since childhood.  Without any commercial training, She has mastered the art of traditional Hopi Pottery making and has become one of the most influential Hopi potters working today. Her tight style and intricately painted pottery have changed the face of contemporary Hopi pottery. Each piece is coil built, fully stone polished and painted with native clays and bee-weed (black), and native fired.  She has won the "Best of Show" award at Santa Fe Indian Market twice, 1986 and 1997; A remarkable achievement for an artist.  Her work is consistent and of outstanding quality, with precision painting and continual innovation of design.  Rondina often signs her work with the Parrot symbol for her clan along with her name and Hopi-Tewa. Her pottery is beautiful and visually important and is in many important collections and is always a great addition to any collection.
King, Charles S.
Since its inception, King Galleries has been committed to represent work by potters who create the highest quality and greatest innovation in their pottery. Charles King has been a judge in various years since 1996 for pottery at the most prestigious Indian art events, such as Santa Fe Indian Market, the Heard Museum Indian Market and Gallup Ceremonials. He has also given numerous talks on Pueblo pottery at the Heard Museum, Museum of Indian Art and Culture (MIAC), the Pueblo Grande Museum, Rockwell Museum of Western Art, The Philbrook Museum and The Denver Art Museum. Charles served on the Board of Directors of the Indian Arts and Crafts Association (IACA), which has the mission of encouraging and preserving authentic Indian art. He was elected in 2008 to the Board of Directors for SWAIA (Southwest Association for Indian Arts), which is the group which puts on Santa Fe Indian Market. He first wrote about Pueblo pottery in the book "Collecting Authentic Indian Art" and this was followed by the article, "Pueblo Pottery: Folk Art to Fine Art" for the thirtieth anniversary of American Indian Art Magazine. His first book, Born of Fire: The Life and Pottery of Margaret Tafoya, was published in 2008. His articles, "Santa Clara and San Ildefonso Pottery: Black is Beautiful"-2009, and "Four Emerging Potters: Gen Next"-2010 were published in Native Peoples Magazine. His second book, "The Art and Life of Tony Da" was written with Richard Spivey and published in 2012.
Koopee, Jr., Jacob (1970 - 2011)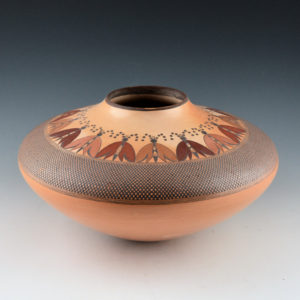 Jacob Koopee Jr.
Jacob was the great-great-grandson of Hopi - Tewa Pottery Matriarch, Nampeyo of Hano.  He was also the great-grandson of Nellie Nampeyo Douma, grandson of Marie Koopee, and the son of Jacob Koopee. Sr. and Georgia Dewakuku Koopee. He is also the nephew of Dextra Quotskuyva, who inspired much of his pottery in design. His pottery was innovative and creative in design, and his precision in painting was renown. Jake aquired numerous awards for his pottery during his career including; "Best of Show" in 2005 at both Santa Fe Indian Market and the Heard Museum Market. I was lucky to have been a pottery judge both years at both events, and it was exciting to see an artist create such dynamic work. His pieces can be found in museums around the country, and his innovative style of painting continues to set his work apart among other potters.
Lewis, Lucy M. (1898-1992)

Lucy Lewis
Lucy Lewis is one of the great Matriarch potters of the past century. She learned to make pottery on her own and revived the pottery making process at Acoma Pueblo. Her children Dolores, Emma, Carmel and Andrew also learned to make pottery from their mother. Lucy's potter has been featured in numerous books, video and in museum collections worldwide. "Lucy M. Lewis" by Susan Peterson is the most authorative work on her pottery. Lucy's pottery is made from a gray clay-body and formed by hand using coils. After the pot is shaped and dried, a white slip is applied. Without the slip the mineral paints would run off the pot. Next the design is applied using mineral paints and a brush made from yucca holds more paint and makes finer lines than regular brushes bought at a store. Finally on a day when the weather is right for a firing, a small number of finished pieces are carefully fired. Her pottery features innovative designs and Pueblo traditional forms.  Her designs are influenced by the color of the sky, animals, and nature along with her Native American culture.  Lewis specialized in small pots that were usually six to twelve inches in height. Lewis' tribe, the Acomas, considered the clay she used for her pottery to be sacred. The creation of a single pot could take as long as two to three weeks. In 1983, Lucy Lewis was given New Mexico's Governor's Award for outstanding personal contribution to the art of the state. In 1977, she was invited to the White House. Her work is part of the permanent collection of the Smithsonian Institution.
Lonewolf, Joseph (1932-2014)

Joseph Lonewolf  (1932-2014)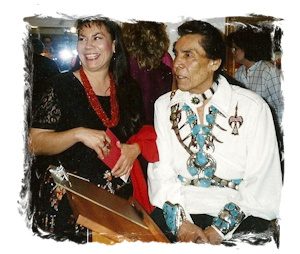 Joseph Lonewolf is a son of noted potters Camilio and Agapita Tafoya, and the brother of Grace Medicine Flower. Beginning in the early 1970's, Joseph revolutionized the world of Santa Clara pottery by incorporating his sgraffito (lightly etching the surface of the clay) and incised (more deeply cut into the clay) designs in his work. When Joseph and his family gather clay, they do it with the utmost respect. Before the clay can be taken from Mother Earth, they must say a prayer asking to take the clay and tell the clay mother that they are going to take her and make her into a beautiful pot. The clay is brought home, and water is added to turn the clay to a liquid form known as slip. The slip is then strained to take out any rocks or debris, and then the clay can be dried kneaded and used. Joseph was awarded numerous awards throughout his career, and his work can be found in museums worldwide. He has been featured in numerous books including "The Art of Clay" and has received the prestigious New Mexico Governor's Award for Excellence in the Arts in 2009 and the SWAIA Lifetime Achievement Award.
Lucas, Steve (b. 1955)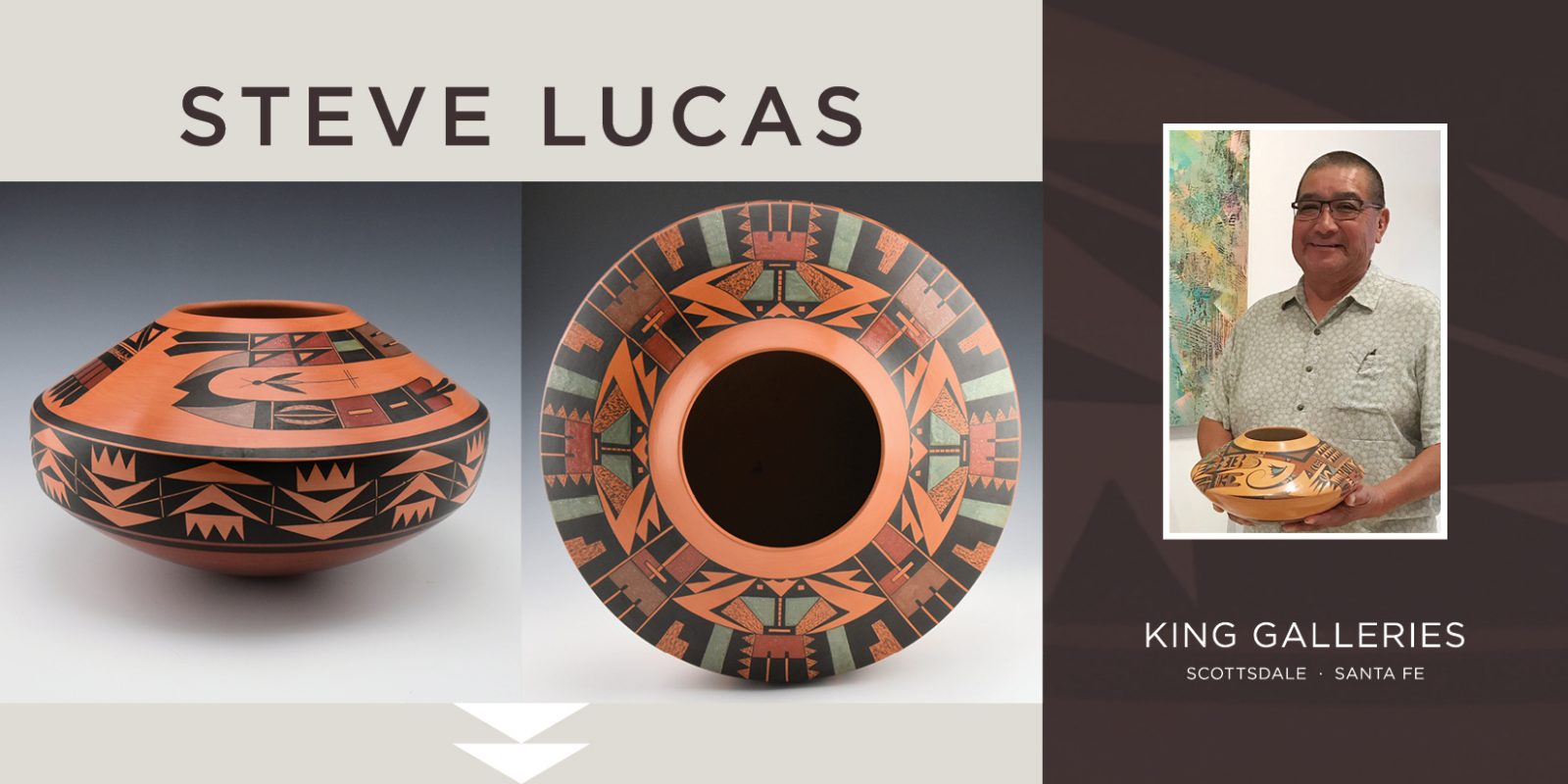 Steve Lucas
Steve Lucas is a great-great-grandson of Nampeyo of Hano.  His grandmother was Rachel Nampeyo and his great-grandmother was Annie Healing.  While Steve grew up around potter he primarily learned the art from his aunt, Dextra Quotskuyva Nampeyo. His pottery is amazingly thin-walled, and each piece has a dynamic use of form and design. The pottery is coil built, stone polished, painted and traditionally fired.  Steve uses not only traditional designs but often gives his own creative "spin" to the ancient imagery.  His pottery is signed with his name and the Mudhead symbol, or Koyemsi. This is reflective of his Hopi-Tewa clan.   Steve has won numerous awards for his pottery, including "Best of Show" at Santa Fe Indian Market.  We are pleased to carry his works at both our Scottsdale and Santa Fe locations.  Steve is featured artist in the recent book by our gallery owner Charles S. King, 'Spoken Through Clay". Click Here to See more works by Steve Lucas!
Lucas, Yvonne (b. 1959)

Yvonne Lucas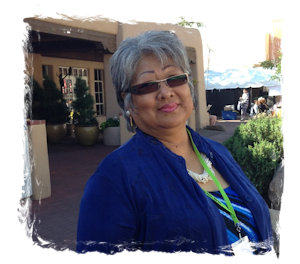 Yvonne Lucas continues to create her own path in reviving historic Laguna Pottery. She is married to
Steve Lucas
, and learned to make pottery from him and his aunt,
Dextra Quotskuyva Nampeyo
. Yvonne is one of the only potters from Laguna still firing traditionally, and the color variations are stunning, with almost a pinkish, meringue-like cast to areas of the white. She has won numerous awards for her work and her pieces can be found in museums around the country.  Yvonne uses the traditional hand coil thin shelled pottery learned from Dextra, hand polishes, traditional colors, paint, and design.
Manymules, Samuel (b. 1963)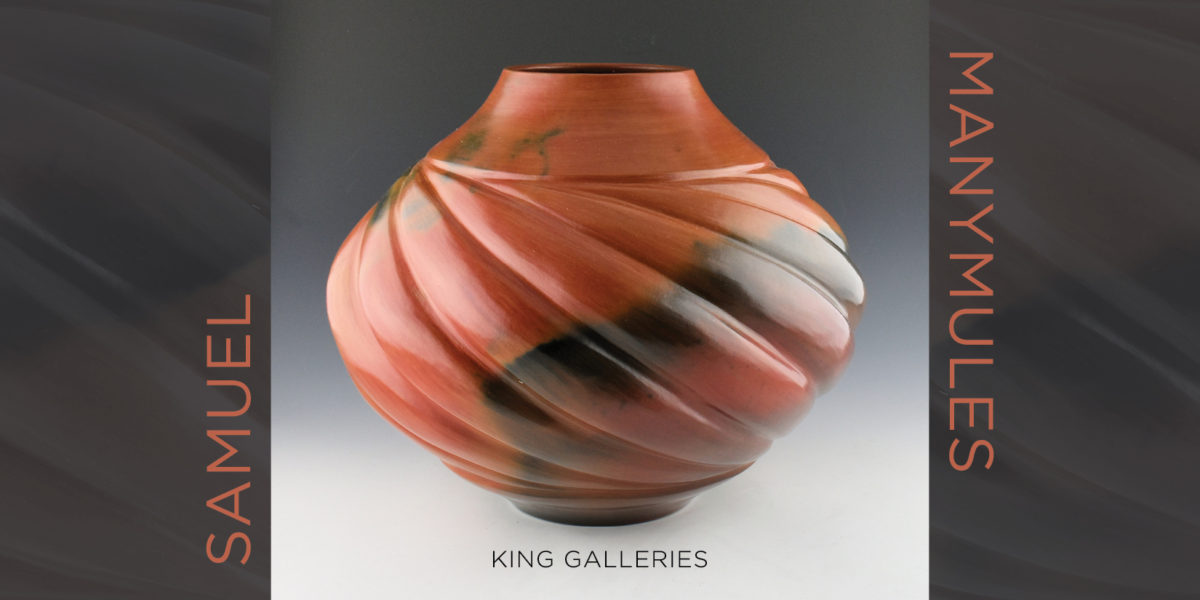 Samuel Manymules

Samuel Manymules taught himself how to make pottery by looking at the pottery of Joseph Lonewolf and Christine McHorse in books! He creates minimalist pottery which has an amazing sense of form. Samuel Manymules was born in 1963, of the Bitterwater Clan for the Red House Clan. With unemployment very high in the Navajo Nation, Samuel took advantage of many trades before becoming a full-time jeweler. He dabbed in pottery-making for over a decade before considering himself a serious potter. He is self-taught. Samuel's posts are traditionally made, but modernized in style. His shapes are varied: large bean pots, melon pots, and dough bowls, all polished smooth and covered with piñon pitch and reddish-brown made of iron oxide. This is Samuel's statement about his work: "The vessels I make are of traditional natural materials. First, I gather moist pure clay from local riverbed sources, which is then dried three to four months in the sun. When dried, the resulting clumps are crushed, ground, and sifted into a fine powder. Temper is also gathered and processed: volcanic ash or pottery shard may be used. After hand mixing, the clay is set aside for curing. It is then later mixed several more times. Finally, after months of preparation, the clay mixture is ready for use. There are several ways to build a vessel, all employing traditional techniques. Sometimes I use a puki for the base, oftentimes not. Most times I start with a slab of clay, coiling and the scraping the basic form, sometimes carving, often molding and compacting freeform. Usually, I have an idea of a shape and size, but other thoughts or events may intervene affecting the final form. I use a variety of traditional tools but never a pottery wheel or any other mechanical process. Appliqué, incised design, and slips are added after the initial building. Repeated polishing is done while the vessel dries. Complete drying takes at least three days and up to three weeks, depending on size. Then it is ready for firing. Firing is an all-day process. Cedarwood is used because it burns efficiently at high temperatures. Fire clouds happen by chance. When finished, debris such as ash is carefully removed from the extremely hot vessel. Refined piñon tree sap is then swabbed inside and out with a stick while the vessel cools. The sap has also been gathered, cleansed, and processed by hand. After the vessel cools, before display, the pottery is polished with a cotton cloth to high shine." Although generally a secluded artist, Samuel has since 2002 begun to attend fairs and competitions where he sells his work. In 2013 at The Heard Museum Indian Fair & Market in Phoenix, Arizona, Samuel won First Place – Pottery – Division B – Traditional – native clay, hand built, unpainted, including ribbon on his Plain Water Jar. Samuel has won numerous awards including a Judges' Choice Award at the 2008 Heard Museum, Best of Pottery at the 2006 Southwest Museum Indian Marketplace and 2010 Best of Division at Santa Fe Indian Market. His distinctive pottery is a visual treat with such graceful forms.
Martinez, Maria (1887-1980)

Maria Martinez (1887-1980)
Maria Martinez is considered to be the most collected of traditional Native America pottery. Around 1920 Maria and her husband Julian created the prized, collected and awarded "black-on-black" style of Native American pottery. Throughout her long career, she continued to make pottery while her husband, son, or daughter-in-law painted the traditional designs on her pottery. Maria Martinez pottery has become iconic and has lead to a long history of generational art forms within the Native American Pueblos of the Southwestern United States. Her commercial sale began in the early 1900s and continued until she retired from making pottery around 1971.  Maria learned the art of pottery construction from her aunt (tia) Nicolasa of San Ildefonso Pueblo, Northern New Mexico. Maria Martinez restored the process of black-on-black pottery design from samples of pottery shards discovered near her home.  It was not until around 1919-20 that Maria Martinez with the help of her husband Julian Martinez created the famous black-on-black pottery.  It was this style which was polished, painted and then fired black using horse manure. She worked with Julian until his death in 1943. She then worked with her daughter-in-law Santana who was married to her eldest son, Adam. In the mid-1950's Maria made pieces which were plain and signed with her Tewa name, "Pove-ka," which means "Water Lilly." Beginning in 1956 Maria started to work with her son, Popovi Da.  Once again, Maria would make the pottery, and now her son would paint the designs.  These are often considered among the best of her career after the early work with Julian.  Popovi Da worked to revive polychrome pottery along with creating sienna (double fired) pieces.  They also created a few redware vessels. Popovi passed away in 1971 and around that time Maria Martinez retired from making pottery.  She was the subject of several books during her career.  Alice Marriot wrote the book, "
Maria: The Potter of San Ildefonso
" in 1948.  Richard Spivey also wrote a book on her entitled, "Maria."  Both were essential additions to the collector knowledge of this vital potter. Maria was also the subject of numerous museum exhibitions.  Her pottery can be found around the world in various museum permanent collections.  The highly polished surface of her black pottery is distinctive, and yet it helped to change the economic course of San Ildefonso pottery. Today, her descendants Barbara Gonzales, Cavan Gonzales and Marvin Martinez all continue her legacy.  Her grandson,
Tony Da
, learned to make pottery from Maria but had a short career.
Maria Martinez Signatures
McHorse, Christine Nofchissey (b. 1948)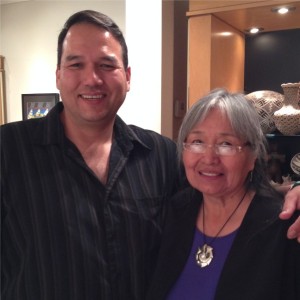 Christine McHorse has taken the traditional micaceous clay and transcended its utilitarian dimension and to create stunning sculptural vessels. Each piece is hand coiled from the micaceous clay near Taos, NM. Her work has a wonderful native aesthetic and vision yet a modern use of the clay to defy expectations. Christine is one of the only potters to win Best of Class at Santa Fe Indian Market for her clay work in both the pottery and sculpture categories. While Christine is Navajo, she learned to make pottery from her mother-in-law, Lena Archuleta (Taos). Her son Joel McHorse also learned to make pottery from Christine. She has received numerous awards at events such as Santa Fe Indian Market. Her work can also be found in museums such as the Heard Museum, the Denver Art Museum, the National Museum of the American Indian and others. She has also been featured in numerous book, including "Free Spirit". It is not often that we get in contemporary pieces of her pottery and they certainly a delight to the eye!
Medicine Flower, Grace (b. 1938)
Grace Medicine Flower

Her name alone describes her work and her persona...Grace. Grace Medicine Flower is an elegant beauty among Santa Clara potters who continues to be one of the most innovative and influential potters working today. Her intricately designed butterflies and hummingbirds remind the viewer of our delicate relationship with nature. Each piece is a reflection of her connection to the earth and the Clay Lady and the traditional and history of the Santa Clara Pueblo. As a child, Grace was surrounded by potters such as her mother Agapita, her father Camilio Tafoya and her aunt, Margaret Tafoya. She began to work in clay making traditionally styled pottery. In the late 1960's, Grace and her brother Joseph were among the first on Santa Clara to begin using the sgraffito technique to carve their designs into the clay. Amazingly, Grace uses a knife or a specially sharpened nail to carve and create her masterpieces. Grace recounts how her first piece of sgraffito pottery sold for $11.00, much more than her other traditional pieces. Her early pieces were signed, "Grace Hoover", then they were signed with "Grace and a four petal flower. Today, she signs her work, "Grace Medicine Flower", with a flower beneath her name. All of her work is made in the traditional coil method and then pit fired outside. Grace Medicine Flower has been greatly honored throughout her career for her innovative work. She has been visited by Jackie Kennedy-Onassis, invited to the White House and has pieces in collections and museums around the world. In the 1970's, Grace and her brother Joseph were both honored by the state of New Mexico with the production of a medal in honor of their contribution to Santa Clara pottery. In addition to these honors, Grace has won major awards at Gallup Ceremonials and other major events. Grace's work continues to evolve. Moving from small round seed pots with incised animal designs, Grace now creates a larger bowl, which combines deep carving with intricately incised sections. Her latest innovation is the, "basket weave" bowls, which gives the effect of an exposed basket lying just underneath the surface of the clay. One can only suspect that Grace has even more innovations ready to be presented to the public. To say that Grace Medicine Flower has changed the face of pueblo pottery would not be an understatement. To own one of her pieces it to own a part of history. While she produces less than 15 pieces a year, the demand among collectors for her new pieces continues to rise with each new year and new innovation.
Montoya, Florentino (1858–1918) and Martina Vigil (1856–1916)
Florentino and Martina Montoya were two of the most renown San Ildefonso potters creating polychrome pottery around 1900. "The pottery of this husband and wife team is that of artist and innovators who introduced new materials and techniques to other potters. Martina's experimentation with shapes and slips, and Florintino's distinctive painting style facilitate the identification of many of their pots. [They] were active during a period of change in San Ildefonso pottery."—Jonathan Batkin, 1987
Namingha, Les (b. 1967)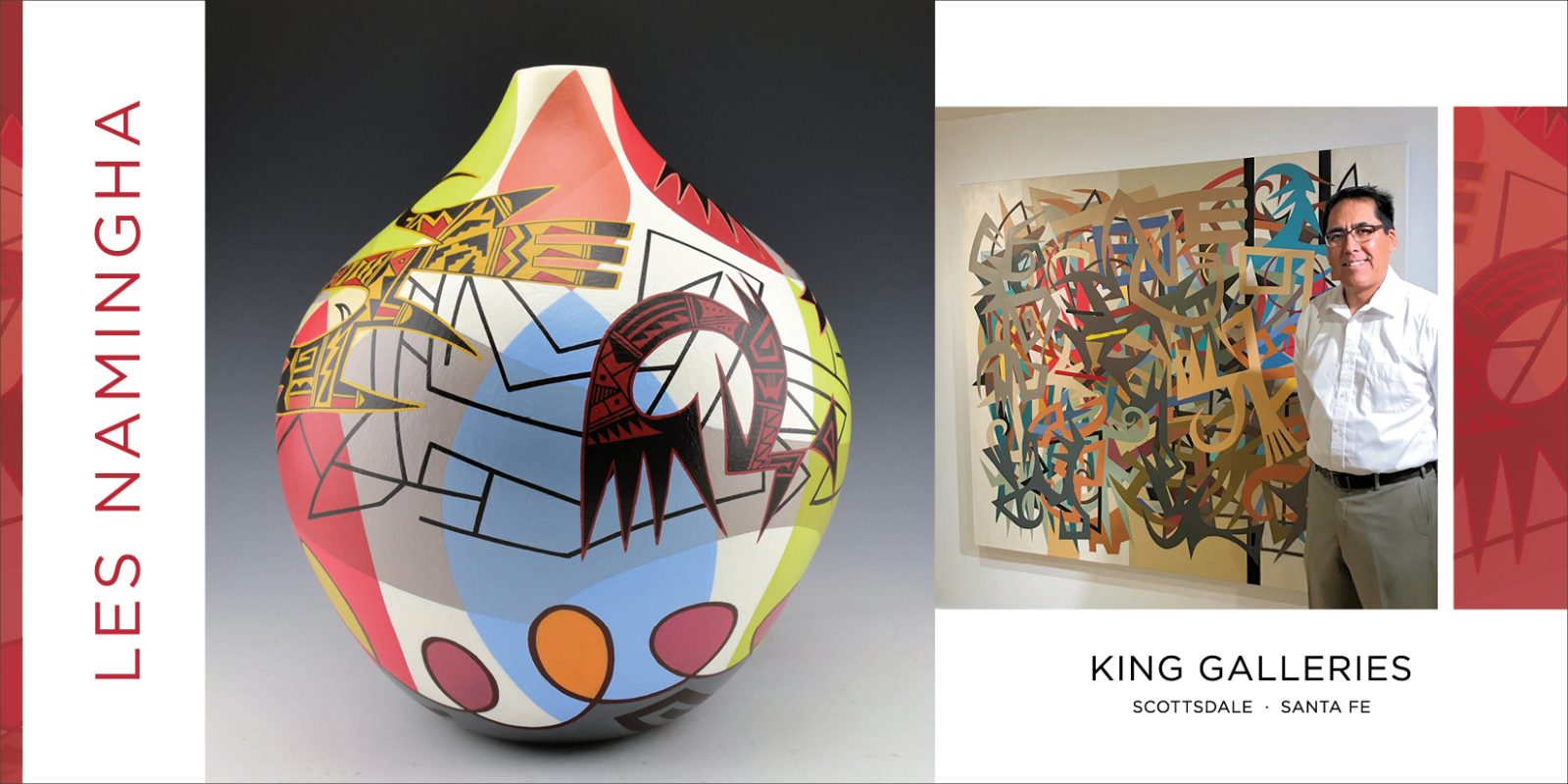 Les Namingha
Les Namingha is the son of Emerson Namingha, the grandson of Rachel Nampeyo, great-grandson of Annie Healing, and a great-great-grandson of Nampeyo of Hano. Les blends and deconstructs traditional and historic designs in an amazingly modern style. The precision of his painting is undoubtedly a reflection of his learning to make pottery from his aunt, Dextra Quotskuyva of Hopi, a master potter and world renown innovator.  Les has won numerous awards for his pottery at Santa Fe Indian Market, the Heard Museum Market, and other events along with being featured in multiple books on Hopi and Pueblo art. He continues to be one of the dynamic innovators in Pueblo pottery! Les Namingha transforms and challenges the surface expectations of Hopi and Pueblo pottery through his creative designs, textures, and materials.  He is much a painter as a potter, and his vessels rely on form, surface design, and color to reveal their ancient and modern artistic influences. Les says of his work; "Sometimes the painting goes with the flow of what's in you.  There's not as much thought as in other pieces. That comes from my love of abstract painting where the process is the process.  There are other works where there is thought that goes into it. Maybe I'm working on the under-structure design with painting first and then laying it aside for a bit.  I'll think about where to go next and see where the piece leads me. There is also solely relying on the teaching of the older Nampeyo type designs. There the process for me is trying to work with the color since the structure is already there. The question is what I'm going to do with it.
Nampeyo of Hano (1859-1942)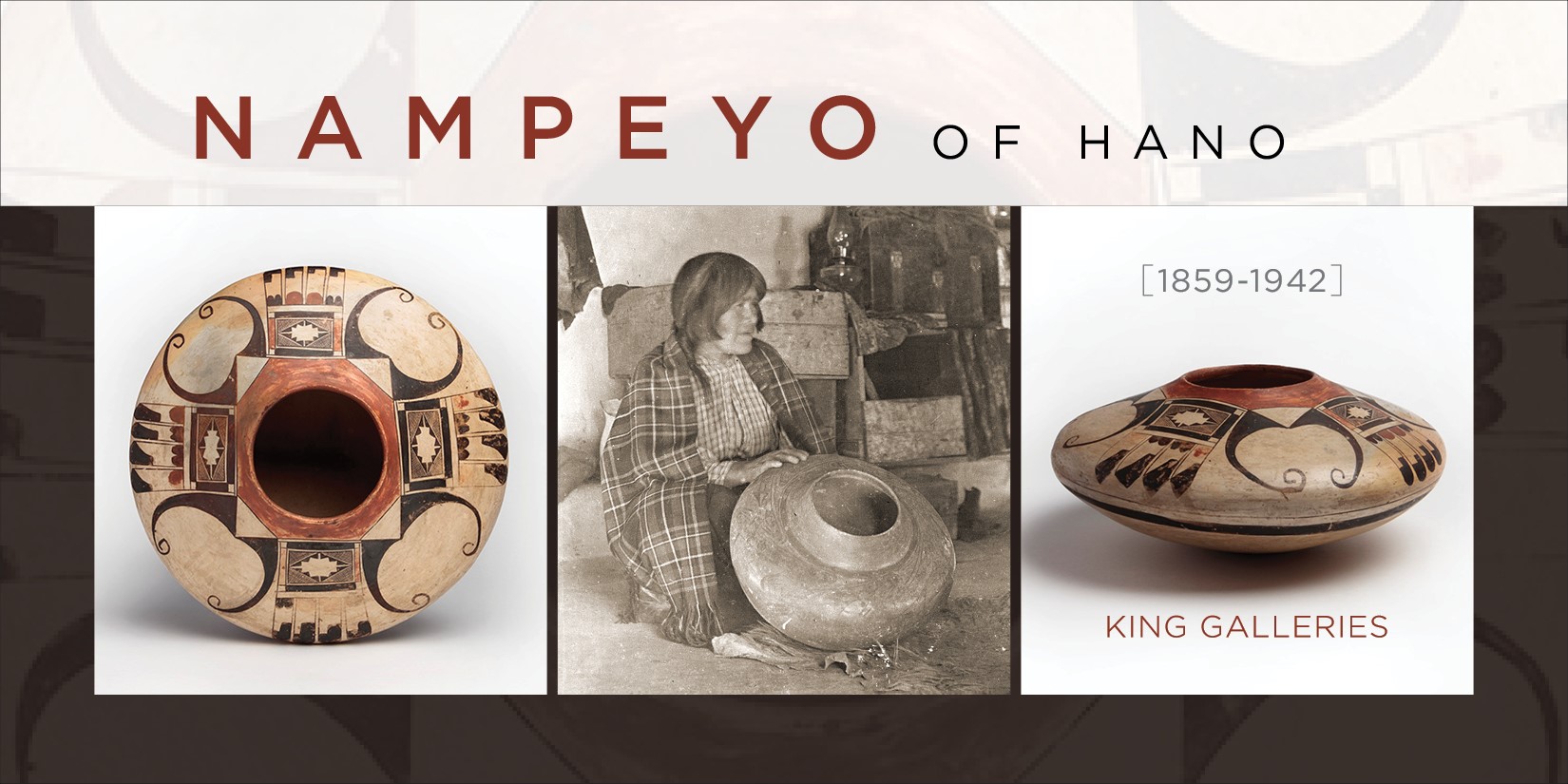 Nampeyo of Hano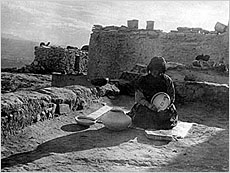 Undoubtedly the most famous of the Hopi-Tewa potters Nampeyo revived Hopi pottery in the late 1800's. Her daughters Annie, Nellie and Fannie were also well-known potters. She was truly the matriarch of a dynasty of potters which was located near the base of Hopi First Mesa. Nampeyo learned pottery making from her paternal grandmother, and her early teenage years, she made a steady income by selling her work at a local trading post. She took an early interest in the design and form of ancient pottery, which she believed to be superior to the pottery being created by her contemporaries.  She visited the ruins of ancient villages, and copied designs from pieces of prehistoric and protohistoric pottery onto paper, then reproduced the designs on her own vessels. She was also famous for making pottery at the Grand Canyon each summer as part of the Harvey Company. She never signed her work but it can be identified by numerous indicators from the clay to painting style. Her work is found in museums worldwide and important books on her included Barbara Kramer's "Nampeyo", Blair's "The Legacy of Master Potter" and "Canvas of Clay".
Naranjo, Jody (b. 1969)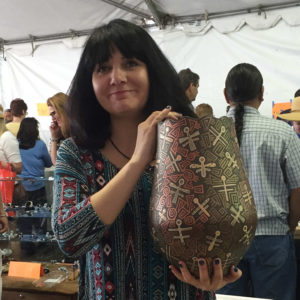 Jody Naranjo
Jody Naranjo comes from a family of renown artists and potters, including her mother Dolly Naranjo, aunts Jody Folwell, Nora Naranjo-Morse and Rina Swentzell She has won numerous major awards for her pottery including "Best of Pottery" at Santa Fe Indian Market and "Best of Show" at the Eiteljorg Museum Indian Market in addition to a variety of other blue ribbon prizes. Her pottery has been featured in numerous books and it is in the permanent collection of museums worldwide.
Naranjo, Johnathan (b. 1987)
Johnathan Naranjo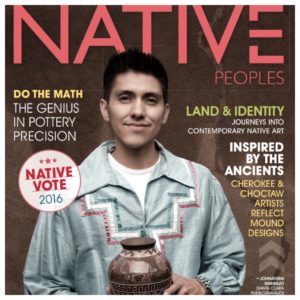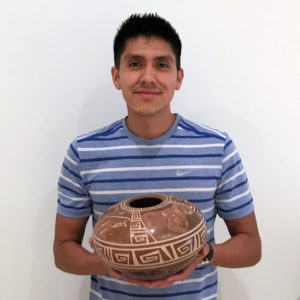 Johnathan Naranjo is a son of noted potter Forest Naranjo and a grandson of Bernice Naranjo. While he began making pottery as a child, it is really over the past few years that his work has evolved into his distinctive style. Each piece is coil built and stone polished, and the coloration is derived from the firing, as it is taken out of the manure that would turn it black early, so it remains a darker brown. The designs are then incised into the clay, and the various colorations of the tan or red are created by the depth of cutting into the clay. Johnathan Naranjo has been noted and awarded for his increcible work over the past five years, with such awards as; 2013 The "Tony Da" award at Santa Fe Indian Market; in 2014 Best of Category 1
st
Place Santa Fe Indian Market; in 2015, Best of Category and Pottery 2
nd
Place Heard Indian Market, Southwest Indian Art Fair, Arizona State Museum Legacy Award, Santa Fe Indian Market, 1
st
Place Best of Category; and in 2016, Heard Indian Market 2
nd
Place Pottery and Santa Fe Indian Market, 1
st
Place Best of Category.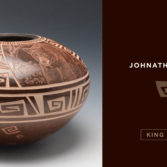 Ortiz, Virgil (b.1969)


Virgil Ortiz
Virgil Ortiz is one of the most innovative potters working today. He is a son of noted potter Seferina Ortiz and grandson of Laurencita Herrera. His sisters Janice, Inez, and Joyce are also potters along with his niece, Lisa Holt. He encourages his nieces and nephews also to continue making traditional pottery. His work has been featured in numerous museum exhibits nationwide, and he is also known for his fashion designs. He has won multiple awards at Santa Fe Indian Market, the Heard Museum Indian Market, and other events. His pottery can be found in museums worldwide. "The thought has never crossed my mind to be anything other than an artist and fashion designer. Art is in my blood", says Virgil Ortiz, a Cochiti Pueblo Native. Sought by celebrities, royalty, and collectors, American Indian artist Virgil Ortiz artworks move into a new era combining art, décor, fashion, video, and film. Hailing from a family of celebrated Pueblo potters.  From the National Museum of the American Indian in New York, and Denver Art Museum, to the Hertogenbosch Museum in The Netherlands, and Foundation, and Cartier's Paris, France.  Virgil Ortiz's exquisite clay works are exhibited worldwide. Born in 1969, the youngest of six children, Ortiz grew up in a creative environment.  Storytelling, collecting clay, gathering wild plants, and producing figurative pottery was part of everyday life. His grandmother Laurencita Herrera and his mother, Seferina Ortiz, were both renowned Pueblo potters.  "I didn't even know it was art that was being produced while I was growing up," he remembers. Virgil Ortiz, who works and lives in Cochiti Pueblo, New Mexico, has worked very hard and has had a few lucky breaks.  His efforts have propelled him to a preeminent place among contemporary Native artists. After a highly successful collaboration with fashion mogul Donna Karan, in which he developed boldly patterned textiles based on his graphic decorative painting.  Ortiz launched his fashion line. His designs are captivating, provocative, and edgy thus creating the high demand. His sharp laser-cut leather jackets, swinging taffeta skirts, cashmere sweaters, and silk scarves echo the voluminous contours and sinuous motifs of Pueblo pottery. He showcases the richness of indigenous high fashion and compelling storytelling of Pueblo culture and history. Virgil Ortiz debut Colorblind, his all-new T-shirt collection blending art, vibrant colors and graphic images.  Each of which portrays his interpretation of the historic Pueblo Revolt of 1680 – the First American Revolution. "I want to pay tribute to our great leader Po'pay and ancestors that lived and walked on our lands, and respect that their spirit will live on through me." Creating a global awareness of Pueblo culture is reflected in the design components that reach past a traditional Ortiz sculpture.  His art form delves into an untapped age of décor elements that honor a prosperous civilization with skill and vision.  Ortiz also designed 'Indigenous Imprints'®, a carpet collection designed exclusively for Aqua Hospitality Carpets. This collection consists of twenty unique patterns.  His design concepts are a fascinating balance between contemporary and the traditional for guest rooms, corridors and public spaces in some of the most exclusive hotels and resorts worldwide. 'Indigenous Imprint's® is a natural progression toward leading-edge furnishings and adornment that capture the elegance and spirit of Ortiz's inspiration. Beyond the notoriety of his artistic talent, Ortiz's professional agenda centers on a lifelong dream to create opportunities for children in his tribal community that reflects the legacy of his ancestors. "It's important to recognize that Pueblo communities are very much alive.  They have a level of vitality that speaks to generations of strength, persistence, brilliance, and thriving energy. I have something vital to do before I go. I want to preserve my culture and inspire our youth to accomplish whatever it is they dream to be." – Virgil Ortiz
Quotskuyva, Dextra Nampeyo (1928-2019)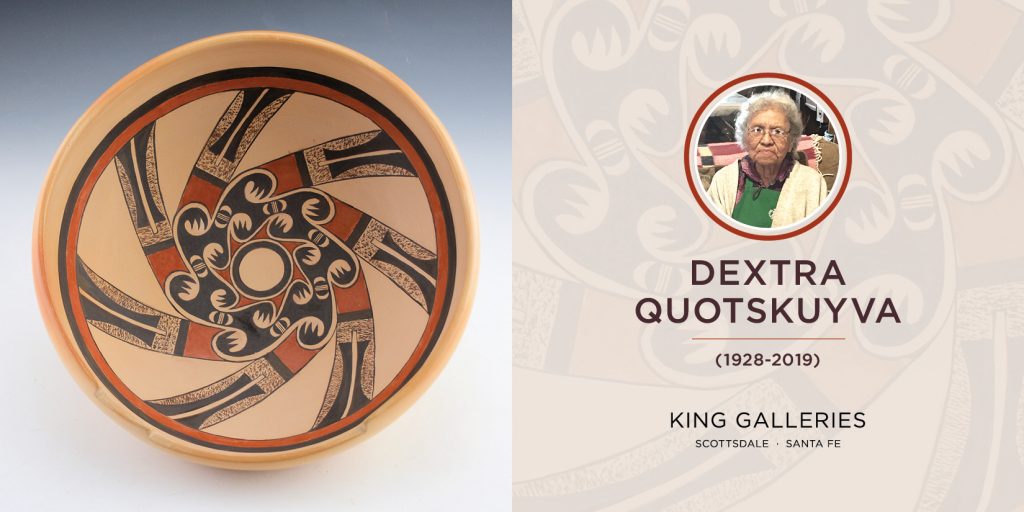 Dextra Quotskuyva Nampeyo Few potters to have had such impact on their art as Dextra Quotskuyva Nampeyo.  She is a great-granddaughter of Nampeyo of Hano, descending through her eldest daughter, Annie Healing.  For almost forty years, she has been one of the most creative, innovative and influential potters at Hopi.  She is also the mother of famed painter Dan Namingha and potter Hisi Quotskuyva.  She taught
Steve Lucas, Loren Ami, Yvonne Lucas
and
Les Namingha
to make pottery, resulting in a nearly unprecedented influence in Hopi pottery. Dextra continues to use the bee-weed plant for the black and native clay slips for the red. Dextra's pottery can be found in the permanent collection of numerous museums and has been the subject of a book and exhibition at the Wheelwright Museum, entitled, "Painted Perfection."  Dextra uses only traditional Hopi pottery methods in hand coil construction, stone polish, paint, and open fire.
Click Here to See More Works by Dextra Quotskuyva
Roller, Jeff (b. 1963)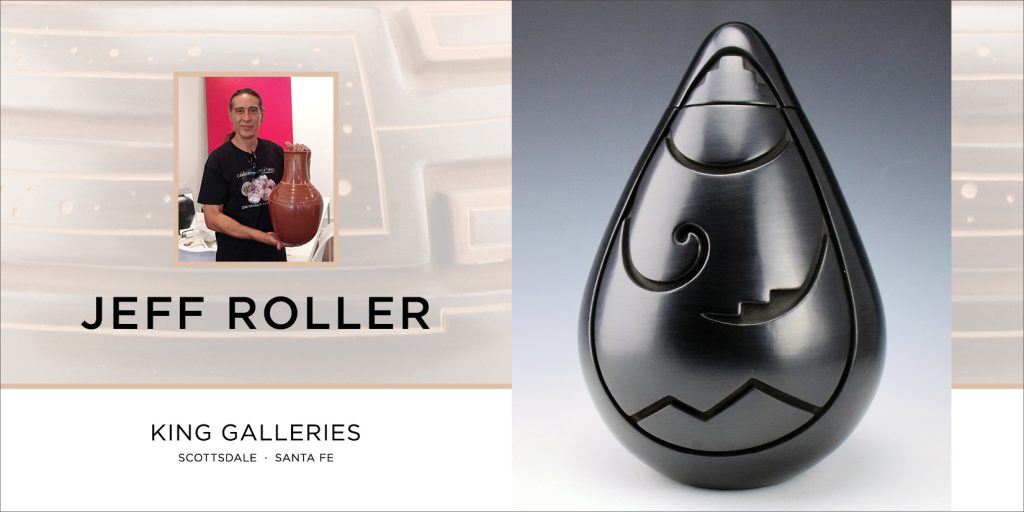 Jeff Roller is known for both his pottery and sculpting abilities. He learned to make pottery from his mother, Toni Roller, and he is also a grandson of noted potter, Margaret Tafoya (1904-2001). He continues to make traditional pottery and there is remarkable attention to the crisp carved lines in his work as well as an evenness to his stone polished surfaces. Jeff has won numerous awards at Santa Fe Indian Market and the Heard Indian Fair for his pottery. His work continues to evolve with more complicated forms and detailed animals.
Roller, Toni (b. 1935)

Toni Roller
Toni Roller is a daughter of Margaret Tafoya (1904-2001) and a sister of noted potters LuAnn Tafoya, Shirley Tafoya, Mary Ester Archuleta and Mela Youngblood. She is known for her deeply carved pottery as well as an exquisitely stone polished surface. Toni is committed to the precision of her pottery and each piece reflects the time and care she dedicates to her craft and continuing a centuries-long tradition. Toni has won numerous awards at Santa Fe Indian Market and the Heard Indian Market, and she has been featured in several books.
Roybal, Tonita (1892-1945)
Tonita Roybal (1892-1945)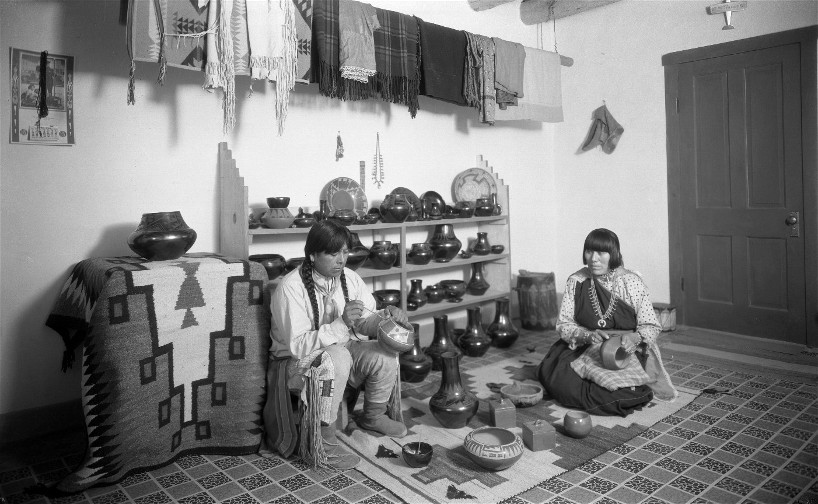 Tonita Roybal (1892-1945) has been called, "One of the finest potters of the twentieth century". She learned to make pottery from her mother, Dominguita Pino Martinez (1860-1948). Her brother, Cresencio Martinez (1879-1918), married Anna Montoya (Maria's sister). She was also an aunt to Santana Roybal, who later married Adam Martinez (Maria's son). Tonita was married twice. Her first husband was Alfredo Montoya (1890-1913) and then in 1916 she married Juan Cruz Roybal (1896-1990). Among her descendants are JD Roybal (painter) and Margaret Lou Roybal-Gutierrez (potter). Tonita began making pottery in 1909. Beginning in 1917, Juan began painting some of her pottery and after 1930 he painted a majority of the pieces. When Tonita made the pottery and did the painting, these pieces were signed, "Tonita". When she made the vessel and it was painted by Juan, then they were signed, "Tonita and Juan". Kenneth Chapman commented in a letter on the quality, and value of her work at the time, "Tonita Roybal does equally fine work, and I may be able to get just what you want from her if Maria does not get back to work soon. Tonita won first prize for her oldfashioned red San Ildefonso ware, with decorations in black (black-on-red pottery). Her husband, Juan Cruz runs Julian a close second in decorating pottery. She put a price of $12.00 each on jars 8" in diameter and got it! It is hard on some of us poor ethnologists who have been encouraging it, but it has made a wonderful difference in San Ildefonso life, and we are strong for it". Tonita's mother was famous for her "black-on-red" style of pottery, and this was a style which Tonita quickly mastered. After 1920 and the advent of black-on-black pottery, Tonita invented the red-on-red style with the white outlines. Both Tonita and Juan were fascinated by pre-historic pottery. Those designs and their influences can often be seen in their work. After 1913 she began, "combining the layout of Nampeyo's Sikyatki revival style with elements from Acoma and elsewhere". By 1925 Tonita was at the peak of her career. Her early death in 1945 left only a small amount of creative and innovative work that still inspires us with it's unique use of varied Native designs from pre-historic to regional in influence.
Click Here to Learn More about Early San Ildefonso Potters!
Sanchez, Russell (b. 1963)

Russell Sanchez
Russell Sanchez (b. 1963) continues to be one of the master innovators in Pueblo pottery. Each piece he creates is perfectly hand-coiled, stone polished, then etched, inlaid, designed, and fired with utilizing traditional Native American pottery methods. Russell learned to make pottery from his great-aunt, noted potter and pottery matriarch Rose Gonzales (1900-1989.) He started making pottery at the early age of 12 years old on the San Ildefonso Pueblo. Russell has received numerous awards and recognition for his pottery throughout his career. Including such distinctions as 'Best of Division' at both the Santa Fe Indian Market and the Heard Indian Market. In 2007 Russell's art was presented in the feature article of the Fall issue of Native People's Magazine. In 2011, Russell was awarded the exclusive 'Tony Da Award' for Pottery in Santa Fe. Most recently, Russell was a recipient of the 'New Mexico Governor's Award for Excellence in Art 2017.'
Tafoya, Camilio "Sunflower" (1902-1995)

Camilio Tafoya
Camilio "Sunflower" Tafoya (1902-1995) was a son of noted potter Sara Fina Tafoya and Geronimo Tafoya.  He was a brother of Margaret Tafoya and Christina Naranjo.  Two of his children, Grace Medicine Flower and Joseph Lonewolf became renowned potters each working with wonderful scraffito Native designs.  Camilio was married to Agapita Tafoya and made carved pottery in the 1950's and 60's, he worked with both Grace and Joseph on many of his works.  In the 1970's he began to create miniatures pottery first in collaboration with Grace and then later on his own.  His pottery combined stories of the pueblo along with creative and antidotal Pueblo life images and animals scenes.  His pottery can be found in many collections and is displayed at multiple museums worldwide.
Tafoya, Luann (b. 1938)

LuAnn Tafoya (b.1938)
.
LuAnn Tafoya learned to make pottery from her mother, Margaret Tafoya. She is renown for her large vessels and variations on classic imagery and forms. Her son, Daryl Whitegeese has learned from his mother and continues in the family tradition. LuAnn Tafoya has won numerous awards for her pottery, including "Best of Pottery" and "Best of Show" at Santa Fe Indian Market. Her work can be found in the permanent collection of numerous museums around the country. LuAnn is best known for her massive vessels which are often inspired by the work of her mother. The classic "water jar" shape is one that is of special importance to her, as she was instructed by her mother to keep the shape alive!  As well, she is one of the few potters to have created the very large storage jars, which are coil built and often over 20" tall!  Margaret continues an amazing family legacy with her pottery and it is exciting that she has also passed it on to her son, Daryl.  She continues to show at Santa Fe Indian Market and also at King Galleries.
,.
Tafoya, Margaret (1904-2001)

Margaret Tafoya (1904-2001)
Margaret Tafoya is a daughter of noted potter Sara Fina Tafoya and a sister of potters Christina Naranjo and Camilio Tafoya.  She is the matriarch of a family of renown potters, each of whom created their distinctive styles.  Margaret Tafoya had twelve children, eight of whom became potters.  They include Virginia Ebelacker, Lee Tafoya, Toni Roller, LuAnn Tafoya, Mela Youngblood, Jennie Trammel, Mary Ester Archuleta, and Shirley Tafoya.  Her grandchildren, and today even her great-grandchildren carry on the pottery making tradition. Margaret Tafoya was a guardian of traditional pottery making methods and techniques.  She created large vessels with stone polished surfaces. Her carving was done before the piece was polished.  She produced her work from the 1920's through the 1980's. Throughout her career, Margaret Tafoya won numerous awards, including Best of Show at Santa Fe Indian Market in 1979 and 1980. She was also awarded the Heritage Fellowship from the National Endowment for the Arts in 1984.
The book, "Born of Fire," follows her life and art over the many decades.  It is also the only book to identify her pottery by the decade produced, by using the variations in her signature.  This book is the first complete biography of Margaret Tafoya's life. It is divided into decades, giving the reader a deeper understanding of her life and pottery over nearly a 100 year period. There are additional biographies on Virginia Ebelacker, Richard Ebelacker, Lee Tafoya, Linda Tafoya, Jennie Trammel, Mela Youngblood, Nathan Youngblood, Nancy Youngblood, Toni Roller, Jeff Roller, LuAnn Tafoya, Daryl Whitegeese, Mary Ester Archuleta, and Shirley Tafoya. The photography of the pottery in this book is exceptional. Personal narratives by family members and family photographs throughout the book create a wonderful sense of her humanity and artistic accomplishments.
Tafoya, Sara Fina (1863-1949)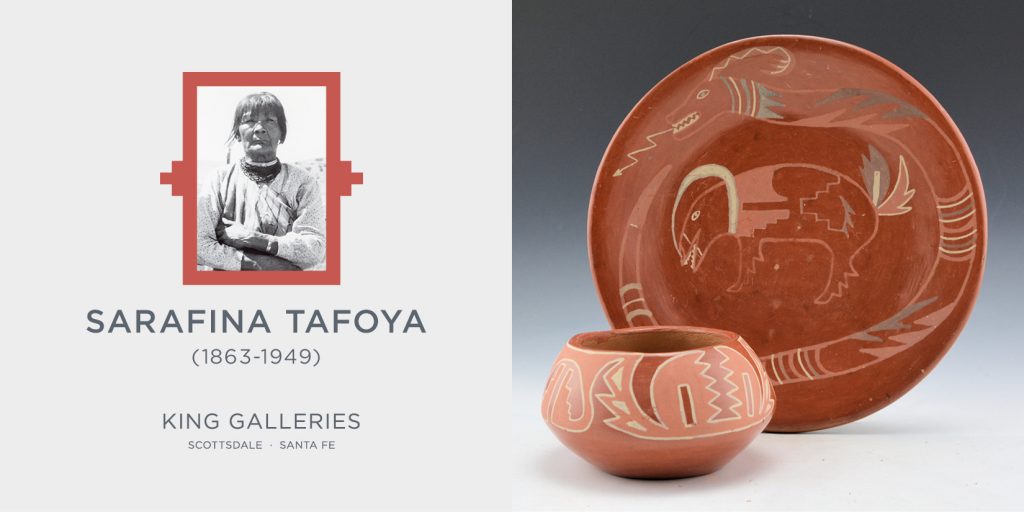 Sara Fina Tafoya is among the most renown of the early Santa Clara potters. She was the matriarch of a dynasty of potters, included among her children were Camilio Tafoya, Margaret Tafoya and Christina Naranjo. Beginning in 1924 Sara Fina Tafoya was one of the first pueblo potters to begin "carving" into the clay to create designs in her pottery. She was masterful with her forms, where the simplicity of the shape, especially with her larger vessels such as the storage jars, did not require additional design. Part of her genius was adding elaborate shapes for the handles and unusual indentions such as the "raindrop" rims. These created special features which readily identified her pottery. Her pottery was not signed except for a short period in the late 1930's when she made smaller pieces, often polychrome but also some classic black ware. Certainly a testament to her skill is that few Pueblo potters today are able to create either pottery of such size or with such complicated additions such as her handles.
Check out our article on the signed pottery of Sara Fina Tafoya: "Signed Sara Fina".
Tahbo, Mark (1958-2017)
Mark Tahbo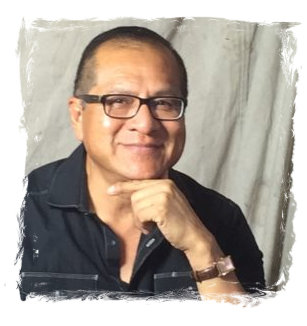 Mark Tahbo was a Hopi-Tewa member of the Tobacco Clan.  He had been an active potter since 1978. He learned to make pottery from his great-grandmother, GraceChapalla.  His sisters Diana and Pam were also potters.  Mark was influential in the early 1990's in recognition of traditional firing of Hopi pottery and keeping it as a practice among Hopi-Tewa pottery. Mark had won numerous awards for his pottery at events such as Santa Fe Indian Market, the Heard Indian Market, and Gallup Ceremonials.  In 1991, he won Overall Prize at Santa Fe Indian Market.  In 1992 he was awarded Best of Division at the Heard Museum Indian Fair. Awards continued to be presented to him in 1993 and 1994 and later. His pottery is featured in books such as "Talking with the Clay" and "Collecting Authentic Indian Art." He is remembered as one of the exceptional traditional innovators of Hopi pottery!  His pieces reflect the wonderful symmetry and thin walls of an excellent potter. The designs are painted using native clay slips and bee-weed (a plant) for the black. Sadly, Mark passed away in December 2017.  We were lucky to work with him at King Galleries for over 20 years.  His creativity and artistic genius will be missed.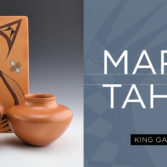 Vigil, Lonnie (b. 1949)
Lonnie Vigil is a name synonymous with micaceous pottery. During his time at the School of American Research he refined his technique of making and firing micaceous pottery. He creates vessels from micaceous clay from near his home in Nambe Pueblo.  Lonnie has won "Best of Show" at Santa Fe Indian Market for his large vessels and is among the most sought after of the traditionalist pueblo potters.
Youngblood, Christopher (b. 1989)
Chris Youngblood, (b 1989)
Chris Youngblood is a great-grandson of Margaret Tafoya and a son of Nancy Youngblood.  His mother, Nancy, taught him to make pottery. He has won the "Best of Class - Youth Award" at Santa Fe Indian Market and the prestigious "
Best of Pottery
" in 2014.  He was featured in the 2010 Native People's Magazine as one of the "Generation Next Emerging Potters" and recently featured in Native Art Magazine in 2016 as one of the "Three Potters Under 30" to watch.  His "Best of Pottery" jar was featured in the book, "Spoken Through Clay". Chris says that he focuses on each piece, taking the time to work on the shape and stone polish the surface to a high shine, often polishing a piece several times to get it right. Chris comes to the clay focused on expanding the technical and artistic boundaries of his illustrious family.  His manipulation of the clay surface through his technically inspired imagery expands the art in new directions.
Youngblood, Nancy (b. 1955)
Nancy Youngblood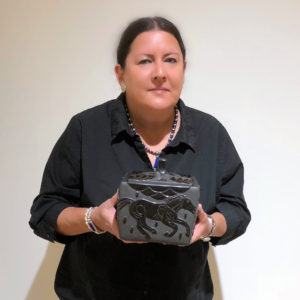 Nancy Youngblood is a daughter of Mela Youngblood and a granddaughter of Margaret Tafoya.  She was inspired to begin making the swirl melon bowls when she saw one made by her great-uncle Camilio Tafoya.  Each piece is coil built, carved, stone polished and native fired.  Nancy is focused both on the artistry of her pottery but also on the traditions of Santa Clara Pueblo and her family. When Nancy Youngblood first began making pottery, she started with miniatures, focusing on creating very intricate form and tightly carved designs.  Her melon ribbed vessels are among her best-known forms.  There are a variety of styles, including straight ribs, swirl ribs and "s" swirl ribs.  Each variation required different techniques.  Nancy also creates "free form" designs, which allow her to use the melon rib concept of abstract designs. In 1989 she won "Best of Show" at Santa Fe Indian Market. The was a testament to the quality and integrity of her pottery art.  As well, it was ten years earlier that Margaret Tafoya, her grandmother, also won "Best of Show". Today, Nancy Youngblood continues this amazing legacy.  Her sons, Christopher, Sergio, and Joseph, have all worked with the clay.  It is important to her that each of them learns the techniques and cultural importance of the clay.  Nancy's pottery can be found in museums worldwide.  She has also been featured in numerous books including, "Crafted to Perfection", "Born of Fire" and "The Art of Clay".  She won "Best of Pottery" at the 2015 Santa Fe Indian Market for a large jar with melon ribs and a horse design. In 2018, once again she won "Best of Pottery" at Santa Fe Indian Market for a swirl water jar.
Youngblood, Nathan (b. 1954)

Nathan Youngblood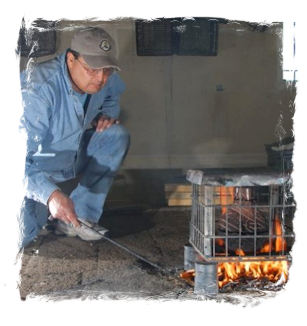 A grandson of noted potter Margaret Tafoya and the son of Mela Youngblood, Nathan Youngblood has a traditonal legacy of highly polished deep carved pottery.  In 1976 he moved in with his grandparents and began an intense apprenticeship making pottery under their guidance.  Attention to the small details was also imparted to him by his mother and grandmother. The precision of his work is particularly evident in his forms, which have near geometric perfection in shape and symmetry.  Nathan says, "I realize I don't make pots, I'm just involved in the process. The clay does what it wants to do, goes where it wants to go.  I stick my hands in the clay and where it goes, I follow."
Nathan's clay art has evolved dramatically throughout his career.  His early work focused on classic Santa Clara shapes and designs. In the early 1990s, Nathan re-examined his experiences with art from around the world and how it could be incorporated as part of his designs.  His love of Asian ceramics influenced how he designed his pottery and how he utilized matte and polished surfaces to emphasize form.  The designs seemed to be more complicated, less linear, and more ethereal in concept.  He "opened the door for other potters to use clay as a vehicle for their personal and cultural experiences."
Over the years Nathan has won over 140 awards for his pottery. He is one of only a handful of Santa Clara potters who use natural clay slips to create color contrasts of red and tan in his pottery.  This combination of polished red and tan sections with matte or micaceous surfaces has become the new Santa Clara "polychrome."  Throughout his career, he has continually built on the lessons learned from his mother and grandmother. This legacy has created a solid foundation for the evolution of his pottery and "he has set the bar high for any potter to balance creativity, innovation, and technical expertise."
Cli.https://kinggalleries.com/brand/youngblood-nathan/
Zane Smith, Richard (b. 1955)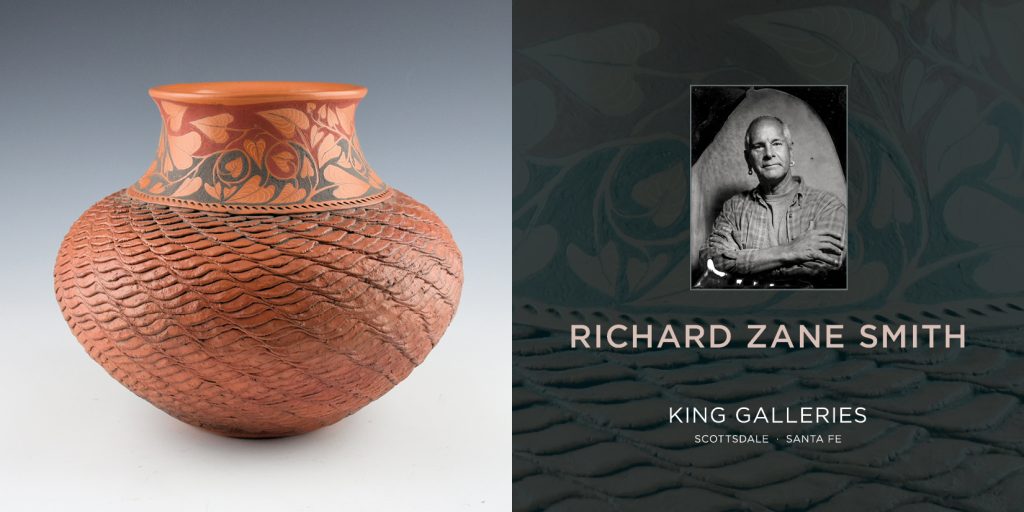 Richard Zane Smith
Richard Zane Smith was born in Georgia, and grew up in St. Louis Missouri, he has a degree from the Kansas City Art Institute, where he studied ceramics. As a young man, he taught at a Navajo mission school, where he was exposed to native clay and Ancient Pueblo pottery.  These remnants, and their coiled construction, as well as his Wyandot heritage, are what continue to inspire his work to this day. Richard Zane Smith 's works can be found in museums nationwide and has been featured in numerous exhibits, including the Heard Museum's exhibit, "Breaking the Surface", the Philbrook Museum in Tulsa, Oklahoma, the San Diego Museum of Man, and the Denver Art Museum.   Richard's work has been featured in numerous books and magazine articles, including "The Art of Clay". His corrugated basket style designs are similar to pre-historic corrugated pottery, but using delicate lines, coils, and colors in each layer, makes his pottery resemble Wyandot basketry.  He continues to work to breathe life into recreating his interpretations, and presents each work with a naturalistic style, shape, and design story